Chicago Med: [SPOILER'S] Return In The Season 8 Finale Has Fans Going Wild
The Season 8 finale of "Chicago Med" is a bittersweet installment for the series, to say the least. In a shocking twist that few saw coming, the episode marks the heartbreaking exit of main cast member Nick Gehlfuss and his character Dr. Will Halstead. In a plot to stop a faulty AI-powered machine from mishandling a dangerous patient surgery, Will and Dr. Grace Song (T.V. Carpio) sabotage the machine. Will takes full responsibility for breaking the rules, penning his resignation from the hospital once and for all. While it's sad to see the "Chicago Med" mainstay leave, his departure results in the brief return of another major character who fans hadn't seen for a while.
After Will resigns, he heads to Seattle and reignites his longstanding romance with lapsed "Chicago Med" cast member Torrey DeVitto's Dr. Natalie Manning. Suffice to say, Natalie's surprise appearance after a prolonged absence from the series got fans pretty excited. "NATALIE BACK ON CHICAGO MED????" @bangtangerine_ tweeted.
Fans love Will and Natalie's happy ending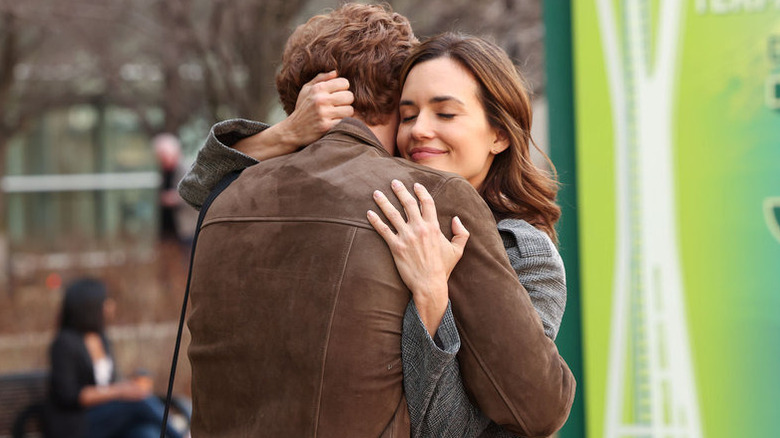 George Burns Jr/NBC
Not only were "Chicago Med" fans happy to see Natalie back for a guest appearance, but they loved that she got back together with Will — ostensibly for good this time around. "I am a huge Natalie and Will fan. I cried for an hour after tonight's episode but I'm so so so happy the couple got their happy ending," one Reddit user commented after the episode aired. Other viewers shared similar sentiments of surprise and excitement regarding the twist. "I CAN'T BELIEVE WE GOT A MANSTEAD ENDGAME," @_natalieviolaaa tweeted.
For some viewers of the series, getting a resolution to Will and Natalie's romance helped dull the sadness of unexpectedly saying goodbye to the former character. "My family reunited. I'm sad to see Will go, but I'm so happy that he is with his family again," @Angy__Fa1 wrote. Other fans compared Will's exit favorably to his brother Jay Halstead's (Jesse Lee Soffer) exit on "Chicago PD," with @winstonsgma writing: "At least this Halstead got a proper goodbye!"
It seems that even Torrey DeVitto counts herself among those who are pleased to get a heartwarming resolution to one of "Chicago Med's" biggest couples. In a post on Instagram featuring a picture of Natalie and Will hugging, the actor wrote: "They (we and you all) finally got the ending they deserved. #Manstead is end game ... and they lived happily ever after ...."