The Last Movie Tina Turner Was In Before She Died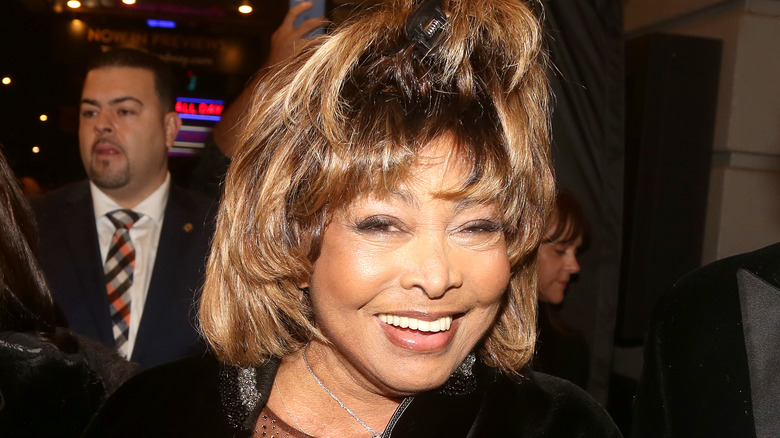 Bruce Glikas/Getty Images
Tina Turner has been an iconic force in popular music for over six decades. The singer behind chart-topping hits like "Private Dancer," "What's Love Got To Do With It?" and "Proud Mary" died today, as announced by her publicist. Though the singer is said to have been battling a longtime illness, the specifics of what led to her death have yet to be revealed.
Still, even putting aside the dozens of memorable hits that powered the legendary artist's extensive career, the performer also had a few acting roles to her name. While her most high-profile role is likely her appearance as Aunt Entity in "Mad Max: Beyond Thunderdome," the singer also had a part in "Tommy."
However, Turner's final role in a motion picture was a quick cameo toward the end of the Arnold Schwarzenegger action vehicle, "Last Action Hero." Though many real-life celebrities appeared as themselves in the film's metaverse, the singer showed up as The Mayor in "Jack Slater 3," a fictional set of films set within the world of the movie.
The role was a brief one in a film packed with cameos
Tina Turner shows up as one of the last lines of defense who tries to stop Jack Slater from entering a dangerous situation in the movie within a movie, but, alas, Slater will not be denied. "Call me when the governor gets here," he quips as he leaves her sputtering behind him.
Though Turner only has a couple of quick lines and a few seconds of screen time, she definitely would have stood out to audiences who watched "Last Action Hero," particularly back when it was first released in 1993. However, given how many other major stars like Sylvester Stallone, Sharon Stone, Ian McKellen, and Danny DeVito also show up in the movie, fans could be forgiven for forgetting Turner was even in it.
This is doubly true when you consider how poorly received "Last Action Hero" was by both critics and audiences alike. While the film, which was directed by John McTiernan, has since gone on to develop something of a cult following, it was seen as a major disappointment at the time of its release. Regardless of what you think of the movie, though, Turner's legacy will not be defined by her roles as an actor but by her superstar status, something that will remain even in her absence.