The Last TV Show Tina Turner Filmed Was A '90s Comedy Classic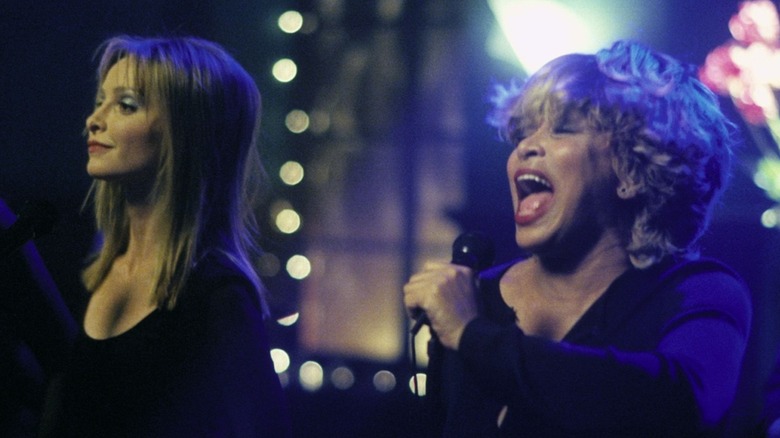 Fox Television
While Tina Turner, who died at the age of 83 on May 23, 2023 after a long illness, may be well-known for her chart topping musical career, she had quite the acting resume as well. While cinema fans will always have "Tommy" and "Mad Max: Beyond Thunderdome" to remember her by, TV audiences will remember that Turner had two acting performances to her name in the medium. She showed up in an episode of the variety series "Laugh-In" as herself, acting in a variety of sketches and performing a musical number, and she also showed up as herself in the iconic '90s dramady "Ally McBeal." The latter would  prove to be her final acting credit on television.
Turner is a part of "The Oddball Parade," Episode 14 from the show's third season. While Turner simply portrays herself and provides a lot of reaction shots to the unusual calamities taking place around her, she manages to slip a little bit of her typical spirit and sass in to the proceedings before the house lights come down.
Turner got to be a little bit judgy in her Ally McBeal appearance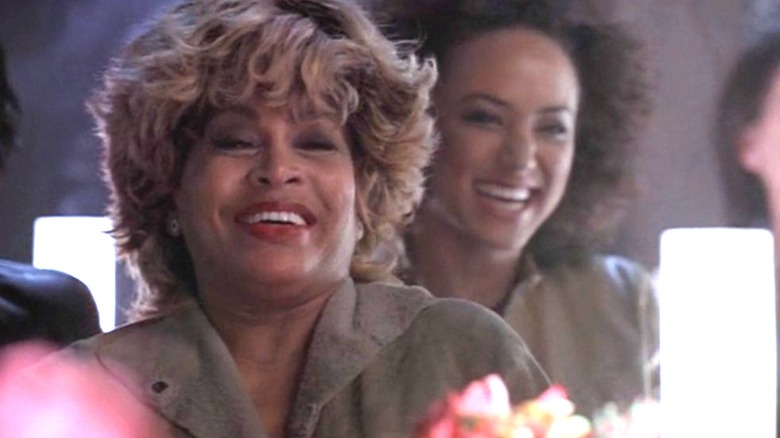 Fox Television
"The Oddball Parade" sees Tina Turner come to Boston and hold a contest at Martini Bar to find a back-up dancer for her stage show. Ally McBeal (Calista Flockhart) and her close friend and secretary Elaine Vassal (Jane Krakowski) compete for the honors. When Turner picks Ally over Elaine, Elaine is heartbroken and the friends fight. Elaine experiences a crisis of faith in her skills, and is annoyed that Ally has once again overshadowed her. It takes a statement from Turner's tour manager that she only picked Ally because Elaine is such a good dancer she would overshadow Turner. 
It turns out that Ling Woo (Lucy Liu) has secretly paid off the tour manager to comfort Elaine, both allowing Ling to get one over on Ally and genuinely making Elaine feel better all in one fell swoop. Meanwhile, Ally briefly meets Turner (who dismisses her by clasping her hand and calling her "sweet") and then gets to perform as a backup dancer and singer for her new single, "When the Heartache is Over."
Turner performs another song, "A Fool in Love," during the episode's opening minutes. Her famous tune "Proud Mary" plays under the dance competition while she watches. Turner will definitely be missed, but this fun moment will go down in TV history as one of her most memorable onscreen appearances.