Ahsoka's Ray Stevenson Claimed Baylan Skoll Holds 'No Malevolence' As A Villain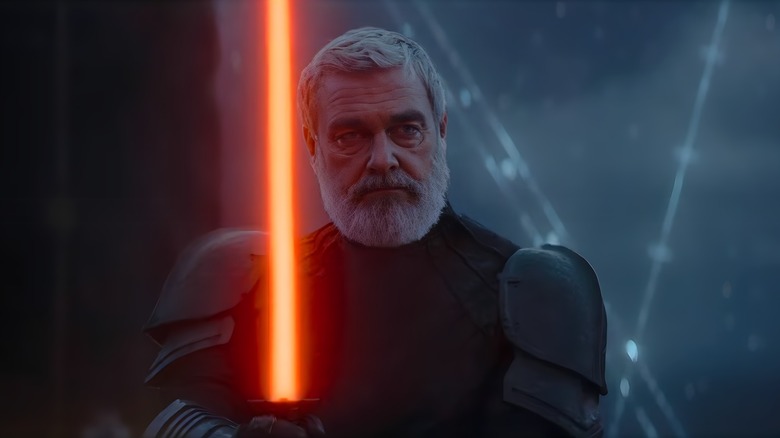 Disney/Lucasfilm
Earlier this week, Hollywood lost an icon with the death of Ray Stevenson. While the "Thor" and "Rome" actor's legacy will live on forever, one of his biggest roles is yet to see release, with the Irish actor joining the "Star Wars" family in a galaxy far, far away. On the upcoming Disney+ "Ahsoka" series, Stevenson plays Baylan Skoll, wielding a red lightsaber against the titular Jedi, but there's more to his "Star Wars" villain than simply being evil.
"There's nothing scary about Baylan; I would describe him as stoically lethal," Stevenson told Yahoo at Star Wars Celebration, saying that his character will surprise fans that think they have him pinned down. "Basically, if you're in his way, he'll politely request you get out of it. And if you don't, you'll be removed. But there's no malevolence there, there's no 'I want to slaughter the world.' No, there's something other that's driving him. That's what's going to be exciting."
Stevenson teased that Baylan walks a fine line between good and evil. "He's not quite good, but he's [not] quite bad," he said, teasing fans are in for a treat with his "Ahsoka" villain. While the actor couldn't reveal much about his secretive villainous role, Norse mythology might be a clue for fans to learn more about Baylan Skoll, Stevenson's final TV appearance.
Ray Stevenson spoke warmly about his time on the Ahsoka set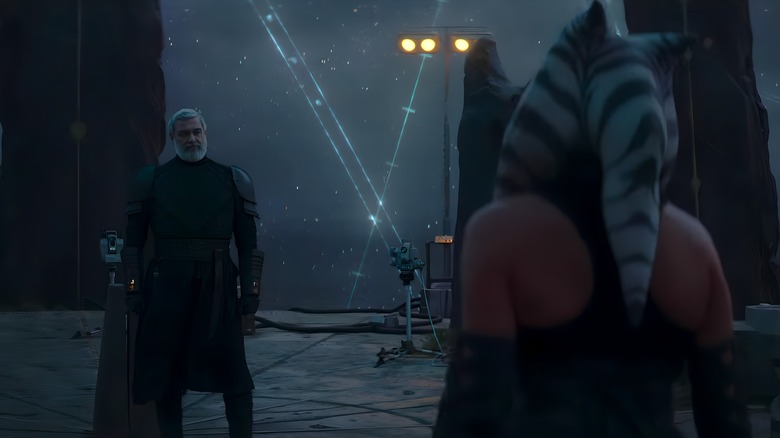 Disney/Lucasfilm
Although fans will have to wait until August to see Ray Stevenson's Baylan Skoll, the actor's comments tease a multilayered villain set to take the stage on "Ahsoka." While we don't know his character's fate in the upcoming Disney+ series, Stevenson was just happy to be a part of the "Star Wars" universe.
Speaking to The Wrap at Star Wars Celebration, Stevenson reminisced about his time on set, describing the first time he suited up against Ahsoka, which left him in disbelief. He remembered the first time someone handed him a lightsaber, saying, "Of course, you make the noise 'vvvrrrrmm vvvrrrrmm' because you can't help it. And then the beauty of it is that when you do the training and you get on the set and you're fighting with Ahsoka — and she's got two and they're flashing everywhere — and then you pinch yourself. And you go, 'I'm actually doing this. If you're gonna give me a lightsaber, I'm gonna use it."
Stevenson's story, acting like any "Star Wars" fan would on set, is made that much more heartwarming after his death. While Lucasfilm hasn't revealed much information regarding Stevenson's Baylan Skoll, the actor's comments are enough to excite fans for what sounds like a complex villain on the way. With "Ahsoka," Stevenson is inducted into the "Star Wars" family, so fans will be there to support the late actor when the series premieres this August.