Ted Lasso Season 3 Episode 11: Why Mae's Poem Sounds Familiar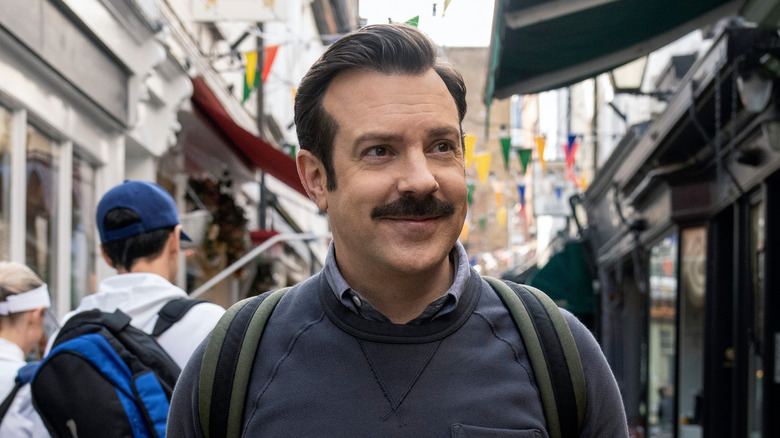 AppleTV+
After a season that's leaned harder into the laughs than it has into the series' usual tear-jerking turns, fans who tuned into the latest episode of "Ted Lasso" likely didn't anticipate getting hit with such a gauntlet of emotional revelations — even as the penultimate episode barreled toward its final (or not so final) destination with a jarring pace. They also probably didn't anticipate recognizing an unexpected bit of poetry, beautifully performed by an equally unexpected bard in Richmond's resident barkeep, Mae (Annette Badland).
Yet, while the words and rhythm might have struck a familiar chord, you may not be as familiar with the poem's actual author. Titled "This Be The Verse," the poem was composed by the English poet Phillip Larkin during the twilight of his career in 1971. To jog your memory, the first and most frequently quoted lines go: "They f*** you up, your mum and dad. / They may not mean to, but they do. / They fill you with the faults they had / And add some extra, just for you."
When you read it just now — without Badland's excellent delivery ringing in your ears — you may have heard a different voice from your memory, echoing the words like a forgotten dream. If this is happening to you (and you don't frequent poetry classes, clubs, or readings), chances are you heard it for the first time in the same place you reencountered via "Ted Lasso" — TV.
This Be The Verse is in some of the most popular series on TV
Chalk it up to the poem's popularity, thieving television writers, or merely how well it soothes our collective and enduring obsession with terrible fictional parents, "This Be The Verse" is one of those poems that frequently gets quoted in well-known stories, but rarely gets attributed to its author. "Ted Lasso" is just barely the most recent show to do this.
It would probably be safe to bet that of our readers who heard this poem for the first time on TV, most heard it while watching "Succession." In the Season 1 episode "Austerlitz," in which Logan Roy (Brian Cox) and his children attempt to participate in family therapy at the behest of the Waystar PR team, their therapist (Griffin Dunne) ritualistically recites the first four lines to open up the conversation.
If the last lines of the poem caught your memory more than the first, however, you may be recalling the famous final words spoken by Count Olaf in the bestselling children's book series "A Series of Unfortunate Events." After saving the only person he ever cared about, a dying Olaf chokes, "Get out as early as you can, / And don't have any kids yourself." This moment was faithfully recreated in the Netflix adaptation of the series, the poem being recited by Neil Patrick Harris and Allison Williams.
The poem has also been quoted on "Firefly Lane," another Netflix series, AppleTV+'s "Shantaram," the Showtime drama "Weeds," and even a trailer for the series "Patrick Melrose," which features another recitation from Allison Williams.