The Hunger Games' Sam Claflin Was Drawn To Finnick's Darker Character Traits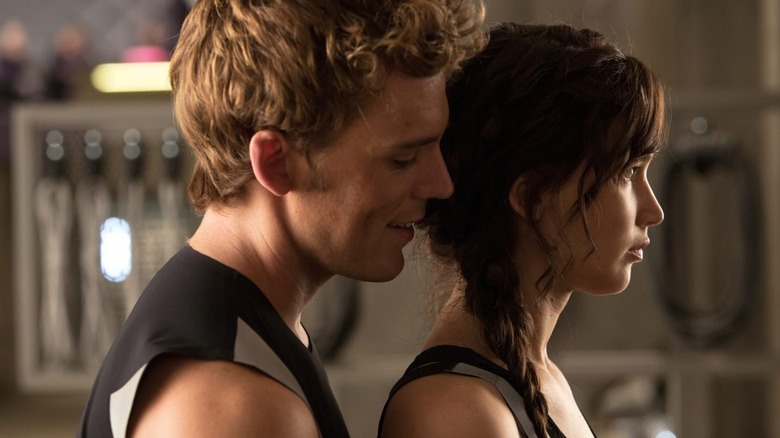 Lionsgate
There's no question that, in terms of modern young adult franchises, "The Hunger Games" is among the darkest, if not the all-out champion. The story of a dystopian world where, on an annual basis, impoverished "districts" send two children each to fight to the death in order to appease the rich and powerful Capitol, "The Hunger Games" began as a series of novels by Suzanne Collins. Before long, they were adapted into well-received films starring Oscar winner Jennifer Lawrence as the hardened leading lady Katniss Everdeen, who meets a truly colorful cast of characters during her time in the titular Games... including Finnick Odair.
Played in the films by Sam Claflin, Finnick comes off as a sort of aloof playboy, immediately flirting with Katniss (and making her uncomfortable) and reveling in the attention. Claflin, for his part, was drawn to Finnick's darkest characteristics, of which there are plenty; this is "The Hunger Games," after all. Speaking to The Daily Beast in 2013 after being cast, Claflin opened up about his character.
"What he's all about is not what a lot of people take from the books," Claflin said at the time. "He's a very sensitive, insecure lost soul. He's a broken man. I think that's all hidden behind this very false, charismatic, charming, confident exterior. That's what really interested me—that so many people read the books and take away the fact that he's an arrogant guy. I saw past that. I saw through that."
Finnick Odair is one of the most tragic figures in The Hunger Games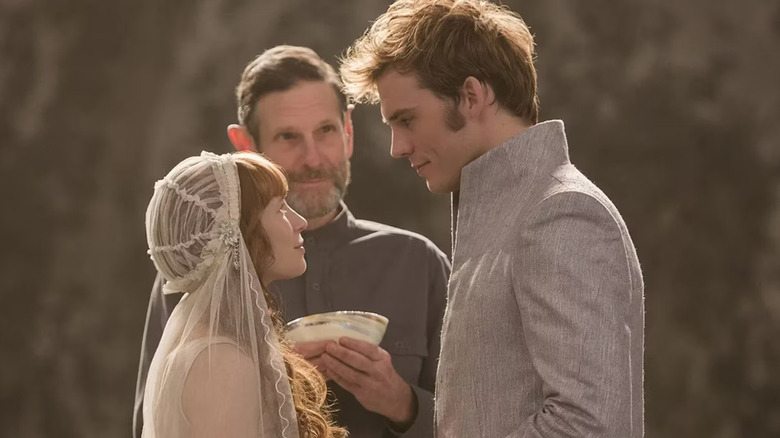 Lionsgate
Claflin is absolutely right, which just proves that he was the perfect choice to play Finnick in "Catching Fire" and both "Mockingjay" films. Originally hailing from District 4, which is known for fishing, Finnick won the 65th Hunger Games and ends up back in the arena alongside Katniss when the 75th Games (or the "Third Quarter Quell") bring previous winners back to fight to the death. Katniss is completely resistant to his charms at first, but he turns out to be not only a fierce ally but a troubled, traumatized person with an extraordinarily dark past.
After winning his Games, Finnick is manipulated by President Snow into what is essentially sex slavery, forced to seduce wealthy Capitol residents at the president's behest. As he later tells Katniss, he does this because Snow threatens to kill his family if he doesn't; he also manipulates the situation handily, learning secrets from his conquests and storing them up for social leverage. Finnick's real life is just as tragic. His mentee from District 4, Annie Cresta, won the 70th Hunger Games but was severely traumatized by her time in the arena, and the two fell in love. They get married during the events of "Mockingjay" while fighting for the rebels, but tragically, Finnick dies in battle, torn to shreds by the Capitol's genetically mutated lizard-humans so that he can help to save Katniss.
Sam Claflin recently took on another dark role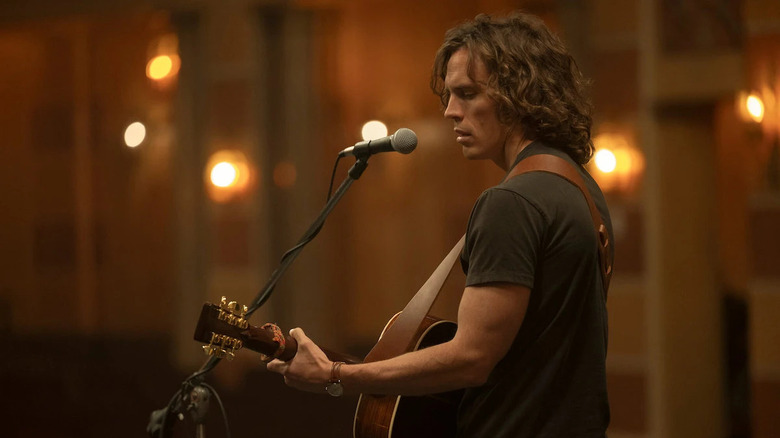 Amazon Studios
Sam Claflin took on another high-profile character study in 2023, but it wasn't quite as dark as Finnick Odair, to be fair. Claflin stars on the Amazon original series "Daisy Jones & the Six" — also based on a book, this time by Taylor Jenkins Reid — as Billy Dunne, a talented rockstar who meets his match in Daisy Jones (Riley Keogh), an undeniable force whose constant partying makes it difficult for Billy to remain sober. Not only that, but Billy and Daisy's connection is just as undeniable, which could jeopardize his marriage with Camila Dunne (Camila Morrone).
Billy doesn't meet as gruesome of a fate as Finnick — and he didn't have to fight for his life in a televised game twice, for that matter — but his constant battle against his addiction is a struggle, especially as everyone around him is able to indulge. Claflin's central performance in "Daisy Jones" is an essential piece of the series, in that his musical and creative bond with Daisy helps the band craft some of their very best songs, but he's a man split between his family and his career throughout it all.
The "Hunger Games" movies are streaming on Hulu now, and if you haven't caught "Daisy Jones & The Six" yet, it's available on Amazon Prime.