Florence Pugh Says Some Collaborators Were Upset With Her For Taking A Role In Black Widow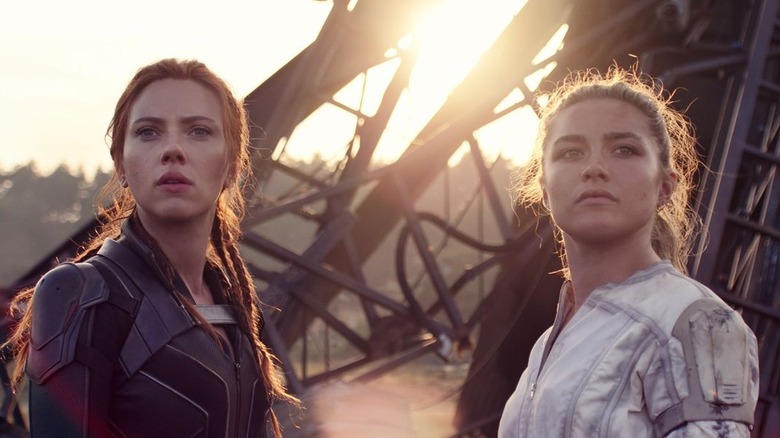 If you're not familiar with Florence Pugh by now, you've clearly been living under a rock. The Hollywood mega-star, who got her start in smaller movies like "Fighting With My Family" and "Midsommar," earned her first Oscar nomination for Greta Gerwig's 2019 adaptation of "Little Women," and then officially joined the Marvel Cinematic Universe in 2021. Playing Yelena Belova, the adoptive sister and fellow trained assassin to original Avenger Natasha Romanoff (Scarlett Johansson), known as the Black Widow, Pugh played a huge part in Natasha's long-awaited standalone movie, following that up with an arc in the Disney+ series "Hawkeye" that same year.
In a profile in Time Magazine, though, Pugh said she got surprising pushback from some collaborators when she joined the MCU. "So many people in the indie film world were really pissed off at me," she said of her choice to play Yelena throughout several different properties. "They were like, 'Great, now she's gone forever. And I'm like, no, I'm working as hard as I used to work. I've always done back-to-back movies. It's just people are watching them now. You just have to be a bit more organized with your schedule."
Pugh proved this pretty much immediately; besides starring in the much-maligned "Don't Worry Darling" in 2022, she led the Netflix original indie "The Wonder" that same year, showing that she really can handle major franchises and smaller projects simultaneously.
Florence Pugh can do everything from independent movies to enormous blockbusters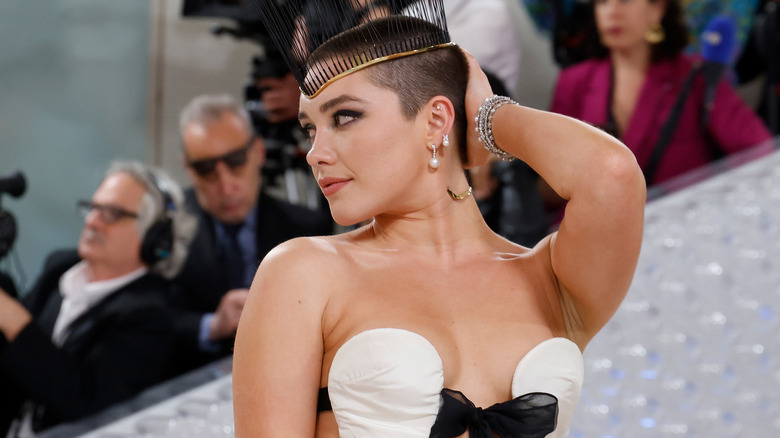 Taylor Hill/Getty Images
Her collaborators clearly shouldn't have ever worried; Pugh can do everything from join a creepy Swedish festival to play a young girl in New England across decades of her life to kick ass as Yelena. The MCU isn't her only major franchise, either. She'll appear in the upcoming "Dune: Part Two" as Princess Irulan, which is an interesting crossover between independent filmmaking and huge blockbusters — it's helmed by the prestigious Denis Villeneuve and stars Pugh's "Little Women" co-star and indie staple Timothée Chalamet, but it's also expected to be one of the biggest movies of 2023.
Villeneuve, also quoted in the profile, opened up about what it's like to work with Pugh, citing her incredible talent and flexibility as an actor. Even though she and Chalamet had their fun joking around on set, Villeneuve wasn't fooled. "She's mischievous," the acclaimed director said. He did say, however, not to let that color your judgement, because once he calls action during any particular scene, "she has firepower."
Aside from the revelation that some collaborators were displeased by her MCU role, Pugh seemed to allude to the now-infamous production strifes on "Don't Worry Darling," though she demurred before going too far. "A whole film set, it's everybody making a huge effort because they want to be there," she said. "And if someone doesn't want to be there or if someone isn't pulling their weight, you can feel it. The film feels wrong."
Florence Pugh has a ton of projects in the pipeline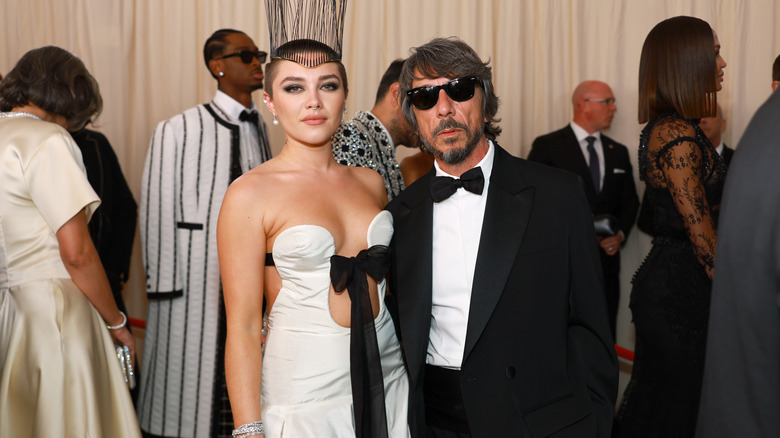 Matt Winkelmeyer/mg23/Getty Images
After her turn in "The Wonder," a film about a nurse who is sent to observe a young girl experiencing an apparent medical miracle, Pugh lent her voice to the surprise smash hit "Puss in Boots: The Last Wish" and starred in "A Good Person," an original movie by her former romantic partner Zach Braff. She's got plenty coming up though, including the highly anticipated "Dune: Part Two."
Villeneuve's space epic isn't even the only blockbuster on Pugh's 2023 dance card; she's part of the sprawling ensemble cast of Christopher Nolan's historical epic "Oppenheimer" alongside Cillian Murphy and several other Nolan regulars, and she's already filming a romance movie titled "We Live in Time" alongside Andrew Garfield. Pugh is also set to return as Yelena Belova in Marvel's "Thunderbolts" movie, and as the Time profile notes, she's also hoping to return to her roots somewhat by making music and, perhaps, developing and appearing in a romantic comedy in the future.
If you want to see Pugh's full range, "The Wonder" is on Netflix now, and "Black Widow" and "Hawkeye" are on Disney+.