Mrs. Davis Star Betty Gilpin Totally Botched Her Gossip Girl Audition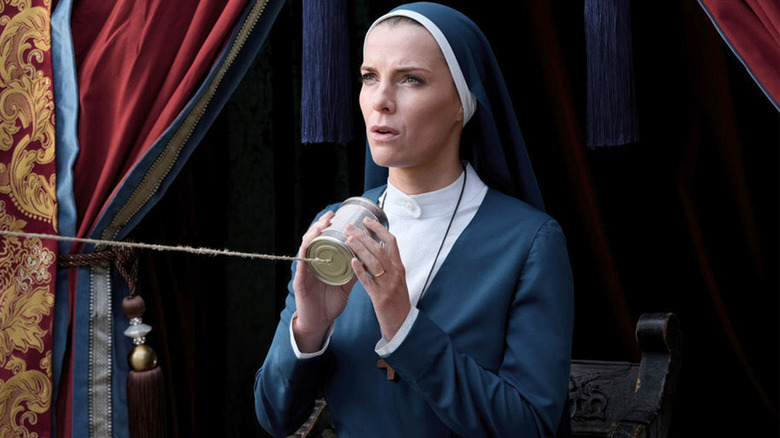 Peacock
If you're most familiar with Betty Gilpin from shows like "GLOW" or her current buzzy project "Mrs. Davis" — you're probably shocked that she had any auditions that didn't score her a major role. As it turns out, she had a disastrous one for a buzzy CW teen soap.
In conversation with Entertainment Weekly on their Awardist podcast, Gilpin, a three-time Emmy nominee, got real about the time she auditioned for the original "Gossip Girl," and how it went entirely wrong right from the start. As Gilpin recalled, she was studying acting at New York's Fordham University all the time and attended an open call for a role on the uber-popular teen series: "I have a picture somewhere of the waiting room hallway, and there were 50 of us, like, all sitting in the tightest dresses possible, with ringlets, just staring into space."
According to the actress, though, she didn't get the memo about any sort of uniform for the casting call. "I was wearing mismatched Converse and teal, wide-leg movement pants, and purple wizard sleeves... like, my acting class, " she said on a remote call with EW, laughing. "My hair unbrushed, split ends, no makeup. Just being like, 'I'm here to make art and inhabit the character of Gossip Girl.'"
Betty Gilpin was asked back for a role on Gossip Girl... but definitely not the one she expected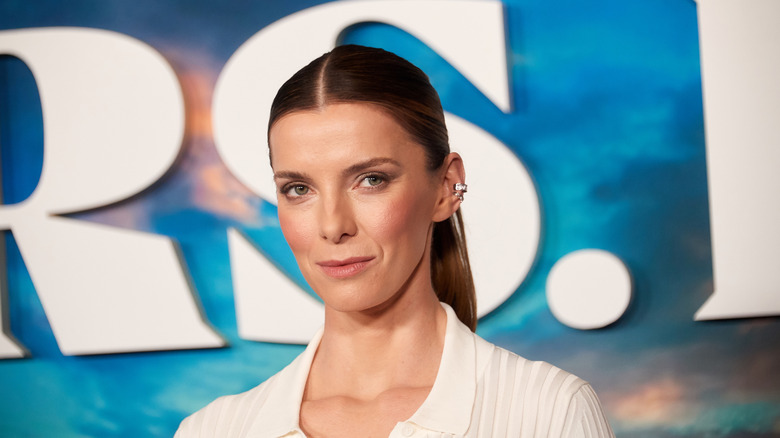 Unique Nicole/Getty Images
Based on Gilpin's outfit during her initial audition — which doesn't exactly match the overall vibe of the high-fashion looks on "Gossip Girl" — you might not think the actress would have gotten a follow-up audition. Turns out, she did... just not for the part she was expecting.
"They were like, 'Your portrayal of a very disturbed woman makes you seem 45 years old,' even though I was 21 or whatever at the time," she said. "They were like, 'You can come back as, like, the haunted teacher.' And in the email, they were like, 'Please come back wearing make-up, a different outfit, and high heels,' in bold bullet points."
So did that work? No. "And then, of course, [I] did not get the part," she concluded. Gilpin then went on to compare it to the environment of her acting classes at Fordham, where she says that she and her fellow students were lavished with praise, whereas during this audition, they told her she seemed twenty years older than her actual age and all of her clothes were insane. As for the "haunted teacher," it's not particularly clear which character this refers to — but Gilpin has clearly bounced back from not playing a deranged, 45-year-old educator.
Betty Gilpin's career has been thriving for years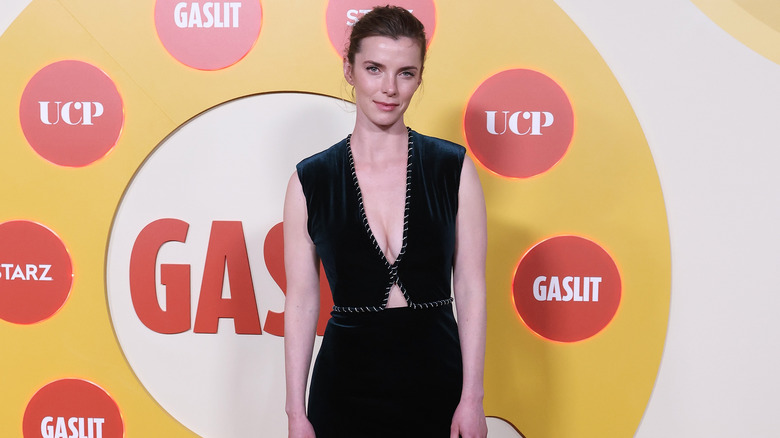 Taylor Hill/Getty Images
Clearly, Betty Gilpin's career hasn't been at all affected by the fact that she didn't play a teacher, a ghost, or some combination of the two things on "Gossip Girl." After graduating from Fordham in 2008, she showed up on single episodes of shows like "Law and Order: Special Victims Unit" and "The Good Wife" before booking a spot alongside Edie Falco on the Showtime original "Nurse Jackie." From there, her episode arcs got longer and longer on "Elementary" and "Masters of Sex," among others, before "GLOW" came along.
The Netflix original series, which was sadly cancelled before its time, chronicled a group of female wrestlers, with Gilpin starring as Debbie "Liberty Bell" Eagan alongside Alison Brie and Marc Maron, around others. After scoring three Emmy nods for the role, Gilpin showed up in movies like "The Hunt" and limited series like "Gaslit," and now, she's got the buzzy, bizarre, futuristic "Mrs. Davis."
You can stream "Mrs. Davis" on Peacock now.