Mrs. Davis: Betty Gilpin Loves Having To 'Take Huge Swings' Creatively As Simone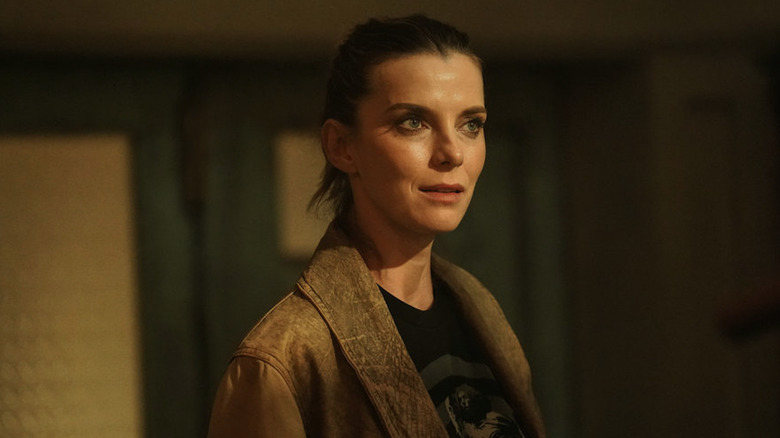 Elizabeth Morris/Peacock
Reviews for "Mrs. Davis" may be overwhelmingly positive, but even the biggest advocates of Peacock's techno-religious freakout have their quibbles. A nun taking on an AI algorithm, after all, isn't a premise that's going to please everyone, especially when myriad other components — magicians, German baddies, and a non-monogamous son of God, to name a few — are stuffed into the mix. If critics agree on anything, though, it's that Betty Gilpin — who plays Simone the aforementioned nun — is the ideal performer to steward viewers towards Damian Lindelof and Tara Hernandez's surreal, maximalist invention. As Larry Carroll put it for Looper's review of "Mrs. Davis," "Thank God for Betty Gilpin."
For Gilpin, "Mrs. Davis" is an opportunity to swing for the fences, creatively speaking, in her most dynamic role yet. "I think the jobs that are more infuriating are the ones that ask you to do 10 percent of what you want to do creatively," the actress told The Hollywood Reporter. "I'm sure that's true for any field, and this job, this script, I read and realized it was asking me to do 110 percent of what I can and want to do, and push myself and take huge swings."
Gilpin embraces her inner weirdo in Mrs. Davis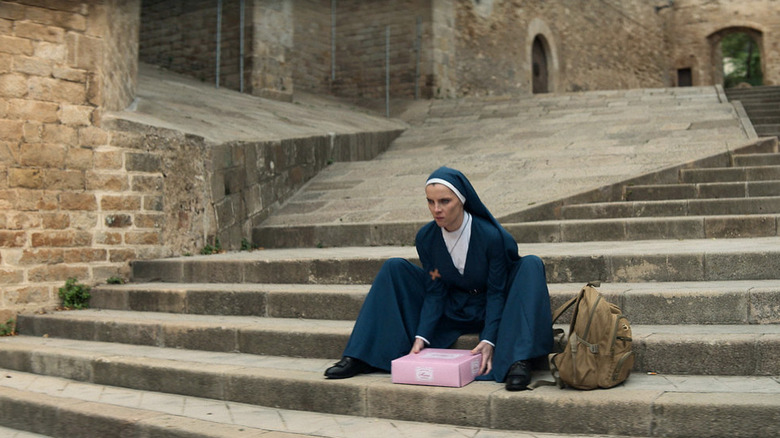 Peacock
Betty Gilpin has more than proven her acting chops in the past few years, particularly as Debbie "Liberty Belle" Eagan in the underrated, prematurely canceled "GLOW," and more recently in the Starz miniseries "Gaslit." With "Mrs. Davis," Gilpin takes center stage to let her talents shine. She credits co-showrunner Damon Lindelof, with whom she previously collaborated in 2020's "The Hunt," with letting her freak flag fly.
"[Damon] knows that inside I am a disturbed, cross-eyed baby dinosaur and that I want to play that on screen," Gilpin said in the same Hollywood Reporter interview. "I feel like every actress has had the experience of being 'exposition wife' while the man gets to do the fun cross-eyed baby dinosaur stuff, or be pure id or get a ton of red meat on the page to sink their teeth into, role-wise. And I think Damon knew that this baby dinosaur wanted some red meat to eat, and gave me said steak."
If Lindelof and Hernandez swung for the fences in conceptualizing "Mrs. Davis," then Gilpin certainly follows suit as a performer. Gilpin's expressive performance — in turns dry, bemused, and achingly tender — pushes far beyond the limitations of "exposition wife," and Gilpin sinks her teeth into the proverbial steak (or perhaps more accurately, falafel).
It helps that Lindelof and Hernandez crafted a character to whom Gilpin could relate, no matter the actress' real-life opinions on Jesus or magicians. "I feel similarly to Simone in that I think engaging with something that claims to have all the answers maybe stops us from asking the big questions as humans, which is maybe the purpose of being human."