What Episode Of The Big Bang Theory Was Nathan Fillion In?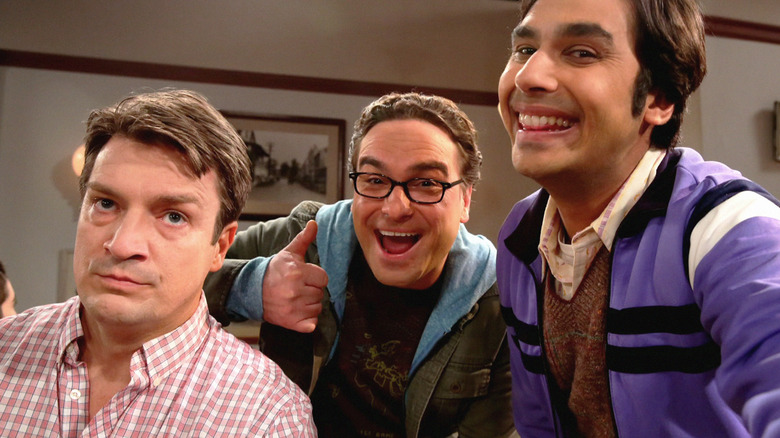 CBS
Although a Looper poll determined that fans' favorite "Big Bang Theory" guest star from throughout the show's 12-season run is Stephen Hawking, the legendary theoretical physicist's recurring cameos are just some of the many that factor into its more than 275 episodes. "Young Sheldon" star Iain Armitage even appeared on "The Big Bang Theory" during its 12th and final season, in a motivational speech that his childhood version of Jim Parsons' character recorded on video.
Another notable "Big Bang Theory" guest star is Nathan Fillion, known for his lead role on the cult classic single-season sci-fi series "Firefly," as well as subsequent TV roles on shows like "Castle" and "The Rookie." Fans of Fillion's interested in watching his "Big Bang Theory" appearance can find him in Season 8, Episode 15, titled "The Comic Book Store Regeneration."
Midway through the episode, Leonard (Johnny Galecki) and Raj (Kunal Nayyar) find Fillion — playing himself — eating alone at a deli. When they approach him, excited to meet a celebrity they hold in high esteem, he claims to be someone else. They're unconvinced, however, and quickly get Fillion to own up to his identity. Raj, however, wants to be sure that he's the genuine article and bombards Fillion with questions. They finally end up taking a selfie together, in which the "Firefly" star appears visibly irritated by the whole ordeal, making their photo the scene's comic punch line.
Nathan Fillion joined The Big Bang Theory after connecting with the series' creators over nerd culture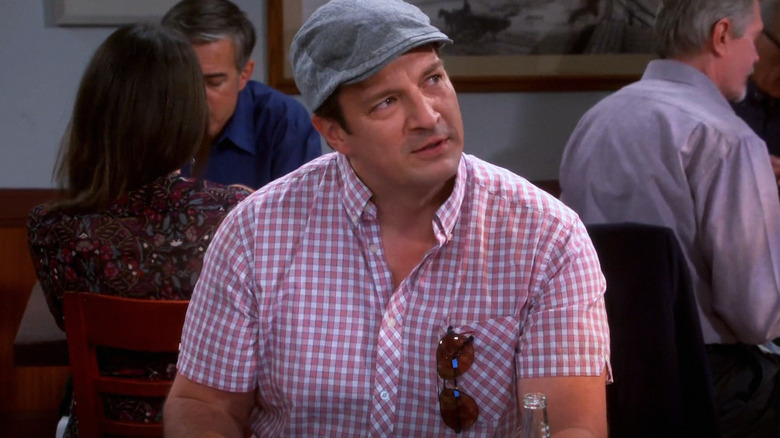 CBS
In a 2018 interview with Showbiz Junkies spanning his career up until that point in time, Nathan Fillion briefly discussed how his "Big Bang Theory" appearance — which premiered roughly three years prior — came to be.
"I had run into those guys. The ones who write that show are like-minded nerds like myself so they have an affinity for the nerd culture and nerd things," Fillion said. As "Big Bang Theory" fans are well aware, Season 8 in particular contains ample references to his work on "Firefly," leading naturally to his inclusion. "When they make 'Firefly' references, 'Firefly' jokes, Nathan Fillion vs. Ryan Reynolds for 'Green Lantern,' they're just touching on stuff that we all talk about in nerd culture. I ran into those guys at a party. They said, 'We'd love to have you on this show.' I said I would love to be on it," he continued.
Fillion then fielded a question about whether or not the scenario depicted on "The Big Bang Theory" ever occurs in his real life and revealed that some people have indeed approached him only to describe him as someone merely resembling Nathan Fillion. "People ask me if anybody ever told me I look like Nathan Fillion. Then again, I'm also often mistaken for Jason Bateman," he joked, confirming that his "Big Bang Theory" scene is a comedically heightened version of something that actually happens in his real life.