Here's How You Can Watch Happy Valley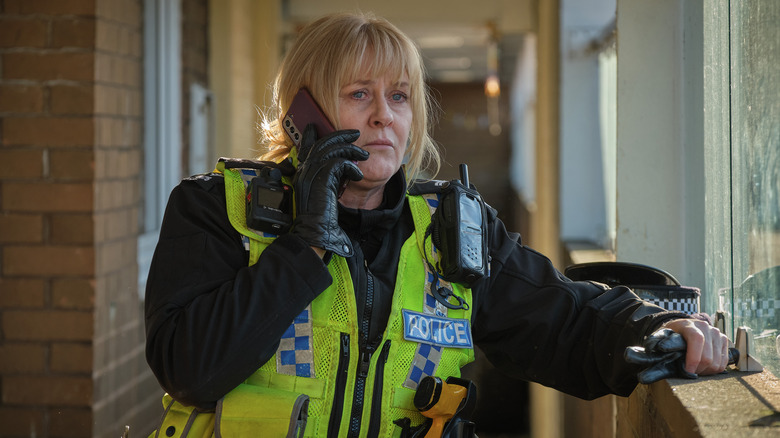 Matt Squire/Lookout Point/AMC
When it comes to police dramas, "Happy Valley" isn't reinventing the wheel. A tough-as-nails cop with a troubled personal life is a popular trope for a reason, and indeed, "Happy Valley" shares DNA with shows like "Broadchurch," "Top of the Lake," and "Mare of Easttown." But the British series brings the genre to an apex, with Esquire even calling it "the best show on TV."
Created by Sally Wainwright, "Happy Valley" stars Sarah Lancashire as Catherine Cawood, a police sergeant in West Yorkshire's Calder Valley. The ironically named series is a dark and darkly funny affair, featuring kidnapping, drugs, and suicide.
"Happy Valley" first premiered on BBC One in 2014, and a second season followed in 2016. After a long wait, Season 3 premiered in the UK in January 2023. With the three-part series finally airing in the United States, American viewers can tune in via AMC+. However, older episodes of "Happy Valley" are also available elsewhere.
Happy Valley is available on AMC+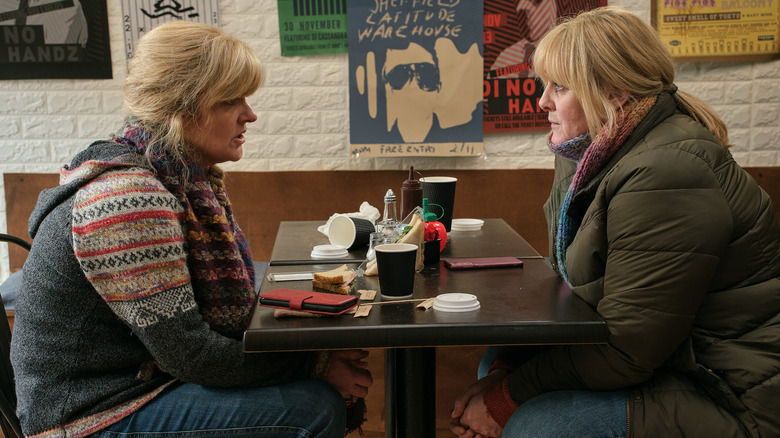 Matt Squire/Lookout Point/AMC
Though the three-season trilogy of "Happy Valley" concluded across the pond in February, Season 3 made its US debut on May 22. Viewers can watch at home every Monday on AMC+ or Acorn TV until June 26 and binge older seasons on the same platform as well. AMC+ is an apt home for the critically acclaimed series, and AMC+ previously hit record viewership with "The Walking Dead." New episodes of "Happy Valley" also air on BBC America at 10PM.
Additionally, "Happy Valley" is available with a Roku Channel subscription. Fans willing to shell out the cash for individual episodes can also check out the series on Google Play, Apple TV, and Amazons, where an episode will set you back $1.99.
Fans need not worry about being inundated with endless new episodes of "Happy Valley." Sarah Lancashire has made it perfectly clear that Season 3 is the final chapter in the "Happy Valley" saga. In March, the actress met with Camilla, Queen Consort of the United Kingdom, for International Women's Day, and the pair discussed the future of the series.
"Well, there's no season 4 — it's all done," she said (via AMC). For Lancashire, retiring the taxing series will be a welcome reprieve. "It's the right thing to do; we just can't keep doing it. It's an emotional assault course. To be honest, it would kill me."