Robert De Niro And Sebastian Maniscalco's Dad Bonded While Filming About My Father - Exclusive
It's no secret that Robert De Niro is one of the most iconic actors of all time. When discussing "The Godfather," "Goodfellas," or "Raging Bull," his name is often spoken with an air of reverence. Still, even with such an impressive filmography, this Oscar-winning actor isn't above taking cues from an old-school Italian hairstylist. 
In the forthcoming film "About My Father," co-written by Sebastian Maniscalco, De Niro portrays the on-screen version of the hit comedian's real-life dad, Salvo Maniscalco. During the creation of the movie, the real and fictional Salvos spent much time together.
"I met his father after I decided to do it [the movie], and that was very nice. I had a good time with him," De Niro said in an exclusive interview with Looper, "I liked him and I had questions for him in relation to the script and this and that, and just getting to know him — that was all good." 
De Niro elaborated that he and Salvo bonded over their similarities. Both are parents, and both hail from Italian roots. "When I met him, I understood," De Niro said, who was intrigued by Salvo's mannerisms. "I'd ask him if he knew this [Italian expression] or certain things, too. I was sort of verifying or trying to find out if there was anything I'm missing."
Salvo Maniscalco appreciated Robert De Niro's dedication to the role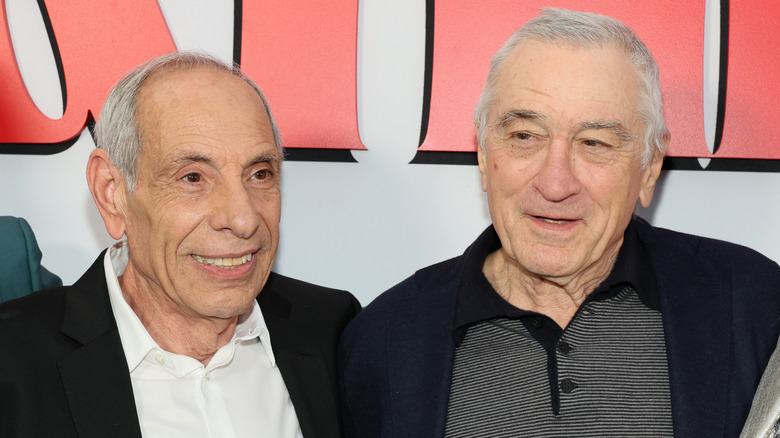 Dia Dipasupil/Getty Images
As part of an EPK interview via Lionsgate, Salvo Maniscalco shared further details of his unprecedented bond with Robert De Niro. Not only was he invited to the Oklahoma set of De Niro's film "Killers of the Flower Moon," but he was also invited to De Niro's hotel for dinner, with the two spending over four hours together. Additionally, as part of De Niro's in-depth research, he was trained in the hairstylist's longtime craft.
"We had someone tape me working in my salon," Salvo Maniscalco said. "I use my hands a lot when I speak. I really can't talk without doing that. It's part of my personality. So De Niro watched the tape of me and my hands at work." 
For Sebastian Maniscalco, it was hard to grasp the fact that De Niro took such an interest in his father. 
"He was constantly calling my dad," he said. "Dad's a hard worker and always has been, but I told him jokingly, 'I think we found somebody who works harder than you.'"
Salvo Maniscalco was a constant presence on the set of "About My Father," serving as a technical consultant to ensure De Niro did him justice. He didn't need to worry, though, and appreciated the effort that De Niro put forth. "You know anybody that does that?" Salvo Maniscalco asked. "He wants to know everything, so I give him what I know, and then he does the rest."
Watch "About My Father" in theaters on May 26.