Sebastian Maniscalco & Robert De Niro Talk New Family Comedy About My Father - Exclusive Interview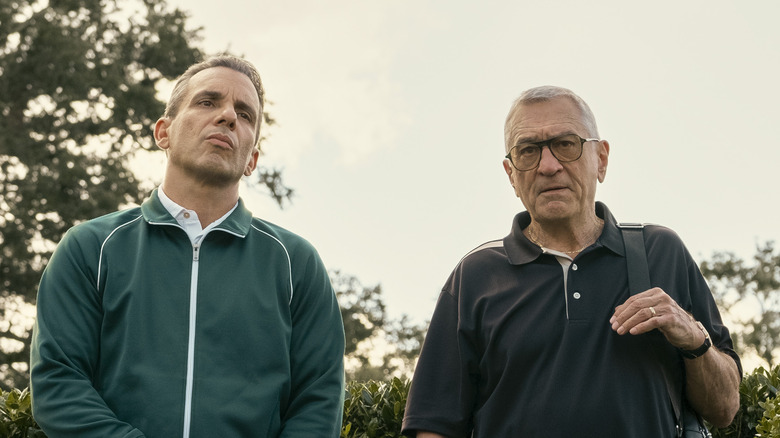 Dan Anderson
When it comes to his Italian (sorry, Sicilian) upbringing in Chicago, comedian Sebastian Maniscalco is an open book. Over the past 10-plus years, he's regaled audiences with recollections of his childhood, from sharing a special Entenmann's treat when company came over to playing "Gagootz" at birthday parties. However, some of his best content involves his father, Salvo Maniscalco, a proud hairstylist from Sicily who has an affinity for paying with cash — even at Sears — and taking care of garden pests sans-Orkin. Now, Maniscalco is bringing those Salvo stories from the stage to the screen in the comedy "About My Father."
The film, co-written by Maniscalco and Austen Earl, is loosely based on events from the comedian's own life, when his old-school immigrant father first met his wife's Jewish family at the start of their relationship. While Maniscalco plays himself in the movie, the role of Salvo is taken on by Robert De Niro. "About My Father" follows the pair as they spend a summer holiday weekend with the quirky, wealthy Collins clan (Kim Cattrall, Leslie Bibb, David Rasche, Anders Holm, and Brett Dier). Despite the duo being welcomed with open arms, Salvo struggles to adapt to this clashing of cultures.
In an exclusive interview with Looper, Maniscalco and De Niro shared details on the creation of "About My Father," the involvement of the real-life Salvo, and Maniscalco's early encounter with De Niro before they crossed paths on the set of 2019's "The Irishman."

About a real-life father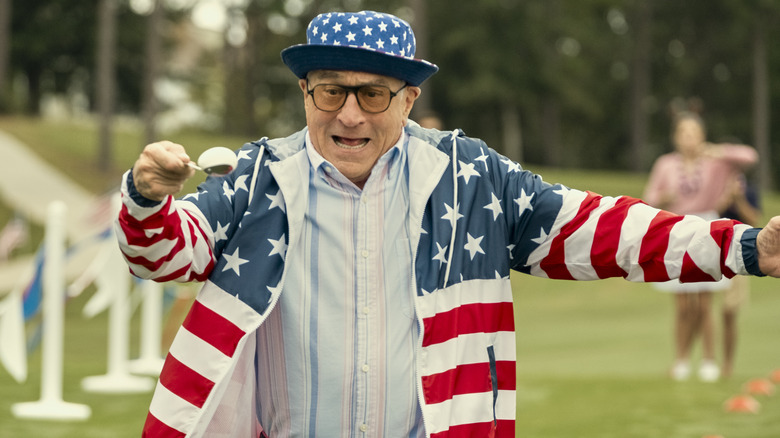 Dan Anderson
Sebastian, your father [Salvo Maniscalco] is a big part of your standup routines. Can you walk me through how and when you decided to turn that content into a movie?

Sebastian Maniscalco: With standup, you've got to be really quick and have an audience laughing every 12 to 14 seconds. Sometimes, the stories that I have about my father don't lend themselves to being on stage — [they're] more relationship-driven. A movie allowed me to develop those relationships, not only the relationship I have with my father but my fiancée and her family. It was better told in a movie setting rather than on stage.
Robert, did you get to interact with Sebastian's father at all? If so, how did that go?
Robert De Niro: Well, I met his father after I decided to do it, and that was very nice. I had a good time with him. I liked him and I had questions for him in relation to the script and this and that, and just getting to know him — that was all good.

Were there any personality traits or anything that he trained you on?
De Niro: There might have been; I can't remember. But we had a ... I got it. When I met him, I understood. Plus, being a parent myself ... and there were certain things that he would do that I'd be interested in, or even Italian expressions and stuff that I wanted to see what he knew. I'd ask him if he knew this one or certain things, too. I was sort of verifying or trying to find out if there was anything I'm missing.
Maniscalco and De Niro have crossed paths before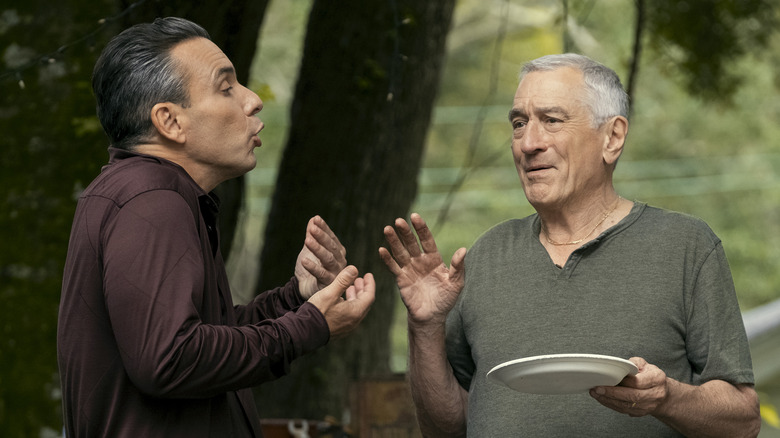 Dan Anderson
Sebastian, what does it mean to be doing this in your career right now? I know you started out as a waiter back in the day, and now you're working alongside Robert De Niro.
Maniscalco: I actually served him at the Four Seasons Hotel. I don't know if I told you?
De Niro: No.
Maniscalco: You sat outside one night. We used to have those little nut caddies, and you asked for replenishment on the nut caddies at the Four Seasons in Beverly Hills outside on the patio. I waited on you one night, so it's weird for me.
De Niro: Oh, yeah.
Maniscalco: I used to serve this man, waiting tables, and now we're starring in a movie together — so this is all surreal. It's a really exciting moment for me to come back to my hometown. I got my friends and I got my family — I got everybody I know — coming to the screening, and it's nice to share the experience with the people who are close to me.
Watch "About My Father" in theaters on May 26.
This interview has been edited for clarity.