Why Jonesy From The Waltons Looks So Familiar
Arlington Wescott "Jonesy" Jones III started out as a reasonably minor character in "The Waltons." He marries Mary Ellen Walton (Judy Norton Taylor) near the end of the original series in March 1947, and as such, only appears in two episodes of the show proper. However, Jonesy went on to become a fixture of the family in the string of three Walton-adjacent 1982 TV movies themed after various life events and holidays — "A Wedding on Walton's Mountain," "Mother's Day on Walton's Mountain," and "A Day for Thanks on Walton's Mountain."
By the time Jonesy joined the show, The cast of "The Waltons" was already quite sprawling. On one hand, this means that it was arguably more difficult to stand out, but on the other, the makers of the show understood full well that a late-game addition who actually becomes part of the family needs to be played by an actor who knows what he's doing. Said actor was Richard Gilliland, who was already a known name when he joined "The Waltons," and went on to star in numerous other projects, as well. Here are some shows you might know him from. 
Gilliland played Lt. Holden in the sitcom version of Operation Petticoat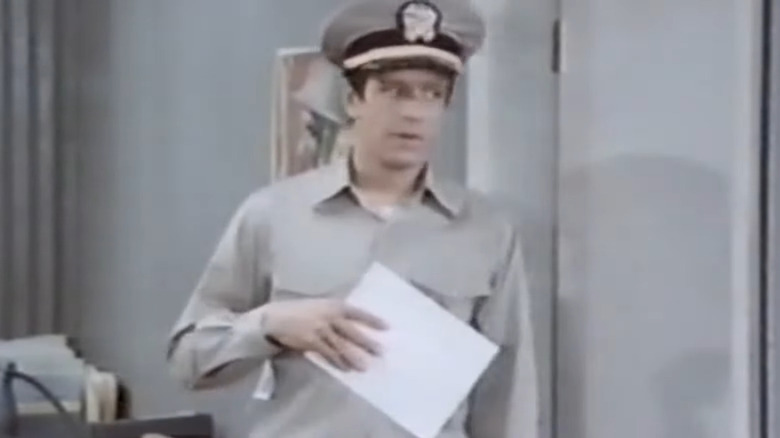 ABC
1959's "Operation Petticoat" was the unlikely marriage of WWII-era submarine warfare and wacky comedy. Arguably moviemaker legend Blake Edwards' best-known work before he hit the truly major leagues in the 1960s with movies like "Breakfast at Tiffany's" and "The Pink Panther" film series, the nautical comedy puts Lieutenant Commander Matt Sherman (Cary Grant) and Lieutenant Nick Holden (Tony Curtis) in a unique situation where they have to fix a barely seaworthy submarine called Sea Tiger by effectively scrounging for parts. After a series of increasingly mind-boggling events, they end up painting the sub bright pink and rescuing a number of nurses while trying to evade both Japanese and U.S. forces. 
In 1977, ABC turned the story into sitcom form, with Richard Gilliland starring as Holden and John Astin as Sherman. The show only ran for two seasons, and Astin and Gilliland departed the show before the abbreviated 10-episode Season 2. Still, much like the movie version, the sitcom has its place in history. Edwards' film featured several actors who would become very well known, from Dick Sargent ("Bewitched") to Gavin MacLeod ("The Love Boat). Likewise, "Operation Petticoat" the show featured the first significant role of future superstar and Academy Award winner Jamie Lee Curtis, who played Lt. Duran. 
He scouted talent as J. D. Shackelford in Designing Women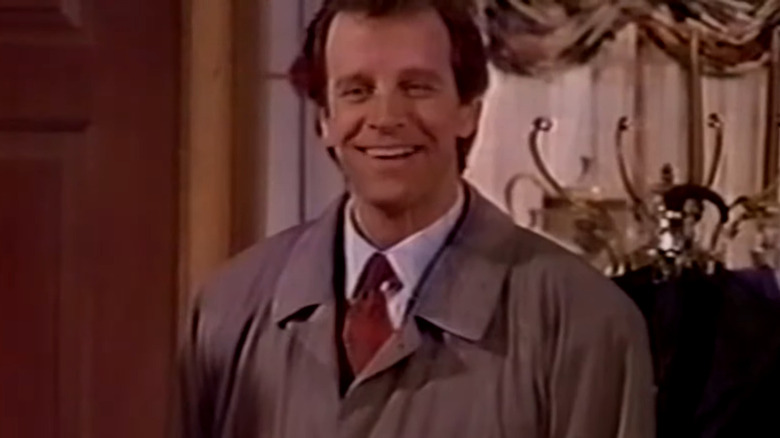 CBS
From 1986 to 1991, Richard Gilliland plied his trade as J.D. Shackelford in the CBS sitcom "Designing Women." The show focuses on the misadventure-prone staff of Sugarbaker & Associates, an Atlanta interior design company. The owners and employees of the company are played by an impressive cast of all-star actors ranging from Dixie Carter ("Family Law," "Desperate Housewives") and Jean Smart ("Frasier," "Watchmen," "Mare of Easttown") to Annie Potts of "Ghostbusters" and "Toy Story" fame.
Speaking of Potts, Gilliland's Shackelford is instrumental to her Mary Jo Shively's storyline. Mary Jo is the company's main designer and one of the show's funniest characters, but her personal life is somewhat less successful following a recent divorce. As Mary Jo's boyfriend, Shackelford — a sports talent scout who's a recurring character in the first five seasons of the show — is an important "significant other" type of character, but funnily enough, real life wrote the plot in a similar vein ... only with a romance between him and Smart instead of him and Potts. Jonesy" from "The Waltons ended up marrying his "Designing Women" co-star Smart in 1987, and they were together until his death in 2021. 
He was Arlen Johnson in Imposters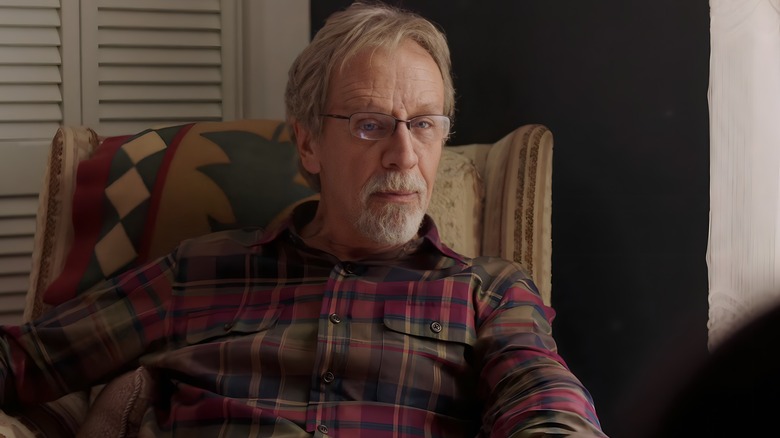 Bravo
Richard Gilliland used his experience in a significantly darker brand of comedy from 2017 to 2018. In Bravo's "Imposters," he plays Arlen Johnson, the main character Maddie's (Inbar Lavi) father. Maddie's trying to exit her criminal life as a love-themed con artist, but things aren't as simple as they seem. After all, not only does her boss (Ray Proscia) very much want her to stay in the game, but former spouses-slash-targets Ezra, Richard, and Julia (Rob Heap, Parker Young, and Marianne Rendón)  have formed an all-star alliance to find her and bring her to justice. Gilliland's Arlen suffers from dementia and becomes entangled in the plot midway through Season 1 when the trio hunting Maddie infiltrates the con artist's run-down childhood home. 
While a somewhat passive figure in the show for understandable reasons, Arlen is nevertheless pretty important to the plot throughout his four appearances over the show's two seasons. In particular, Maddie's moment with him in the Season 2 episode "Maybe/Definitely" offers plenty of interesting context to her actions.