Yellowjackets Theory: Adult Misty Will Have To Kill Walter To Protect Shauna In Episode 9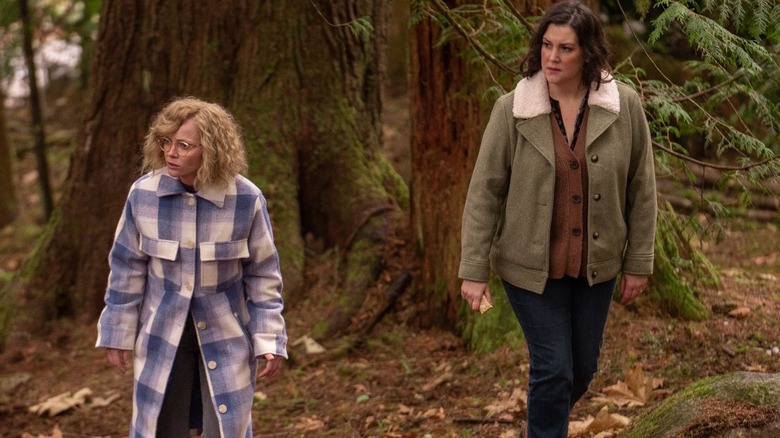 Colin Bentley/Showtime
Contains spoilers for Yellowjackets Season 2, Episode 8 — "It Chooses"
"Yellowjackets" Season 2 continues to fuel Misty's (Christina Ricci) investigative antics as she infiltrates Lottie's (Simone Kessell) commune to find out what happened to Natalie (Juliette Lewis). On her journey, she meets a like-minded individual on the internet theory boards who may, unfortunately, become the next victim in her protective murder spree. Even though she's madly in love with him, it seems very likely that "Yellowjackets" is setting us up to witness Misty devastatingly execute her lover Walter (Elijah Wood) to protect one of her own.
Season 2 of "Yellowjackets" dives deep into Misty's twisted psyche, in both the past and the present, which highlights her struggles with maintaining close relationships. Episode 8, "It Chooses," takes a grisly stroll down memory lane by reminding viewers of the drastic measures Misty is willing to go to in order to protect her fellow Yellowjackets. In Season 1, she murders the private detective Jessica Roberts (Rekha Sharma) to silence her and ensure their secrets remain hidden, while also trying to win the approval of her teammates. This ultimately stems from her insecurities and neediness which actually makes her one of the most relatable characters, according to Ricci herself.
As Misty divulges the gritty details to her friends, Walt is treading on some thin ice by getting closer to figuring out Shauna's (Melanie Lynskey) role in Adam's (Peter Gadiot) gruesome murder and dismemberment. This puts them in jeopardy of getting caught by the police, especially after he sends an informative email directly to the authorities. Once Misty hears about this, she'll have to make a grave decision that we can begin to anticipate in the following episode.
The bloody writing is on the wall for Walter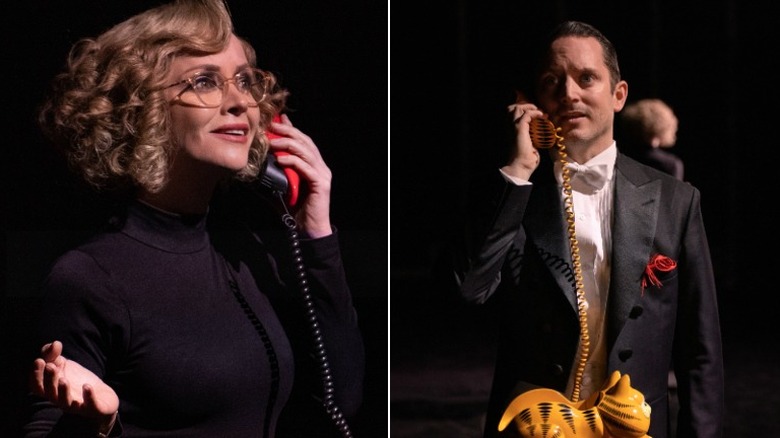 Colin Bentley/Showtime
After Misty's revealing time in the sensory deprivation tank, we have a better sense of where her mind is and how she feels about Walt. Following her colorful revelation, she calls him and leaves a heartwarming voicemail that expresses her love. However, after considering how her last close friendship with her other musical-loving friend Crystal (Nuha Jes Izman) went, it's very possible Walt will suffer a similar deadly fate.
During her vision, Misty confronts her psychotic tendencies with her beloved pet bird Caligula (John Cameron Mitchell) who tells her "You're not a murderer Misty, you're a closer!" This comforting thought soothes her anxieties and reinforces the idea that her murderous acts are justifiable, like her silencing of Jessica and Crystal. That puts her in a compromising position that will lead Walt to become more of an obstacle and less of a possible love interest.
When Walt starts putting the pieces of Adam's killing together, he realizes Misty has been intentionally misleading him while a haunting rendition of "Not While I'm Around" plays. The song choice is the most ominous indicator of Walt's fate as it's from the cannibal musical "Sweeney Todd: The Demon Barber of Fleet Street." Rather than protect Walt, it's possible Misty will have to commit yet another heinous act to protect the dark secrets the Yellowjackets possess, particularly Shauna. Even after his heartfelt morse code message, Misty must choose between love and friendship by doing what "has to be done," and what only she can do.