Yellowjackets S2 E7: Who Plays Caligula In Misty's Dream?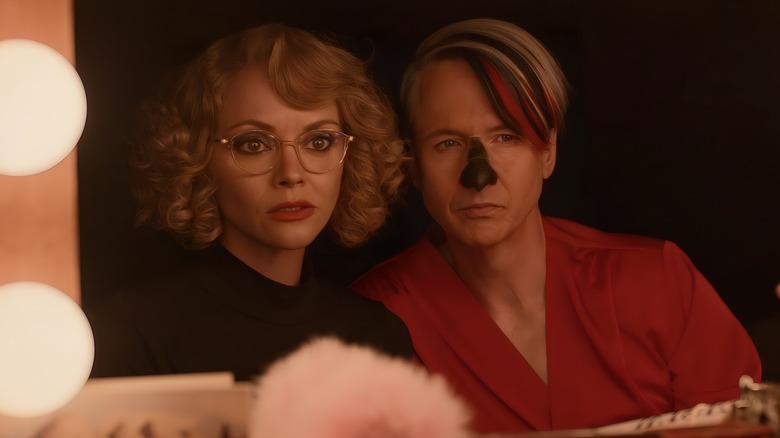 Showtime
Contains spoilers for "Yellowjackets" Season 2, Episode 7 – "Burial"
Misty Quigley (Christina Ricci) isn't an easy person to be around — just ask Jessica Roberts (Rekha Sharma). Misty is a harrowing combination of desperately needy and primed for survival, and we've seen her drug, dismember, stalk, and even kill characters on "Yellowjackets," all in an effort to feel liked and needed.
In Season 2 of "Yellowjackets," Misty meets Walter (Elijah Wood), a like-minded citizen detective. Despite their similarities and a shared love of musical theater, Misty pushes Walter away, opting to keep him at arm's distance. A mind-bending dream sequence in Episode 7, however, reveals Misty's true colors. The scene — incited by Misty's sojourn in a sensory deprivation tank — features a song-and-dance number performed by Walter and an anthropomorphized version of Caligula, Misty's beloved parrot. When Caligula takes off his puppet head, it's none other than celebrated actor and playwright John Cameron Mitchell.
As Caligula, Mitchell dons a beak and a shock of pink in his gray hair as he doles out advice. "Take it from a bird who was named after a Roman emperor who was also unjustly accused of heinous acts," he tells her, cigar in hand. "You are not a murderer, Misty. You're a closer."
John Cameron Mitchell has played rock and rollers, drag queens, and Joe Exotic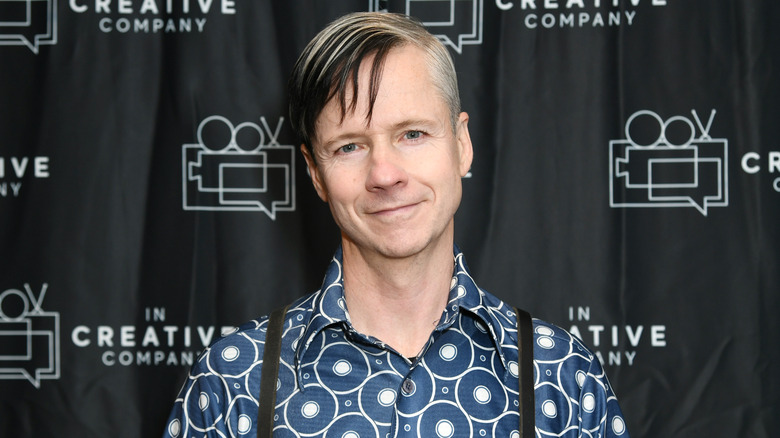 Jc Olivera/Getty Images
John Cameron Mitchell's brief performance as Caligula is the sort of wonderfully gaudy and darkly funny work that he has come to be associated with. Mitchell is perhaps best known for co-writing and starring in the queer rock musical "Hedwig and the Angry Inch," which he adapted for the screen in 2001. Mitchell's musical theater background makes him an apt casting choice for "Yellowjackets," given Misty and Walter's shared love of musicals.
In addition to directing "Hedwig," "Shortbus," "Rabbit Hole," and "How to Talk to Girls at Parties," Mitchell is also known for his television work. He's had recurring roles on a number of acclaimed series, including "Girls," "The Good Fight," and "Mozart in the Jungle." From 2019 to 2021, Mitchell starred on Aidy Bryant's "Shrill" as Gabe, a self-absorbed former punk singer-turned-magazine editor.
More prominent TV roles followed, and in 2022, Mitchell starred as Joe Exotic alongside Kate McKinnon on "Joe vs. Carol." That same year, he had a recurring role on the Netflix adaptation of Neil Gaiman's "The Sandman." Mitchell plays Hal, a drag and cabaret performer who also owns a bed and breakfast. For Mitchell, the role was a return to his roots. "I'm a friend of Neil's," Mitchel told /Film, "So I was thrilled when the offer came through to play Hal, which I mostly did because I got to sing songs from [the Broadway musical] 'Gypsy' ... It was a good time, and a wonderful cast and group of people."