55% Of Fast & Furious Fans Say This Is Their All-Time Favorite Character - Looper Survey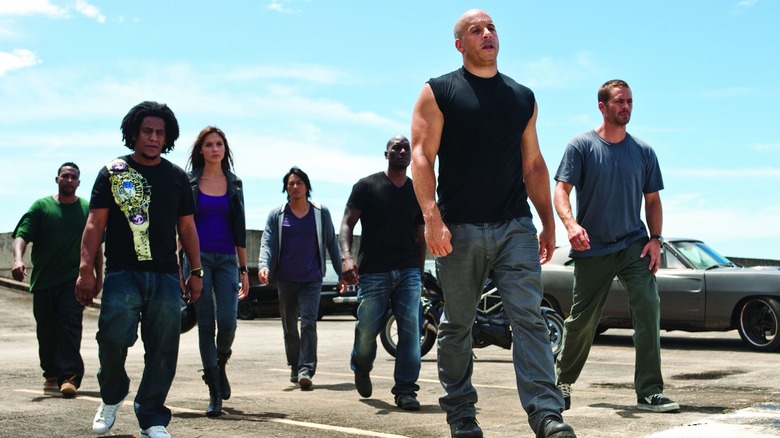 Universal Pictures
According to a poll conducted exclusively by Looper on our YouTube community page, 55% of our audience members feel that Brian O'Connor is their all-time favorite character in the "Fast and Furious" franchise. 
The FBI agent (turned criminal, turned superspy), played by the late actor Paul Walker, famously anchored the series alongside Vin Diesel since its first installment. His daughter, Meadow Rain Walker, makes her franchise debut in "Fast X."
Back in the day, when Walker's co-star felt Universal's sequel concept wasn't strong enough for his taste, he even became the first and only member of the franchise to carry their own main line "Fast" film with an entirely new supporting cast. Han Lue (Sung Kang's fan-favorite character, who was selected by 10% of our audience) was both a new addition to the franchise as well as a supporting character in "Tokyo Drift," while Luke Hobbs (Dwayne Johnson, 9%) and Deckard Shaw (Jason Statham, 8%) shared the burden of leading man in the spin-off film "Hobbs and Shaw" — despite their individual contracts stipulating that each actor was "really the actual leadingest man, actually," allegedly.
Diesel, who plays the franchise's popular face Dominic Toretto and serves as its second-most defining creative voice (behind director Justin Lin), came in second place out of the five provided options, with 17% of the vote. However, some of our readers felt that we woefully overlooked their personal favorites.
Fast fans demand justice for Roman... and Suki?
Seemingly, the most egregious omission on Looper's part, as voters made clear, was Tyrese Gibson's fast-talking would-be leader Roman Pearce, who first appeared as Diesel's brief successor in "2 Fast 2 Furious." Looper reader Jamie Willis wrote "Where is Roman Pearce? [S]ure he's the comic relief, but he's a great team player." Some responding users felt differently, however, writing that the character saw a steep decline in every subsequent film following his "2 Fast" debut.
Other readers lamented the franchise's general lack of legitimately engaging female characters, despite the number of women technically on screen. "I need a female character to be able to relate to," begged Amber Dyet. Meanwhile, Linda Magagula offered, "I would love to see Devon Aoki as Suki [make] a Comeback in Fast X."
Of course, the "Fast" saga has about as many devotees as detractors at this point, with a few of our readers passionately arguing that picking the "best" character in a series so arguably underwritten would be as pointless an activity as trying to teach a five-year-old to do figure-eight donuts in a 1970 Dodge Charger R/T. "There are characters in this franchise?" joked one user. "I thought it was just a bunch of cars with mannequins and a speaker repeating "family" strapped inside..."