Kim Cattrall And Leslie Bibb Thrilled To Be Part Of Maniscalco/De Niro Comedy About My Father - Exclusive Interview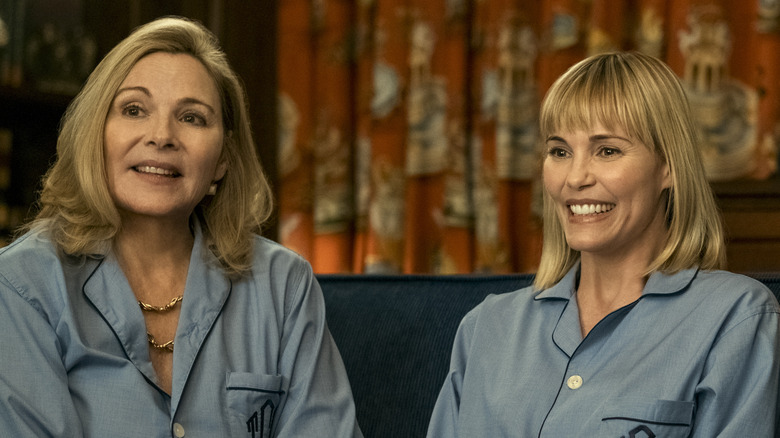 Dan Anderson
What happens when an old-school Italian dad meets his son's future wealthy, albeit quirky, in-laws? Pure chaos in the form of a butchered pet peacock, a haircut disaster, and accidental nudity. In the forthcoming film "About My Father," co-written by and starring comedian Sebastian Maniscalco, Leslie Bibb portrays Sebastian's fiancée, Ellie, with Kim Cattrall taking on the role of her politician mother, Tigger. Despite the ladies and the rest of the Collins clan (David Rasche, Brett Dier, and Anders Holm) welcoming Salvo (Robert De Niro) with open arms, the group's summer holiday weekend at the country club doesn't really go as planned.
Cattrall and Bibb are no strangers to comedic projects, having appeared in "Sex and the City" and "Talladega Nights: The Ballad of Ricky Bobby," respectively. But there was something special about this flick that made them jump at the chance to be involved. 
In an exclusive interview with Looper, the actresses shared what drew them to "About My Father," the creation of Tigger's hilarious haircut scene with Salvo, and how Bibb pulled inspiration for her character from Maniscalco's real-life wife, artist Lana Gomez, who he has said loves people and boasts a positive outlook on life. However, upon learning that this writer is Italian, Bibb had some questions of her own.
A relatable story
Leslie Bibb: Did you feel like, as an Italian ... Because my friend who saw it with me stood up and was like, "We're bringing Italians back!" He was like, "There were all of these things that happened," and I was like, "Does this all make sense to you?" He's like, "My dad used to do all of that stuff, the stuff in the garden."
Kim Cattrall: Oh yeah?
Very relatable! 
Bibb: Very relatable, yeah.
What made both of you want to get involved in this very, very Italian movie?
Cattrall: Someone sent me the script, and they said, "This is starring Robert De Niro and he's playing a hairdresser." I thought, "I ... yeah, okay."
Bibb: It's Bob [De Niro]. It's Sebastian [Maniscalco]. I've worked with Sebastian before. I read the script, and I'm a little bit of a sucker when it comes to family movies, and I love a good comedy. They don't make a lot of great comedies. I read this and I thought, "If we do this right, this is going to be great." And when I saw the movie, I was like, "This is really funny and heartwarming," and [it] felt like "Meet the Fockers" meets "Wedding Crashers." [It] felt elevated and cool, and [I got] to work with Bob.
Cattrall: It's a story that a lot of people are familiar with. It's about getting to know the other, enjoying the other, and accepting the other. I think we did a good job.
Bibb: We stuck it.
De Niro's stylish influence
Kim, the hair scene was hilarious with Robert De Niro. What went into filming that, and [was] there any fun behind-the-scenes stuff you could talk about?
Cattrall: There is, actually. We had a terrific hair department. I was measured for a wig, and I came on set, and they had cut it in a very particular way.

Bibb: Very stylish.
Cattrall: Very stylish. But Bob looked at it and said, "It's not right." And he was right because he is playing a hairdresser and this is the first time you actually see him do a haircut. His character thought that he was a Michelangelo of haircutters, so he wanted to be true to his character [in] that he gave her a fantastic cut. So we stopped shooting, we went back to the hair trailer, and we made it shorter and shorter and shorter and shorter until you see what it is — almost like a Mia Farrow cut from "Rosemary's Baby."
Bibb: It looks like his haircut, which is the joke.
Cattrall: Which it had to [because it] was part of the dialogue. He was absolutely right about the cut and the color and everything about that statement. He made that work.
Leslie, you play Sebastian Maniscalco's on-screen girlfriend. Did you get to interact with his wife [Lana Gomez] at all?
Bibb: I've met them. Sebastian and I did a movie called "Tag" together. He married me and [Jeremy] Renner, so I met them during the premiere and at parties, and I got a sense of them. I wanted to make — because it's based on them, but loosely — I wanted to make her my own. I really went in with my wardrobe and her vibe and her more physical stuff. I wanted to get inspo from her, and I wanted to make it my own.
Watch "About My Father" in theaters on May 26.
This interview has been edited for clarity.