Bridgerton: The Debate About Queen Charlotte's Ancestry Explained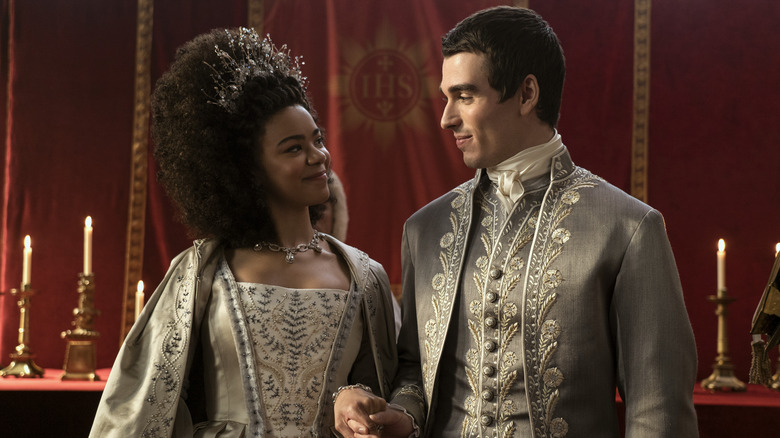 Liam Daniel/Netflix
Shonda Rhimes has yet another hit with the Netflix royal drama "Queen Charlotte: a Bridgerton Story," a six-part prequel to the hit series "Bridgerton." Rhimes created and wrote four the six episodes of the miniseries, which dropped on May 4 and stars India Ria Amarteifio as young Queen Charlotte and Corey Mylchreest as young King George. The series has been a critical darling, with a 94% approval rating from professional reviewers at Rotten Tomatoes. The added attention to Charlotte's life has also rekindled debate about her ancestry, with historian Mario De Valdes y Cocom contending that her lineage lies within the Black Portuguese royal family. 
In the 1200s, "Alfonso III of Portugal conquered a little town named Faro from the Moors," Valdes, a researcher on the 1996 Frontline PBS documentary 'Secret Daughter,' told The Washington Post in 2018. "He demanded [the governor's] daughter as a paramour. He had three children with her." 
According to the Post, "Valdes, who grew up in Belize, began researching Charlotte's African ancestry in 1967 after he moved to Boston." The 2018 wedding between Britain's Prince Harry and former actor Meghan Markle, who is also of mixed race, prompted conversation about Charlotte's purported African lineage. 
Rhimes told Vulture she was captivated by Golda Rosheuvel's performance in "Bridgerton" and fascinated with the debate behind Charlotte's possible African roots."I know there are a lot of people who believe it's absolutely fact that she's from Black Portuguese royalty," Rhimes said. "[And] there are some who just can't accept that. The idea that that would make her their first Black royal was very interesting to me."
Shonda Rhimes employs an on-set historian for Queen Charlotte: A Bridgerton Story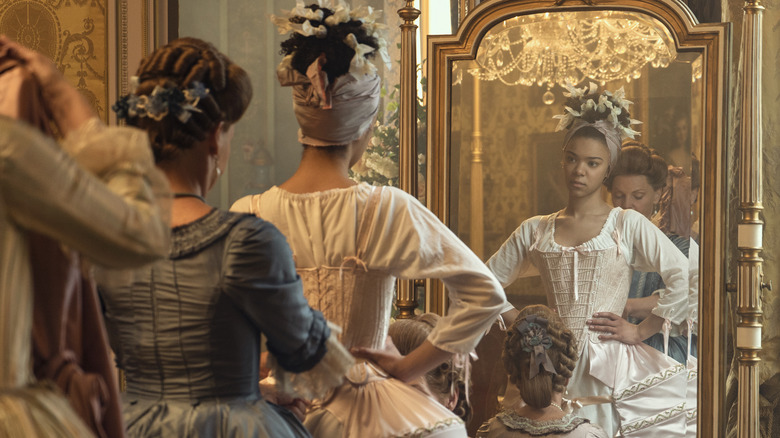 Liam Daniel/Netflix
However, the research by Mario De Valdes y Cocom has not meant the end of the scholarly debate regarding Queen Charlotte's ancestry. "It really is so remote," David Williamson, former co-editor of Debrett's Peerage, the guide to Britain's barons, dukes and duchesses, marquises and other titled people, told the Boston Globe. "There is a lot of Moorish blood in the Portuguese royal family and it has diffused over the rest of Europe." (via The Seattle Times). 
But when it comes time to balance the elements of historical accuracy and compelling storytelling, Shonda Rhimes employs a carefully assembled creative and academic team to craft "Queen Charlotte: A Bridgerton Story." 
"It was just me toiling away with another writer, Nick Nardini, over Zoom and email," Rhimes told Vulture." Every script went through the historian Polly Putnam's hands, and there's always a historian on set to help the actors understand the social rules of this world." 
Rhimes explained that she does intentionally diverge from historical accuracy with regard to the hairstyles worn by the Black female characters in "Queen Charlotte," partially in an attempt to separate the series from "Bridgerton." 
"I strayed because we are in an entirely different era," Rhimes said, "and I wanted the world to feel grounded in both wardrobe and hair. 'Bridgerton' showcases a world that has a heightened style, especially for hair. I wanted to see Black women in their full glory — celebrating their hair is an important part."