The Hilarious Fast X Moment That Jason Momoa Totally Improvised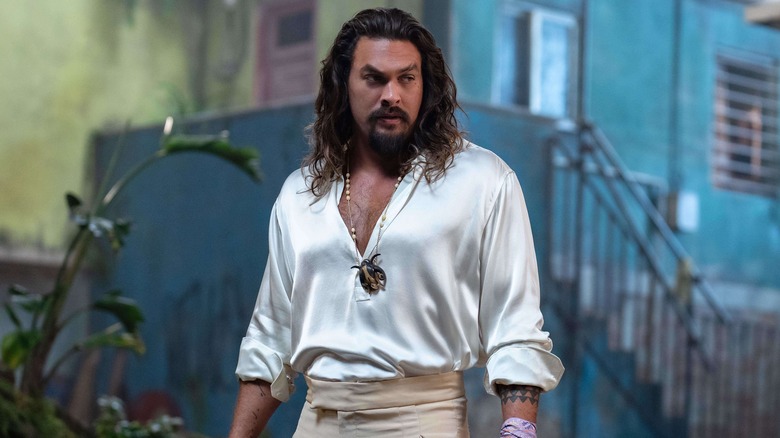 Universal Pictures
Some actors throw their very heart and soul into a character just to make the movie sell. Jason Mamoa chose to throw his teeth.
During a 2023 interview with Screen Rant, Momoa expressed that he had big ideas for how Dante Reyes should be portrayed. He believed that his "Fast X" character would be far more interesting as an antagonist if he used disarming humor to combat the heroes and that belief led to the actor throwing his tooth at Vin Diesel.
Momoa said, "I think it's way more interesting [if Dante] gets the s*** kicked out of him, and he loves it ... It's scary when someone's getting off on that pain ... And through that, his humor. I lost a molar. I never took my wisdom teeth out because I'm a wussy and I'm terrified of dentists. So I cracked my molar. And so I have this gap here and I was like, 'This would be funny if you just beat the s*** out of me and I'll pull my tooth out ... and just throw it at him, and then whoa, whoa, whoa, whoa.'"
Momoa went on to admit that the "Fast X" creative team allowed him to improvise a number of other moments onset, such as a sequence where his character performed unsolicited ballet, which is somehow less jarring than the whole tooth thing.
Jason Momoa worked closely with every artistic department to flesh out Dante Reyes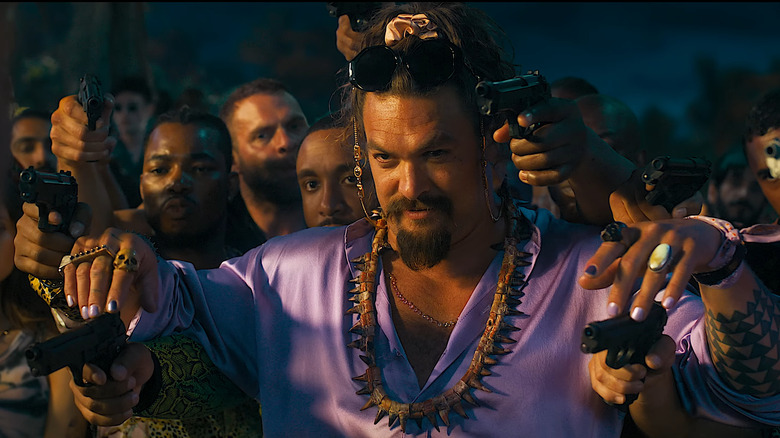 Universal Pictures/YouTube
During that same interview with Screen Rant, Jason Momoa shared the extent to which he worked with the many artistic departments behind "Fast X" to better create Dante Reyes. He admitted that he finds the costumes and physical props to be useful in that they inform his acting decisions, framing the whole situation around his perceived lack of performance technique. Momoa joked, "I really weigh heavily on wardrobe and props. It's my lack of acting skills where I really need their help."
Whatever his apparent self-confidence struggles might suggest, the star knows his way around character design. Momoa explained that his fashion decisions were intended to deceive the audience. "I really was inspired by pastel colors," said Momoa. "I wanted something that was warm and inviting and then when you got close to him, you were just like, 'That's the devil and the devil tricked me.' So that was kind of the whole idea."
And it was Momoa's insistence that provided Dante Reyes with a lavender Impala, as well. He seemed to relish sharing how the color was specifically chosen to spite his mother because he adores lavender and she despises it. Momoa clearly puts in the behind-the-scenes work to make his presence memorable – maybe that's why Dante got to win as much as he did.