The Little Mermaid Box Office Prediction: Can Disney's Latest Live-Action Remake Crack A Billion?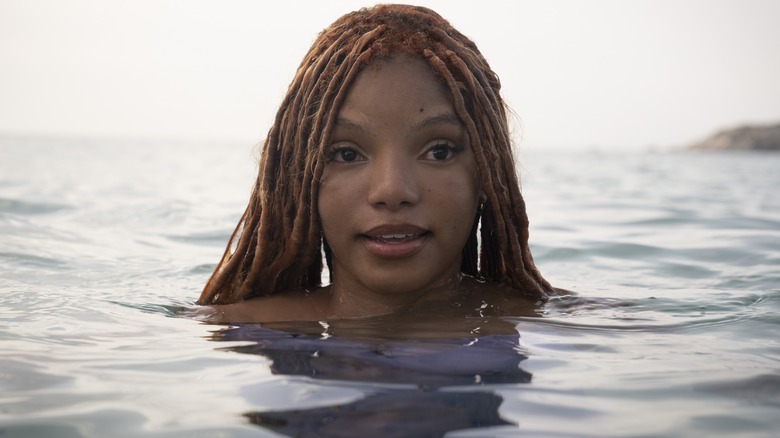 Disney
After the billion-dollar grossing days of Tim Burton's "Alice in Wonderland" remake, which coasted off of the 3D craze of "Avatar," Disney's brass realized that profits could be boosted if nostalgia was in the rearview mirror. After the releases of "Cinderella" and the "Maleficent" sequel, Disney has aggressively focused on the childhood memories of Gen X and millennials, leading to live-action remakes of "Beauty and the Beast," "Aladdin," and "The Lion King," three pillars of Disney's early 90s Renaissance. Each remake grossed over $1 billion, with 2019's "The Lion King" reigning tall as Walt Disney Pictures' most successful film, roaring it up with a $1.6 billion total.
World domination was halted due to the COVID-19 pandemic, forcing Niki Caro's "Mulan" and Emma Stone's "Cruella" to head straight to Disney+. A theatrical first model was abandoned in favor of boosting Disney+'s catalog, which forced the Tom Hanks-led "Pinnochio" and the recent "Peter Pan & Wendy" to debut on the streaming service. Now, a question has arisen: did these decisions, made by former CEO Bob Chapek, dilute the audience's perception of live-action remakes?
With Rob Marshall's remake of "The Little Mermaid," we're about to find out. Set to swim into cinemas on Memorial Weekend, the remake has received both constructive and nonsensical criticism. While some are disappointed with the remake's lack of color and imaginative visuals, there is also the racist pitchfork brigade doing their usual exhausting tirades. Despite backlash from those perpetually online, shareholders have nothing to worry about. "The Little Mermaid" has all the fixings to potentially gross $1 billion, replicating the studio's previous successes... if things go well. In a crowded summer, the film will have to rely on positive word of mouth and international legs to emerge as one of 2023's highest-grossing films.
The Little Mermaid could swim its way to $400 million domestically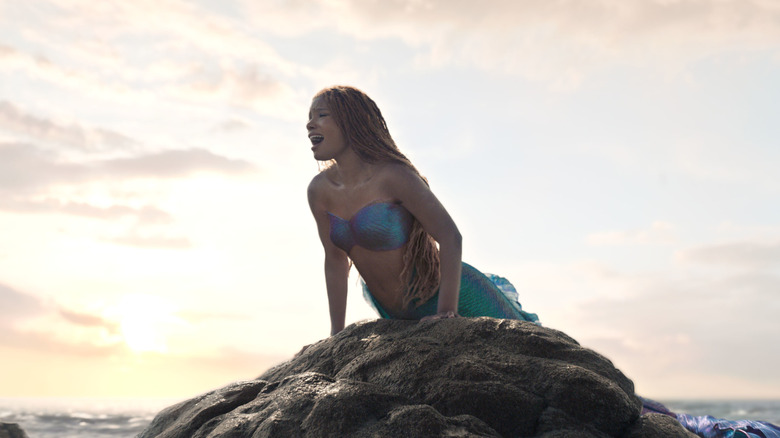 Disney
"The Little Mermaid" should bring home a total north of $400 million domestically, potentially making it Disney's biggest summer hit. When compared to previous live-action remakes, this gross would be on the higher end just behind "Beauty and the Beast" ($504 million) and "The Lion King" ($543 million).
To date, no Disney live-action flick has peaked at $400 million, with projects like "Aladdin" and "The Jungle Book" resting below $370 million. "The Little Mermaid" could be the first Disney remake to touch $400 million and stay afloat in that uncharted territory. Its release is a double-edged sword as it's the first Disney live-action remake to hit cinemas in a post-COVID landscape, but it also has Memorial Weekend cornered. Set to debut in 4,200 theatres on May 26, the movie should have an opening weekend gross north of $110 million. This is higher than initial industry projections. The 4-day weekend could be $120 million, though an exciting one would be over $135 million. If word of mouth is positive, expect high walkups on Sunday and Monday. General social awareness for the film is there, per The Quorum. 
A $130 million four-day gross would be significantly higher than "Aladdin's" $116 million Memorial Weekend back in 2019. The Guy Ritchie remake had steep competition against it thanks to "John Wick 3," "Avengers: Endgame," and "Detective Pikachu." "The Little Mermaid," on the other hand, is clearly the go-to family flick on Memorial Weekend. While it faces slight competition from "Fast X" and, to a lesser degree "Guardians of the Galaxy Vol. 3" and "Mario," the new Disney film also has the perfect recipe for appealing to both younger and older audiences, making it a safe, unoffensive choice for the holiday weekend.
Can The Little Mermaid dive to $500 million?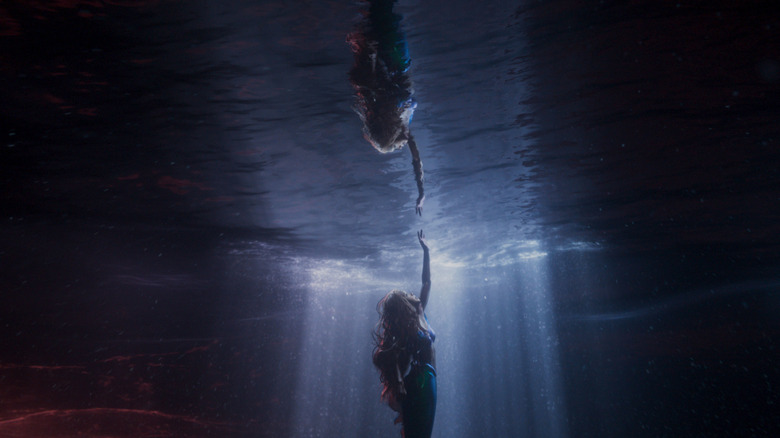 Disney
A $500 million domestic gross isn't unreasonable, but seems unlikely, as subsequent weekends pose significant threats to "The Little Mermaid." Halle Bailey's flick will have to weather the storm from the "Spider-Verse" sequel and "Transformers: Rise of the Beasts" in back-to-back weekends. While both films do skew toward male-identifying audiences, they're both family-friendly pictures. Like "Aladdin," "The Little Mermaid" could easily fall into second place during its sophomore weekend.
"The Little Mermaid" could very well be the breakout film of the summer, to be fair — but it's an uphill battle, because of both competition and consumer trends shifting. At a different time, one could even consider it to be a four-quadrant film because it features romance, action, classic songs, and a diverse cast. However, audiences may have unknowingly become convinced that Disney live-action remakes belong with their $7.99/month Disney+ subscription over the last few years, and this could hurt the film's overall take.
Luckily, "The Little Mermaid" itself looks to be a positive force, with early reactions calling it one of Disney's best. It's clear from press screenings that it pays tribute to the original but also has enough variety and newness for hesitant viewers — it's nearly an hour longer than the animated classic. Another benefit the film has is an emphasis on diversity. Lead star Halle Bailey is a Gen Z icon, co-headlining the Grammy-nominated R&B act Chloe x Halle alongside her sister. Studies have shown time and time again that people of color tend to show up for films that emphasize diversity and inclusive casting. 
A $1 billion gross depends on international markets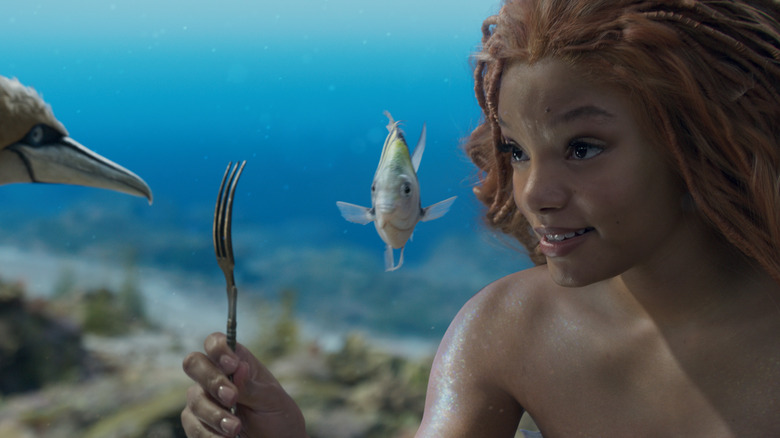 Disney
"The Little Mermaid" has nothing to fear stateside. It has Memorial Day all to itself and already boasts positive reactions which should help keep it afloat as the competition bubbles. But this seems to primarily be a domestic affair. Internationally, "The Little Mermaid" doesn't seem to have the same appeal it does with Western audiences. China has already thrown the film to the sharks, with presales in the Middle Kingdom hinting at an opening weekend that's less than $1 million USD. While China's love affair with English-language films has dissipated recently, this is a particularly low number considering "Aladdin" and "Beauty and the Beast" had $50 million+ runs there. 
It will be interesting to see how Japan and South Korea react to the film, especially because they've been some of the company's biggest champions when it comes to live-action remakes. Japan particularly adored "Aladdin" and "Beauty and the Beast," contributing over $100 million USD to the total gross of both. However, a new major player in Asia is emerging. While India wasn't a top performer for previous remakes, it did show up for last year's "Avatar: The Way of Water." Disney clearly knows that India is a booming market ripe with 1.4 billion eyeballs. There, it's marketing "The Little Mermaid" heavily, even roping in Bollywood actress Janhvi Kapoor to promote the picture. 
An optimistic international gross is $500 million. Seem like a lot? This is significantly less than the $690 million+ international totals that Disney's last three live-action remakes boasted. "The Little Mermaid" doesn't seem to have the same international appeal as previous projects, especially in Asian markets. Without a $500 million run internationally, it's hard to see it cracking $1 billion worldwide.