The Gifted Season 2 Trailer Revealed At San Diego Comic-Con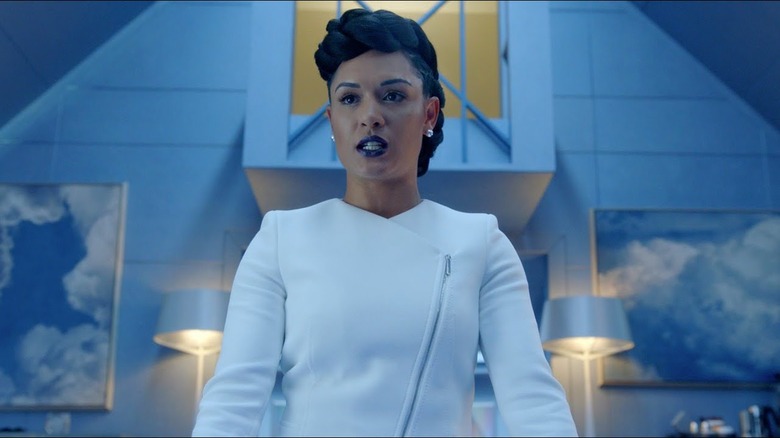 Fox/YouTube
This is the dawning of the age of the mutants. 
Fox released the first trailer for season 2 of its X-Men series The Gifted at San Diego Comic-Con on Saturday. 
The footage demonstrates that "a hard time is coming for mutants," and sees the hero-turned-villain Polaris (otherwise known as Lorna Dane, played by Emma Dumont) losing control of her powers due to her pregnancy. Whenever the unborn child shifts or kicks, Polaris' ability to manipulate magnetic forces becomes unstable and she sets off dangerous electric pulses — one of which is so strong that it shuts down an entire city's power grid.
Our heroes have major trouble ahead of them, but the underground mutants known as the Morlocks may have it even worse. The new batch of episodes will introduce the subterranean tribe that have attempted to stay hidden out of sight. Once they surface, the Morlocks are essentially guaranteed to get tangled up in the burgeoning war between humans, the Underground, and the Hellfire Club. 
According to The Gifted executive producer Matt Nix, season 2 will take what made season 1 so enjoyable and run wild with it. Fans can expect deeper exploration into the characters they know and love in upcoming episodes.
"The thing that we realized in season one was when we were really connecting to the characters and the relationships between the characters, exploring the backstories and the emotional depth of the characters ... those were our favorite episodes and those the episodes our fans responded to the most," said Nix (via Deadline). "This season we really step out to focus on that and emphasize that."
Though the second season is going to be super character-centric, fans shouldn't hold out hope to see well-known X-Men franchise stars to appear in future episodes. However, Nix promised that "exciting new characters who are straight out of the comics" are headed to The Gifted next season.
With the Mutant Underground fractured and allegiances tested, the Hellfire Club preparing for to lead a brutal attack and Sentinel Services growing more vicious by the minute, and a litany of mystery mutants gearing up to make their series debut, The Gifted season 2 will be all kinds of intense — and we can't wait. 
The Gifted, which also stars Jamie Chung, Natalie Alyn Lind, Skyler Samuels, and Stephen Moyer, will return to Fox on September 25.