Whatever Happened To Madison Lintz After Sophia's Death In The Walking Dead?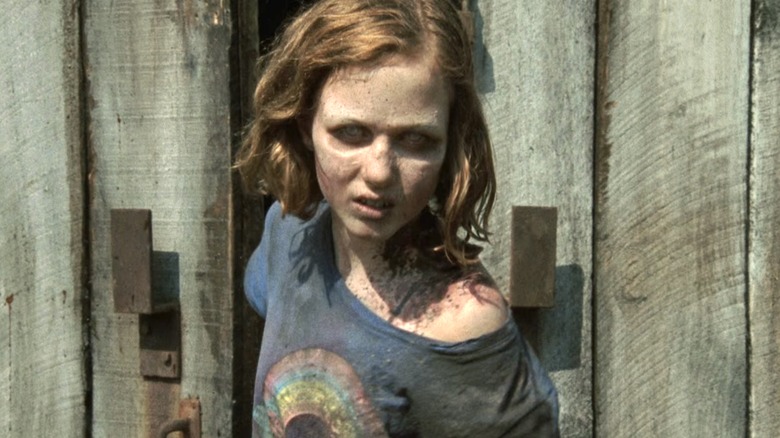 AMC
Once you factor in the staggering number of undead Walkers "The Walking Dead" killed during its 11-season run, the series may well boast one of the largest body counts in television history. But when it came to human casualties, "The Walking Dead" arguably made its most dramatic impact when removing main characters from the blood-addled chess board. And in terms of such killings, few were ever quite as soul-crushing as that of Sophia Peletier.
The daughter of everyone's favorite post-apocalyptic badass Carol Peletier (Melissa McBride), Sophia narrowly survived the grisly Season 1 action before being separated from her mother and the rest of the group early in Season 2. Missing, and presumed dead by some, the group still searches for Sophia for much of that season. But their search comes to a truly grisly end during the infamous Season 2 massacre that found a collection of captive Walkers gunned down in cold blood in front of Hershel Greene's (Scott Wilson) barn.
The last Walker to emerge was, of course, Sophia. And yes, her shocking appearance and subsequent dispatching continue to haunt "The Walking Dead" fans more than a decade later. Thankfully, the actor who played the part came out of the fray just fine. Her name is Madison Lintz. And not long after her stint on "The Walking Dead" ended, the young actor joined the cast of Amazon's procedural hit "Bosch" as the titular detective's daughter Maddie. She's pretty much been playing that role ever since.      
Lintz has become a major player in the world of Bosch since leaving The Walking Dead
If you're unfamiliar with "Bosch," it's based on Michael Connelly's book series, and stars Titus Welliver as a tough, old-school style LAPD detective who never backs down from even the toughest of cases. While that synopsis sounds fairly cookie-cutter in terms of small-screen procedurals, Welliver's scene-devouring turn as Detective Harry Bosch, coupled with some genuinely intriguing scripting elevate the series well above its many contemporaries. 
The series cast does some serious heavy lifting as well, with Madison Lintz working alongside the likes of Lance Reddick, Amy Aquino, Mimi Rodgers, Sarah Clarke, and more during her seven-season stint on "Bosch." Maddie's role in the narrative has grown every step of the way, with the character not only becoming a central player in the action by the series' end, but also opting to follow her dad into law enforcement. That plot line is continued in the 2022 revival series "Bosch: Legacy," with Lintz reprising her role for the 10-episode arc. She'll reportedly be back for Season 2 of "Legacy" when it hits Freevee this Fall, and will presumably return for the series' already green-lit third season too.
Lintz has kept pretty busy outside of "Bosch" as well, booking a one-off appearance on "Nashville" just after leaving "The Walking Dead" in 2012, and scoring a supporting role opposite Billy Crystal and Marisa Tomei in "Parental Guidance" that same year. In a slightly unexpected career move, Lintz also appeared in a Golden Corral commercial in 2023, playing as a selfie-obsessed teen too distracted to talk to her mom — or consume the restaurant's gigantic butterfly shrimp.