Who Plays Colossus In The Deadpool Franchise?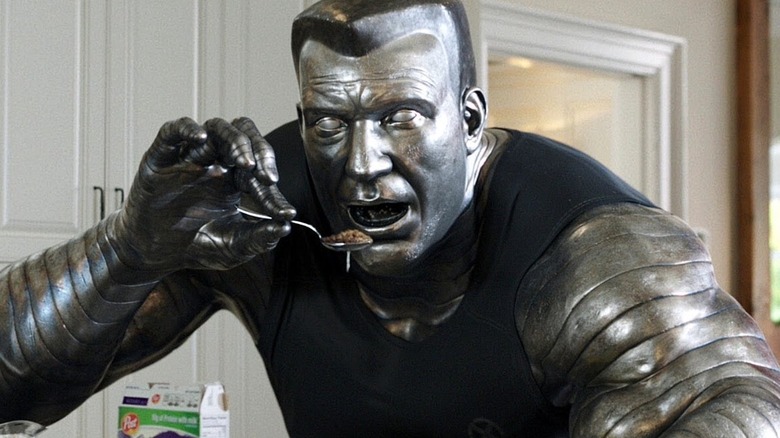 20th Century Studios
The two 20th Century Studios "Deadpool" films took cinemas by storm when they released, and it's not hard to figure out why. Deadpool (Ryan Reynolds) is crass, violent, and funny, setting him apart from much of the big-screen Marvel roster. Of course, his antics are even more enjoyable when he's in a group setting, specifically when those around him don't share his enthusiasm for inappropriate jokes, brutal killing, and frequent cursing. For this reason, the massive metal X-Men staple Colossus has become a standout character in the "Deadpool" franchise.
With his strict moral code and boy scout-like view of the world, Colossus is the perfect comedic foil for Deadpool. All he wants is to see his red-suited friend straighten up a little and ease back on some of his more problematic aspects, yet Deadpool constantly throws it in his face with witty comebacks. To bring this squeaky-clean take on Colossus to life in "Deadpool" and "Deadpool 2," the powers that be brought in Serbian actor Stefan Kapičić, and suffice to say, he's done a great job as the character.
For those unfamiliar with Kapičić's acting work, here's a rundown of his career so far to get you better acquainted with the man behind Colossus.
Stefan Kapičić has appeared on screens big and small
Presley Ann/Getty Images
Stefan Kapičić's professional acting tenure dates back to the early 2000s, with him adding numerous foreign film and television credits to his filmography in that time and raising his stock as an actor. As the 2010s began, he landed roles on shows like "24" and "Larin izbor" and in films such as "Big Miracle" and "We Will Be the World Champions." At the end of the decade and into the 2020s, Kapičić got the chance to put such titles as "Better Call Saul," "Love, Death, & Robots," and "Chicago Med" onto his ever-expanding résumé.
As the third "Deadpool" film enters production, the buzz surrounding the cast has been intense. Ryan Reynolds is back as the titular character, and Hugh Jackman will play Wolverine once more, though the status of the rest of the preexisting "Deadpool" supporting cast has been a big question mark. Thankfully, as the threequel approaches its release date, Marvel Studios has shared that some old favorites are set to return. Pertinently, Deadline reported in April 2023 that alongside Morena Baccarin as Vanessa, Kapičić will appear as Colossus yet again.
The highly-anticipated "Deadpool 3" aims to premiere on November 8, 2024.