White Men Can't Jump Includes A Low Number Of NBA Cameos (But There's Still Some Good Ones)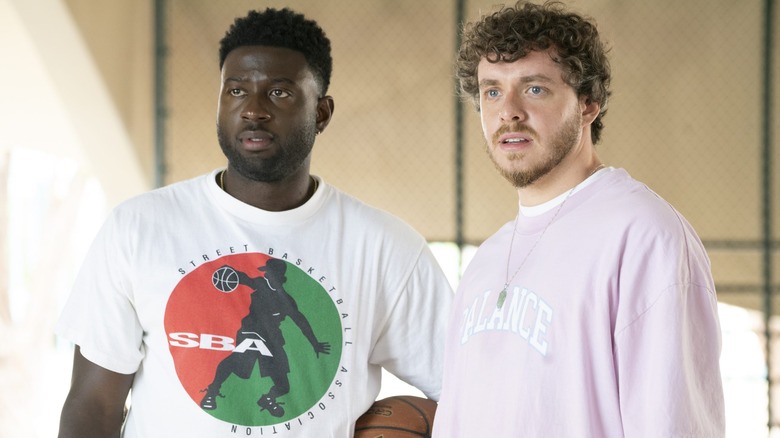 Peter Iovino/Hulu
Contains spoilers for Hulu's "White Men Can't Jump"
Hulu's "White Men Can't Jump" is now streaming, and while the remake failed to live up to the iconic 1992 movie with Wesley Snipes and Woody Harrelson, it's still a fun ride that most basketball fans will enjoy. On paper, "White Men Can't Jump" seems like the perfect movie to fill to the brim with NBA cameos, but fans expecting that may be disappointed as there aren't that many in the final product.
The first real-life sports cameo comes at the beginning of the film, as ESPN interviews the then-high school phenom Kamal Allen and his father, Benji (Lance Reddick). Conducting the interview is Stan Verrett, the sportscaster who's made prominent appearances on ESPN's "SportsCenter." "White Men Can't Jump" then makes audiences wait for nearly the rest of the movie before bringing in its final two cameos.
After the tournament, six-time NBA All-Star power forward Blake Griffin appears to hand Kamal (Sinqua Walls) and Jeremy (Jack Harlow) their massive check, saying he's only there because it counts as community service. As Jeremy and Kamal reconnect at the Miami Heat-Los Angeles Lakers game at the end of the movie, basketball fans will catch Miami Heat shooting guard Tyler Herro working on his anger management issues with his new coach, Jeremy.
White Men Can't Jump set out to explore the characters more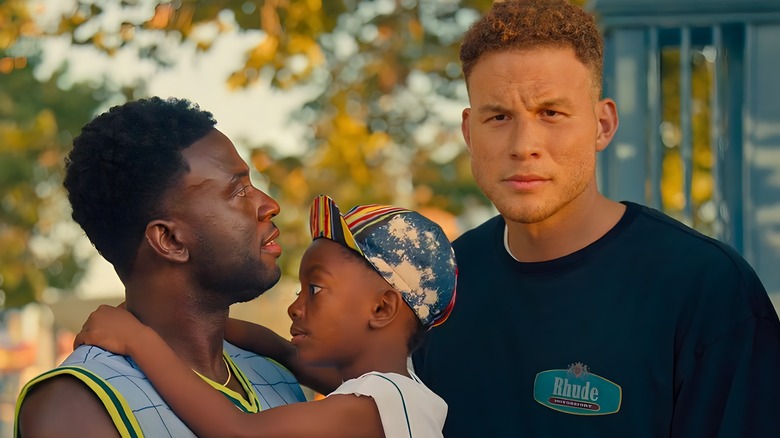 Hulu
1992's "White Men Can't Jump" is one of the best basketball movies of all time, so for the reboot, director Calmatic knew he had to bring a fresh take on the classic story. He decided to explore the characters' backstories more, giving a modern take on the issues surrounding hoopers.
"In the original 'White Men Can't Jump,' it just kind of started off in Venice Beach. We didn't really know Wesley Snipes' character's back story," the director told the Los Angeles Times, saying he switched things up with Sinqua Walls' story in the reboot. "What does it mean to live in the Jungle and go to Dorsey High School when you were supposed to go to the NBA, but you didn't make it, and now you're working for, like, an Amazon-type company, delivering boxes to people who live in Ladera Heights and they remember you when you were the top player in the nation?" Calmatic thinks that, while this is a unique experience, similar things happen to modern-day basketball players, so exploring that depth sets his movie apart from the original.
Calmatic took a similar approach to Jack Harlow's Jeremy, showing that mental health issues can affect anyone regardless of race. Jeremy and Kamal's (Walls) stories depict two ballers having their dreams thrown away when they were so close to achieving them. However, they take different approaches to dealing with the mental health issues that arise from their scenarios.