Big Bang Theory's Mayim Bialik Had Serious Gripes Over Amy's Wedding Dress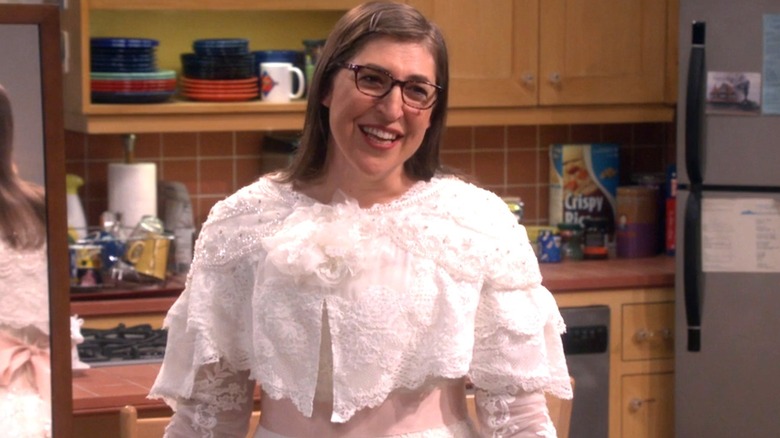 CBS
Amy Farrah Fowler is overjoyed to be wedding dress shopping in "The Big Bang Theory" Season 11, Episode 22 ("The Monetary Insufficiency"). After years of attempting to have a stronger romantic connection with Sheldon Cooper (Jim Parsons), it's finally happening. Penny (Kaley Cuoco) and Bernadette Rostenkowski-Wolowitz (Melissa Rauch) gush about how beautiful Amy looks in (almost) all of the dresses, but behind the scenes, Bialik had some serious gripes over this scene.
In a 2018 YouTube video on her own channel, Bialik revealed her dislike for all things satin, beaded and frilly — the complete opposite of the dress that Amy falls in love with. Simply put, she's not a fan of traditional wedding dresses, nor the work and attention that comes with them. When Bialik got married to Michael Stone in 2003, she found an inexpensive dress at Paris 1900 in Santa Monica. "It was delicate and flattering and modest, and I felt really good in it," said Bialik. She added, "To modify a dress that you're literally gonna wear once and probably, rarely, if ever look at it again, while there are homeless children on the streets of every city in this country, it just, it didn't sit well with me."
Therefore, Bialik felt self-conscious during Amy's shopping scene. Not only were the dresses far from her usual style, but she was also unwittingly reminded of her divorce.
Mayim Bialik's real-life divorce gave her complicated emotions about the scene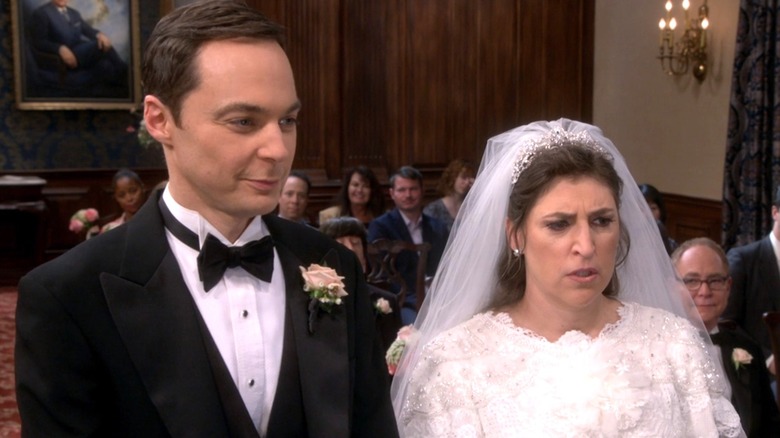 CBS
After spending almost a decade together and welcoming two children, Mayim Bialik and Michael Stone announced their divorce in 2012 due to "irreconcilable differences." Despite being full of energy as Amy on-screen ("Am I having fun being beautiful? Of course I am!"), Bialik couldn't shake from her mind the fact that she was a divorced woman trying on wedding dresses. This came with a sense of fear that people would feel pity for her. "I tried to be married once. I was in that position and I failed," she said.
In response to this admitted fear, Bialik's fans bombarded the comment section of her YouTube video with messages of support. @berniceporter9989 said, "The marriage failed. You didn't fail. Be kind to yourself sweetheart."
Rather than pity Bialik, many praised her for pushing through the uncomfortableness to make this milestone in Amy's life a reality. Plus, the winning dress leads to a sweet moment between her and Sheldon Cooper (Jim Parsons), who loves that she looks like a pile of swans. @shabytin said of the dress, "It really speaks and represents her [Amy's] personality and upon seeing Sheldon's reaction? Game over!!!!"