Drag Queens Who Should've Played Ursula In The Live-Action Little Mermaid
Ever since the live-action remake of "The Little Mermaid" was announced, the Disney film and its cast have received an unfortunate amount of backlash. One topic of controversy is the casting of Melissa McCarthy in the role of Ursula, who many feel should've been portrayed by a drag queen — especially given the fact that the animated character was inspired by the late, legendary drag performer Divine.
But which queens could've taken on the role of the villainous sea dweller to avoid what some are calling "queer erasure"? One suggestion on Reddit is Ginger Minj, who achieved runner-up status on "RuPaul's Drag Race" Season 7 and "RuPaul's Drag Race All Stars" Season 6. On Reddit, u/tormented-imp said, "Omg I want to visit the parallel universe where Ginger Minj was cast!!! And stay there forever lol." Another suggestion is "Drag Race" icon Latrice Royale, who earned the title of Miss Congeniality in Season 4. U/anonymindia said, "I mean, Latrice Royale is the only correct choice." Additional contenders include Eureka O'Hara, Lady Bunny, Meatball, and numerous others.
McCarthy might not be everyone's first choice to play Ursula in "The Little Mermaid," but the actress has made her respect for and experience in the drag community known.
Melissa McCarthy has an on stage drag persona called Miss Y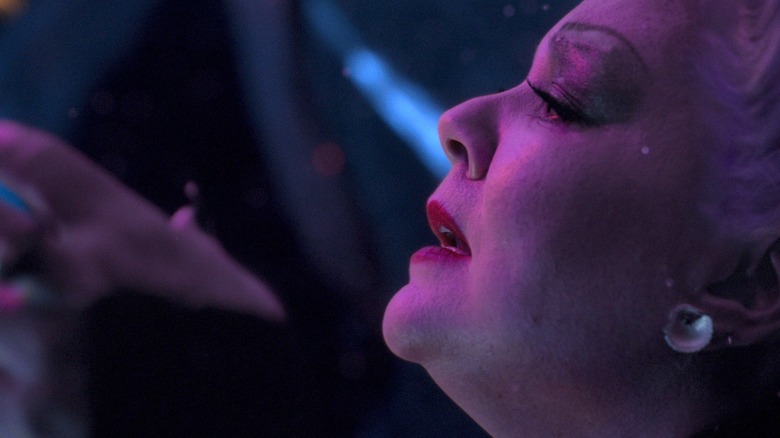 Disney
During a blue carpet interview with Extra for the premiere of "The Little Mermaid," Melissa McCarthy revealed that ever since high school, she's had a deep love for drag queens. She said, "I think it's one of the most joyful, irreverent, funny, fantastic sources of entertainment."
However, she's not just a fan. When McCarthy began doing stand-up, she was nervous to tell stories in front of a crowd as herself. To fight these nerves, she created the drag persona of Miss Y, who sported a massive wig, over-the-top makeup, and tons of jewelry. Miss Y served as a type of armor for McCarthy, who then found the confidence to get on stage and be exactly who she wanted to be. McCarthy said in an interview with EW, "There's a drag queen that lives in me. I'm always right on the verge of going full-time with her."
So technically, Ursula is being portrayed by a drag queen, though some have argued that a drag professional should've been brought in to ensure her wig and makeup were up to par. After Walt Disney Studios tweeted a video of Ursula's look coming together, the criticism came flooding in. @JuiceBoxxQueen said, "I defended the makeup choices a few weeks ago but now I see this, it's just trash." @jackhlawson added, "This is insulting to Ginger Minj specifically."