Haunted Mansion: Jared Leto's Hatbox Ghost Aims To Be Scarier Than Disneyland's
Sometimes mansions can be a tricky thing to navigate, with the twisting corridors, bizarre floor plans, and portraits that seem to follow with their eyes. This isn't even considering what a mansion might be like when it is populated with all manner of ghosts and ghouls, and that's probably why the "Haunted Mansion" ride is so entertaining. As one of the marquee attractions at several Disney theme parks, the Haunted Mansion uses all sorts of trickery and magic to bring the ride to life. It seems as if the new "Haunted Mansion" film will take this concept to the next level.
One of the ghosts featured at Disneyland and as an upcoming antagonist in the "Haunted Mansion" movie is known as the Hatbox Ghost, who will be played by Jared Leto in the film. As one can tell by the trailer, the Hatbox Ghost is a far cry from his original appearance on the ride, and instead is far more sinister and overtly evil. Apparently, this was intentional, and speaking with Entertainment Weekly, director Justin Simien heaped praise on Leto's performance. Simien elaborated, "It's part digital, part physical performance. We're trying to go for something scary that feels like it could exist physically in the real world, on the ride, but pushes the scare a lot further than the ride does. He knocked it out of the park, he's very menacing and terrifying."
The Haunted Mansion director credits Leto's voice performance for the fearsome Hatbox Ghost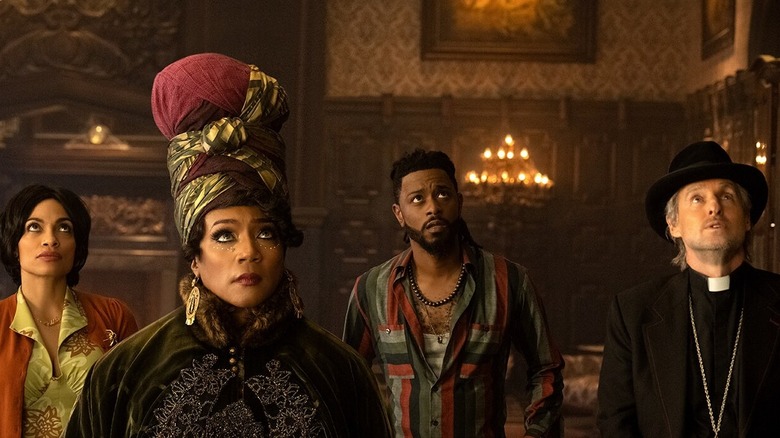 Disney/Jalen Marlowe
Justin Simien added, "A lot of that is voice performance. A lot of that is voice capture. It's a little bit of a different animal, but it gave us time to craft it and gave us quiet moments between the performance." Simien also said that he believes many viewers of the upcoming "Haunted Mansion" will be completely shocked to find out that the Hatbox Ghost is played by Jared Leto if they hadn't known beforehand. This certainly highlights that Simien is quite ecstatic about Leto's performance, which is reassuring since there has been no mention of the method acting Leto is known for, pretending to be a vicious ghost on set.
Joking aside, the Hatbox Ghost is one of the most distinct in Disneyland's Haunted Mansion ride, and he is soon scheduled to appear in the Walt Disney World iteration as well. In the ride, the Hatbox Ghost shows off his impressive collection of hats, and using that classic Disney magic, his head will disappear and appear in one of his hatboxes. This means that there is probably a good chance that Leto's Hatbox Ghost will lose his head at some point, though chances are, it will be very much intentional and played for scares. Either way, it certainly sounds like Leto's performance is a noteworthy one, and he certainly knows a thing or two about channeling creatures of the night.