Netflix's Nimona - Everything You Need To Know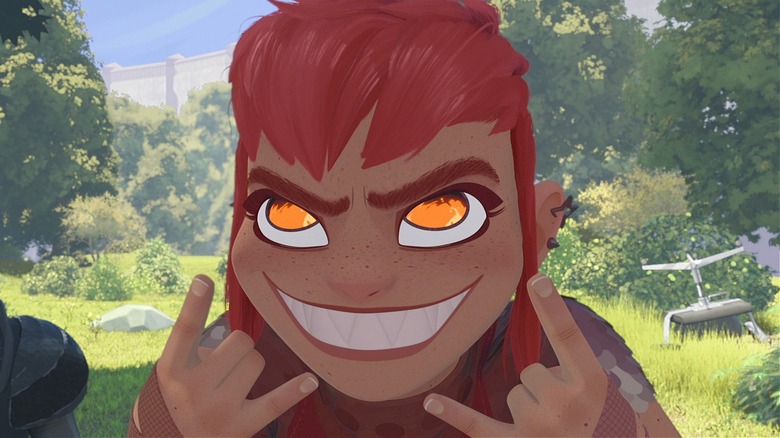 Netflix
Netflix has been very successful in the animation department, releasing several animated adventures with impressive numbers concerning viewership, significant critical acclaim, and major attention from top-tier award shows. The latest addition to their proven lineup is "Nimona," a motion picture that has had quite the journey since it was first decided the graphic novel from ND Stevenson would get the full-fledged motion picture treatment.
Notable films like "The Mitchells vs. The Machines," "The Sea Beast," and "The Willoughbys" are just some of the titles the streaming powerhouse has on its rosters, and while they all serve up unique narratives, "Nimona" not only offers a wild adventure for viewers to experience; it has also endured quite the uphill battle throughout its development. The movie seems to be more than ready to succeed upon release after surviving cancellation and finding new life with the streaming powerhouse. It has been quite an intriguing ride for the well-crafted story about a teenage shapeshifter with attitude, and now after its long, strange trip, it will finally be available for those who subscribe to Netflix.
Whether it's the story, cast, or the talented people behind the scenes, there is a wide range of reasons for fans not to sleep on "Nimona" when she touches down on the streamer. And any interested individuals will want to make sure they don't miss out on any details regarding what is known about the project so far.
When will Netflix's Nimona release?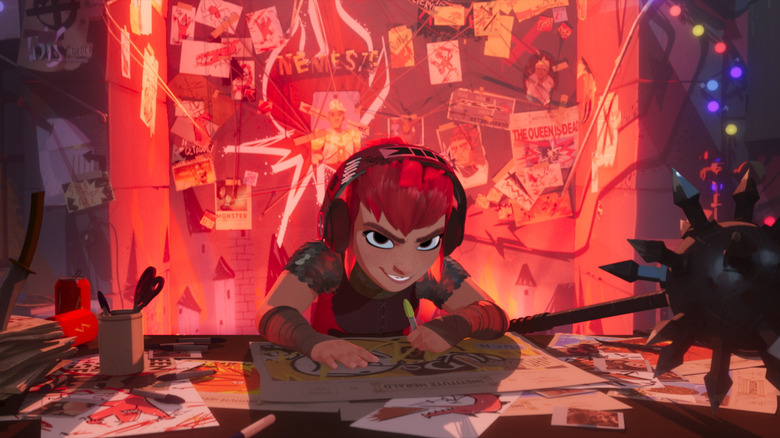 Netflix
ND Stevenson, who is known for his work as showrunner on the Netflix series "She-Ra and the Princesses of Power," first created "Nimona" while in high school and later, when attending college, turned the ever-evolving concept into a webcomic, releasing it on Tumblr from 2012 to 2014. Stevenson used the story when it was completed as his thesis while he was a student cultivating his craft at the Maryland Institute College of Art.
In 2015, 20th Century Fox Animation retained the rights to turn "Nimona" into a full-length animated feature. The project was set to be produced by Blue Sky Studios alongside Vertigo Entertainment. In 2017, it was announced that the release date for "Nimona" would be February 14, 2020. But in 2019, 20th Century Fox was acquired by Disney, which delayed the project until March 5, 2021, and then again to January 14, 2022.
Then in 2021, Deadline reported that the House of Mouse announced it was shutting down Blue Sky Studios, and the movie was confirmed to be canceled. In March of 2022, a report from Business Insider stated that a former Blue Sky employee indicated that the film had been nixed due to its LGBTQ+ themes and was quoted saying that Disney "systematically censors queer content." 
Despite the unfortunate setbacks and unsettling accusations, Stevenson took to Twitter in April 2022 to reveal that Annapurna had resurrected the project and it would release in 2023 on Netflix. It was later disclosed when the first trailer dropped that "Nimona" would finally be available on June 30, 2023.
What is the plot of Netflix's Nimona?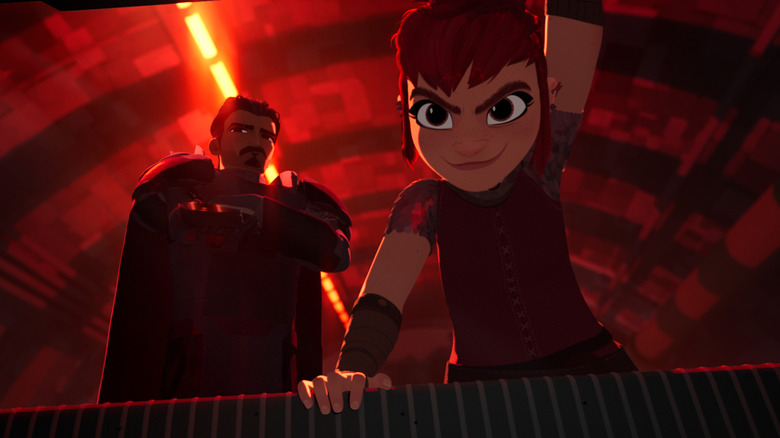 Netflix
After patiently waiting for several years and traversing through delay-heavy terrain, fans will finally get to experience the unique, fun-filled story "Nimona" has to offer. The work of ND Stevenson inspired the narrative for the Netflix feature, and the screenplay was penned by Robert L. Baird, whose credits include "Ferdinand," "Big Hero 6," and "Monsters University," and Lloyd Taylor, known for "Spies in Disguise."
In the story, Nimona may look like just any other kid that hates labels, but it turns out she is no ordinary teenage girl. The titular persona has a particular talent that allows her to turn into all kinds of animals. Her impressive abilities and resilient attitude give her a significant edge in the techno-medieval world where the fascinating story occurs. She eventually encounters a down-on-his-luck knight who goes by the name Ballister Blackheart and has been framed for a crime he is not responsible for. The disgraced warrior believes the spirited shapeshifter may not only be the beast he is hunting but also could be the only chance he has to clear his name. Given what's in store for the plot, it would seem safe to presume subscribers are in for an entertaining storyline brought to life by a remarkable roster of talent.
Who is in the cast of Netflix's Nimona?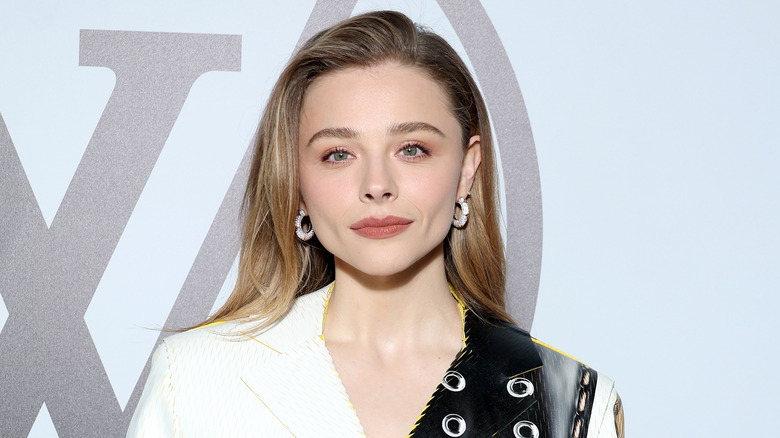 Pascal Le Segretain/Getty Images
After the film had been canceled, Collider exclusively reported in March 2021 that Chloë Grace Moretz and Riz Ahmed would have been the stars bringing the main characters of "Nimona" to life. Ahmed is an Academy Award winner for his short film "The Long Goodbye" and was nominated for his work in "The Sound of Metal." In addition, he starred in "Rogue One" and "Venom." Moretz is known for her work in the "Kick-Ass" franchise, "Let Me In," "Mother/Android," and the Amazon Prime series "The Peripheral." Missing out on having these two big names playing great characters in a compelling tale would have been a real shame. 
But thankfully, when it was reported by Deadline that the flick had been revived by Netflix and Annapurna, the cast was also revealed. Moretz was confirmed to be playing the titular shapeshifter Nimona, while Ahmed was set to voice Ballister Blackheart, the knight accused of a crime he didn't commit and is also down one arm after a jousting match that didn't go as planned. And it was announced that the champion knight responsible for the armless incident, Ambrosius Goldenloin, would be voiced by Eugene Lee Yang from the YouTube group The Try Boys.
In April 2023, a report from The Hollywood Reporter revealed more members of the cast of "Nimona," including Lorraine Toussaint, Indya Moore, Beck Bennett, Sarah Sherman, Julio Torres, Frances Conroy, and RuPaul Charles. And leading them all is a solid pair of filmmakers who excel in animation.
Who is directing Netflix's Nimona?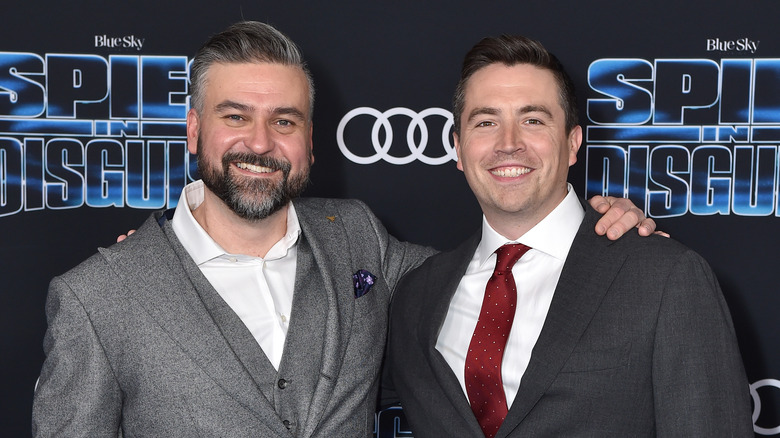 Axelle/bauer-griffin/Getty Images
In February 2017, it was announced that "Nimona" was originally set to be directed by Patrick Osborne, whose credits include the short film "Feast," but he was out when the project was canceled in 2020. When it was announced that "Nimona" was back in action with a new home, the new director or directors were also mentioned. Helming the long-awaited animated adventure would be Nick Bruno and Troy Quane, who previously directed the Blue Sky feature "Spies in Disguise."
But according to Business Insider, it appears the pair may have been somewhat sitting in the director's chairs a bit sooner. The publication's report indicates that a former employee of Blue Sky Studios revealed that Bruno and Quane had played the role of directors for the film in an unofficial capacity for some time before the studio was closed and the film canceled. Even Bruno himself verified his extensive involvement as well as unbridled excitement regarding the project when it was announced the film was set to be released in 2023. "Been directing this since March 2020," the filmmaker revealed in a tweet. "So thrilled to finally share the news. Global pandemics and studio closures can't stop NIMONA!!!" Through the ups and downs, even when all hope was lost, Bruno and Quane never gave up on "Nimona," and their efforts, as well as dedication, paved the way for the movie to finally have an audience.
Is there a trailer for Netflix's Nimona?
The trailer for Netflix's "Nimona" starts off by introducing fans to a fairytale kingdom complete with a castle and a princess that expects animals to be her servants. A bird she claims to be peculiar refuses to make her a dress, and then things start to take a wild turn as the winged creature morphs into a girl who breathes fire, followed by a dragon transformation. As the kingdom burns, she shape-shifts into a shark, and then King Kong before it is revealed to be nothing more than a drawing as well as an introduction from Nimona, whose eyes glow red before she spreads her wings and takes off.
The teaser wastes no time properly pointing out what sets "Nimona" apart from the competition and puts her incredible shape-shifting powers on full display in the montage of her game-changing efforts to shake things up. Another highlight from the little over a minute preview offers viewers a glimpse of the impressive animation style and excellent visuals fans will be treated to when they finally get to see the Netflix feature. It's no secret there are a number of Netflix movies to watch out for in 2023, and after watching the trailer and learning everything there is to know about the resilient motion picture, there are plenty of reasons that make "Nimona" a solid contender to make the streamer's must-watch list.