Colin Farrell Didn't Let His Anger Boil Over On Tigerland's Set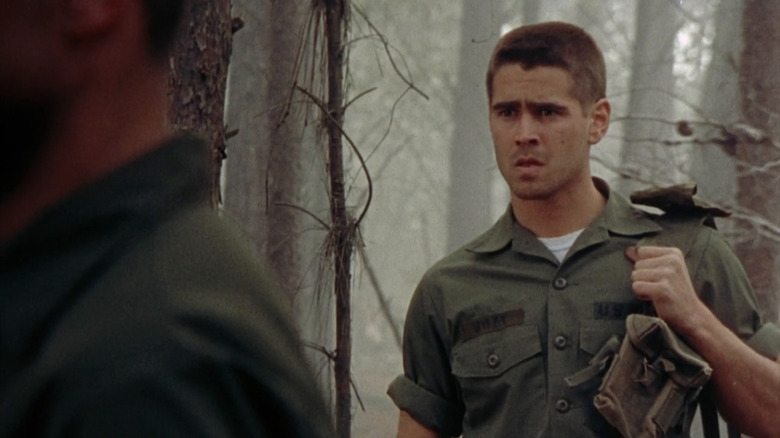 20th Century Fox
Colin Farrell has put in some gripping and downright spellbinding performances throughout the course of his lengthy career, from Oswald 'Penguin' Cobblepot in "The Batman" to the self-loathing assassin Ray in "In Bruges." One of the actor's most unique roles though remains his first stab at a major part: "Tigerland." The film kicked off the partnership of Farrell and Schumacher, with the duo reuniting to make 2002's "Phone Booth." 
The 2000 film took a different spin on the Vietnam War. Instead of throwing viewers into the thick of the jungle, we follow draftees in basic training. Farrell portrays Pvt. Roland Bozz, who is open about opposing the war. He's also not a fan of other guys in green telling him what to do. His mission becomes finding a way out of his tour of duty and a young Farrell puts in a charming, yet heartbreaking performance. It was no doubt a challenging role, but Farrell revealed he never took Bozz's inner boiling anger home with him, choosing to leave Bozz and his impending misery on set. 
In a 2014 chat with Interview Magazine, Farrell explained he got along with all his castmates, even those there were tensions with onscreen. 
"We'd do the job each day and then we'd cut. We'd go out, get drunk, and we'd laugh. But when we were working I did spend a lot of time chilling on my own, staying in a certain space that I felt Bozz would be in. And it was lonely because Bozz intentionally isolates himself from everyone in the gang. He doesn't want to be part of the group; he doesn't want to be a yes-man; he doesn't want to play by the rules. He thinks it's ridiculous, which I can identify with," the actor said. 
Colin Farrell and his 'Tigerland' costar reunited 20 years later to remember their beloved director
One of the actor/director partnerships not talked about nearly enough is the one between Colin Farrell and Joel Schumacher. Schumacher cast Farrell in three films, two being landmarks on his filmography. "Tigerland" was one of Farrell's first roles, announcing his screen presence to the world and definitely forcing critics take notice. And "Phone Booth" later gave Farrell a major hit as a lead. That was right before he was cast in films like "Miami Vice" and "Alexander."
"Tigerland" was also an early breakout role for Shea Whigham, who portrayed Pvt. Wilson, a soldier with some very different ideas from Bozz on following orders. Following Schumacher's death in 2020, Farrell and Whigham reunited to reminisce on the director who started their careers. Daily Mail and others posted pictures of the two embracing one another and sharing a few laughs. 
Farrell's love for the director ran so deep he defended Schumacher's most reviled property, "Batman and Robin." Farrell told Cinema Blend, "That hurt him. I know his 'Batman' films, and how they were received really hurt him. Because the only thing Joel, honest to God, only went out to do is to entertain people."