Why Hannah Steale From Fifty Shades Of Black Looks So Familiar
In May of 2023, "Fifty Shades of Black," a 2016 Marlon Wayans spoof comedy, became an unexpected hit on Netflix. Wayans is one of the architects of the 2000s spoof movie trend, thanks to he and a couple of his family members' work on "Scary Movie." Whereas none of the Wayans were involved in many of the projects it spawned like "Date Movie" and "Epic Movie," Marlon Wayans continued to work on films like "Dance Flick" and "A Haunted House," eventually culminating in this "Fifty Shades of Grey" parody, which is his most recent spoof movie to date.
Wayans himself stars in "Fifty Shades of Black" as a wealthy business man named Christian Black — a direct play on "Fifty Shades of Grey" deuteragonist Christian Grey. Rounding out its cast are a number of experienced comedic performers, like Mike Epps, Jane Seymour, Fred Willard, and Affion Crockett as Christian's brother Eli. Playing the part of Hannah Steale, based on its source material's Ana Steele, is Kali Hawk.
If Hawk looks familiar, it's likely from her work in a number of comedies predominately released through the late 2000s and into the mid-2010s.
Kali Hawk is one half of a doomed couple in Couples Retreat
One of Kali Hawk's first roles in a major feature was in "Couples Retreat," a 2009 romantic comedy boasting a star-studded cast. As its title indicates, most of the movie takes place on an island resort separated into two halves, one of which is for singles to meet prospective partners, and the other for existing couples to work on their relationships. The film revolves around four couples, played by Vince Vaughn and Malin Åkerman; Jon Favreau and Kristin Davis; Jason Bateman and Kristen Bell; as well as Faizon Love and Hawk.
Hawk's character Trudy is notably younger than Love's character Shane, and viewers soon learn this and other apparent mismatches between the two of them are a result of Shane recently splitting from his wife. Their storyline culminates in Trudy leaving the couples' resort for the adjacent singles' retreat, inspiring Shane to reconcile with his ex-wife Jennifer (Tasha Smith). Meanwhile, the other major characters' journey to find Trudy after she runs away serves as the narrative backbone of the film's second half.
Hawk is Shelby in the first two seasons of New Girl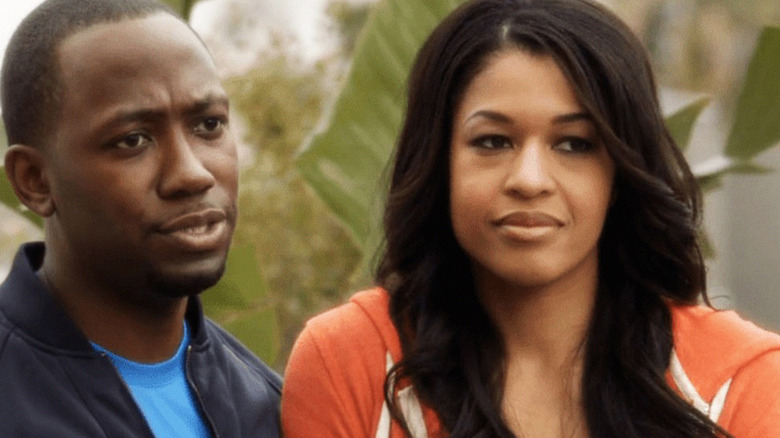 Fox
Still well prior to her "Fifty Shades of Black" role, Kali Hawk was a member of the "New Girl" cast during its first two seasons as Shelby, who fans of the show might remember as Winston Bishop (Lamorne Morris)'s partner as of Season 1, Episode 11.
When Winston first contacts Shelby in that episode, she's a former hookup with whom he hopes to reconnect. Shelby, however, isn't initially interested in Winston due to his hesitancy to take her seriously. Inspired rather than put off by Shelby's condemnation, Winston ultimately decides to ask Shelby on a proper date. This new approach goes well, and they decide to keep seeing one another. Through the rest of Season 1 and into Season 2, Shelby and Winston remain a couple. However, Shelby becomes an increasingly infrequent presence in Season 2, before their relationship eventually fizzles out. This experience affects Winston deeply, inspiring him to step away from dating until he stops feeling so acutely heartbroken.
She plays Craig Robinson's future sister-in-law in Peeples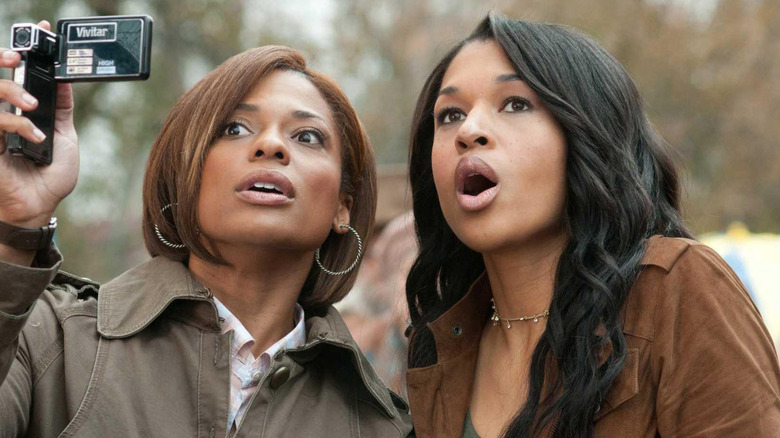 Lionsgate
The 2013 Tyler Perry-produced comedy "Peeples" gets its title from the name of the wealthy Peeples family, members of which its main cast is largely comprised. Lead actor Craig Robinson, however, is the odd one out as Wade Walker, who's soon to be engaged to Grace Peeples (Kerry Washington). Wade plans on proposing to Grace during a family vacation in the Hamptons, where he witnesses firsthand some of the dysfunctions of Grace's family members while he tries his best to fit in.
Soon after Wade first arrives at the Peeples' Hamptons home, he finds Kali Hawk's character and Grace's sister Gloria Peeples indulging in a secret romance with Meg (Kimrie Lewis). Meanwhile, Wade's friends Chris (Malcolm Barrett) enters the picture midway through the film and starts pursuing Gloria, while everyone but Wade is unaware of her relationship with Meg. Just before the film's end, Gloria and Meg go public with their relationship amidst a series of confessions and revelations shared between all members of the Peeples family.
She's Maggie on Black Jesus
"Black Jesus" premiered on Adult Swim in August of 2014. The series stars Slink Johnson, perhaps otherwise most notable as the voice and likeness of Lamar in "Grand Theft Auto V." Aaron McGruder, known for his work on "The Boondocks," and Mike Clattenburg of "Trailer Park Boys" fame co-created the show, which revolves around Johnson as a modern-day incarnation of Jesus, and his daily life in Compton, California.
Kali Hawk portrays a character named Maggie. In an interview with Blackfilm.com, Hawk explained, "Maggie is the main female friend to Black Jesus, similar to Mary Magdalene and her relationship to Jesus. She's often referred to being a prostitute but those who have read the Bible know that it's not true. My character is a friend and confidante to Jesus and the only girl in his crazy crew."
For the first two seasons of "Black Jesus," Hawk is a member of Jesus' core group. She left, however, prior to Season 3, alongside fellow main cast members Andrew Bachelor and Andra Fuller. Nearly four years elapsed between Seasons 2 and 3, so her departure came after she had grown her comedy work in projects like "Fifty Shades of Black," most likely becoming too busy to reprise her "Black Jesus" role.