Why Eli From Fifty Shades Of Black Looks So Familiar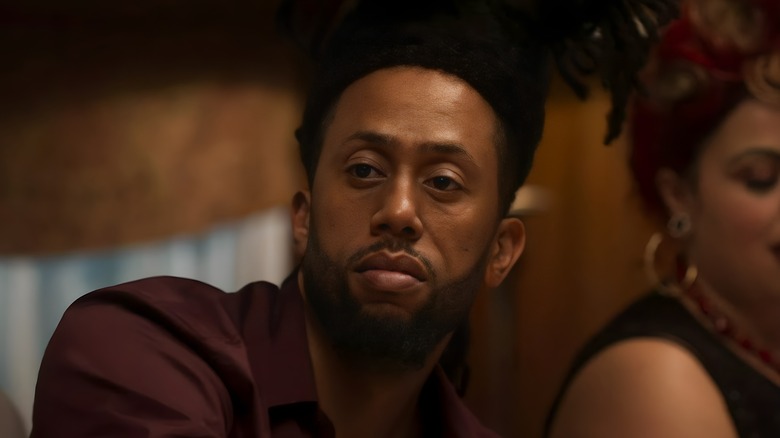 Open Road Films
Sometimes, even an adaptation can be adapted. Or, in this case, parodied.
In 2016, Open Road Films released "Fifty Shades of Black," a slapstick parody of Universal's "Fifty Shades of Grey," an erotic drama based on E. L. James' adult novel of the same name that hit theaters the year before. Much like its predecessors (except for "Twilight," considering how "Fifty Shades of Grey" started out as fanfiction for Stephanie Meyer's cryptid romance novel series), "Fifty Shades of Black" chronicles the sexually charged relationship between a business tycoon and a college student.
Marlon Wayans stars as the titular Christian Black, alongside Kali Hawk, who stars as Hannah Steale. Despite the film being critically lambasted it was a financial success, earning approximately $22 million against a budget of $5 million. And now, in May 2023, the parody is gaining a new life on the Netflix trending movies tab.
One of the memorable side characters featured in "Fifty Shades of Black" is Eli, Christian's adopted brother. Eli is a man of few reservations. When Hannah meets Christian's adoptive parents for dinner, Eli is present ... along with a friend. To frame it politely, the pair find other ways to entertain themselves while everyone else is deep in conversation. And that pretty much sums him up as a character.
Eli is brought to the screen by Affion Crockett, an actor who frequently appears in comedic media. Since the early 2000s, Crockett has accrued almost 90 projects to his name, many of which are in partnership with the Wayan brothers — including "Dance Flick" and "The Haunted House" films. Here are some of his career highlights.
Nick Cannon Presents: Short Circuitz features Affion Crockett in a series of comedy sketches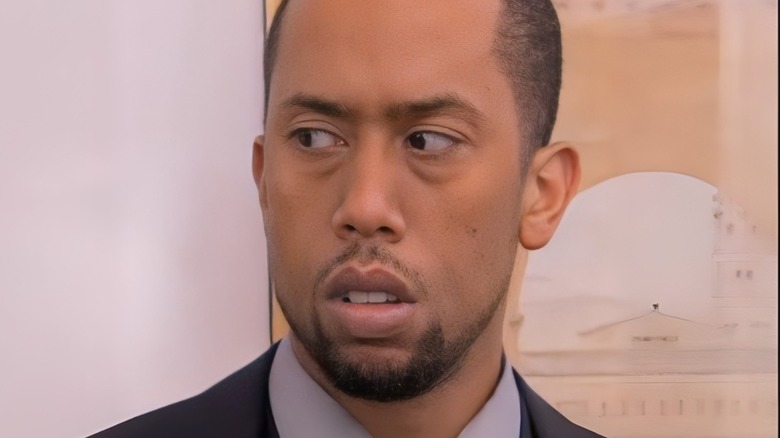 MTV
Before Nick Cannon hosted "America's Got Talent" or "The Masked Singer," he tried his hand at sketch comedy.
"Nick Cannon Presents: Short Circuitz" is a 2007 MTV original series comprised of disconnected vignettes meant to offer its viewership a silly smile. The skits ranged from parodies of "Grey's Anatomy" and mocking local evening news reports to rap battles between Kanye West and former President George W. Bush. The ensemble troupe features Cannon himself, alongside Affion Crockett and a number of other comedians.
Much like "Wild 'n Out" — which features nearly the same cast of actors as the project in question here — and "Nick Cannon Power Hour," two other Cannon creations, "Short Circuitz" did not last. The series received nine episodes before being canceled for low ratings.
Since the series is anthological in nature, Crockett appears as a host of different characters in seven episodes, including a tired businessman attempting to understand the modern slang of white people, a heckled Chris Rock, and a double-timing Lionel Ritchie — the latter two of which allowed him to showcase his impression skills.
During a 2020 interview with "People's Party," Crockett described the process of working with Cannon as one of the first times that he felt as though he'd made it in the arts. He also admitted that the process was more grueling than he was accustomed to, but that it gave him the perspective and drive he needed to continue.
Affion Crockett is Sergeant Dylan Cohen in Adam Sandler's Pixels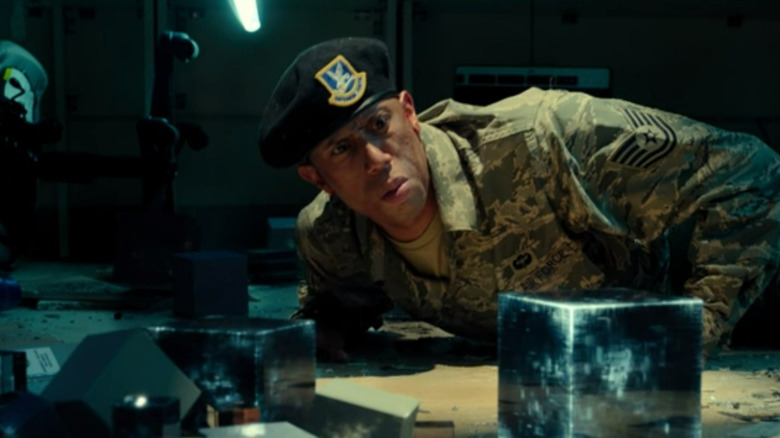 Sony Pictures Releasing
If Adam Sandler has anything to say about it, the future belongs to the nerds, the gamers, and Peter Dinklage, who's objectively cool in everything that he does.
In 2015, Sony released "Pixels," a science fiction comedy about a group of aging gamers who are tasked with saving the world from an invasion of aliens who accidentally mistook footage of 1980s arcade games as a declaration of war. With that framework in place, the aliens take on the form that they believe earthlings will understand: famous pixelized videogame characters like Pac-Man and Q-Bert. Fortunately, the aliens play by video game rules, so gamers can fight them. Unfortunately, everything the aliens touch gets transformed into pixels.
The film stars not only Sandler and Dinklage, but Kevin James and Josh Gad, as well. And Michelle Monaghan, and Sean Bean, and Jane Krakowski, because who wouldn't want to experience a goofy, lighthearted romp through a blockbuster arcade homage? Like almost all Sandler films, "Pixels" was panned by the critics but earned its place on the silver screen by packing out theaters, once again proving that reviews are rarely for the people.
Affion Crockett portrays Sergeant Dylan Cohen, a soldier on the front lines for the first alien attack in Yiga, Guam. The encounter ... doesn't go well for Dylan. He tries to use his handgun and gets pixelized for his efforts. In a move adjacent to the horror genre, he gets pixelated from the ground up, so audiences get to enjoy his terrified screams until the last possible moment. Don't worry, he survives! He just spends most of the movie stuck in Donkey Kong's villainous clutches.
In Black-ish, Affion Crockett portrays T. Will, a dude down on his luck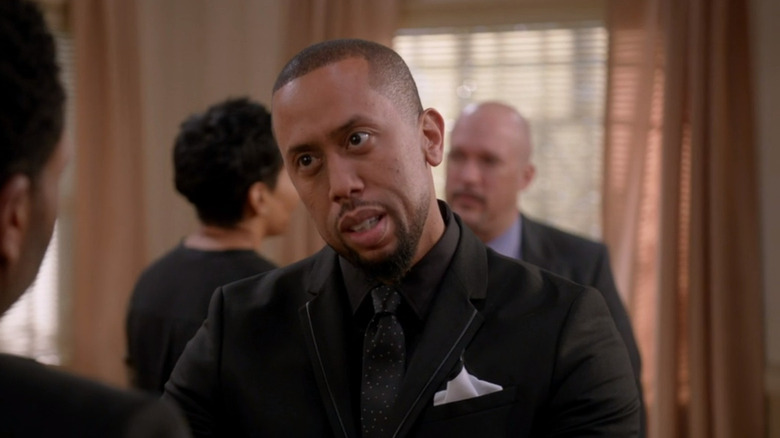 ABC
There's a social cost to living well in America when you're not white.
And ABC explores that cost with "Black-ish," a family sitcom that follows a black family living in an affluent neighborhood predominantly comprised of white people. Anthony Anderson stars as Andre "Dre" Johnson alongside Tracee Ellis Ross, who stars as Dr. Rainbow "Bow" Johnson, and, together, they ask the question of whether or not it's possible to maintain an ethnic identity separate and apart from the image forced upon them by climbing the social ladder that's, once again, predominantly comprised of white people. While "Black-ish" is technically a comedy, it's also a commentary on modern social issues for an underrepresented and undervalued part of the American community.
The series ran for eight seasons, from 2014 to 2022, where it held a solid audience and received mostly positive reviews.
Affion Crockett portrayed T. Will for two episodes (Season 3 Episode 15, "I'm a Survivor," and Season 7 Episode 8, "Compton Around the Christmas Tree) that were released in 2017 and 2020, respectively. T. Will is an old friend of Dre's with whom he reconnects while at a funeral and, unlike Dre, T. Will never caught a financial break. He's doing the best he can while also being not the greatest guy, and "Black-ish" explores how the two truths can exist within the same person.
T'was the Chaos Before Christmas sees Affion Crockett as an exhausted, out-of-a-job husband and father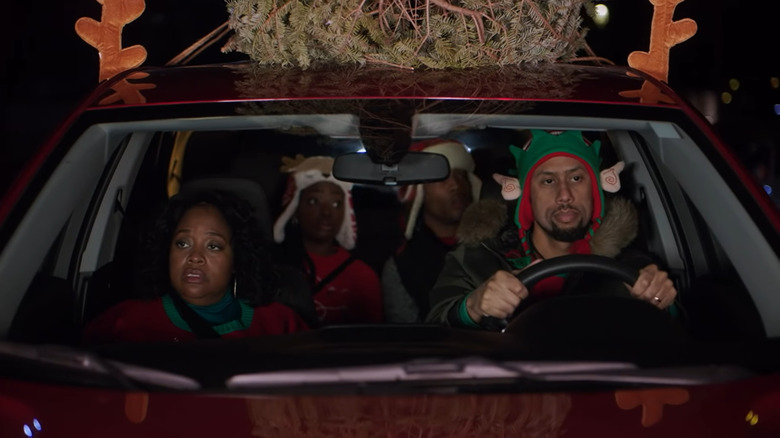 BET
Dealing with your family over the holidays can be difficult, but it's even more difficult when it's not just your family in the mix.
"T'was the Chaos Before Christmas" is a BET original movie about two families who book the same rental home for the same window of time from two separate websites. When the mix-up is discovered, neither family is willing to back down, so they both stay cramped together for what promises to be a chaotic Christmas holiday that threatens everyone's sanity. While this is still a comedy, it's more grounded in Hallmark vibes than anything else because the ending wraps everything together with a seasonally appropriate bow.
As a film made for TV, "T'was the Chaos Before Christmas" was never released in theaters, but even for BET, it seems as though the picture did not earn much attention. It's so under the radar that there isn't even a dedicated Wikipedia page for the project.
Affion Crockett portrays Ed Russell, a husband and a father just trying to help his family enjoy the Christmas season. He tends to keep secrets from his wife because she struggles with explosive anxiety, even though sharing that information might allow them to work better together. 
A brief perusal of the reviews surrounding "T'was the Chaos Before Christmas" seems to indicate that Crockett's performance is one of the film's highlights, going so far as to praise his more tender, familial moments and not just his comedic skills.