Florence Pugh Suggests Watching This Dramedy For Anyone New To Her Filmography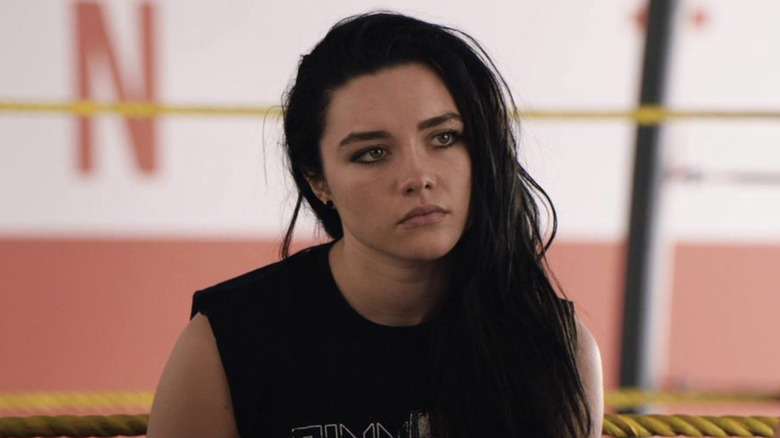 MGM
The back catalog of Florence Pugh sure has become a varied collection with a bundle of best performances. From a traumatic head trip in "Midsommar" to having a voice that was just right as Goldilocks in "Puss in Boots: The Last Wish," she's become an undeniably welcome talent that continues to flourish, providing Oscar-nominated work. When it comes to picking the perfect entry point for her work, though, Pugh has one specific film in mind that she's certain will go down like a treat.
Above all of her later projects, it is one of Pugh's first big-screen outings that she deems one for all the family. Coincidentally, it's one with a lot of fighting too. Speaking to Collider, she revealed, "I don't want them to not be intrigued about the others, so I think a good light, one that is fun and enjoyable, and shows just how bizarre my choices are, would probably be — I'd start them with 'Fighting with My Family.'" 
The film, which was produced by Dwayne Johnson, told the true story of then-WWE star Paige (later known as Saraya in AEW) and her pro wrestling family, and it was written and directed by the co-creator of the original "The Office" series, Stephen Merchant. It proved to be a project that didn't just demonstrate Pugh's acting level; it also paved the way for one of her most well-known roles and the potential future films in her career. 
Fighting with My Family prepped Pugh for Black Widow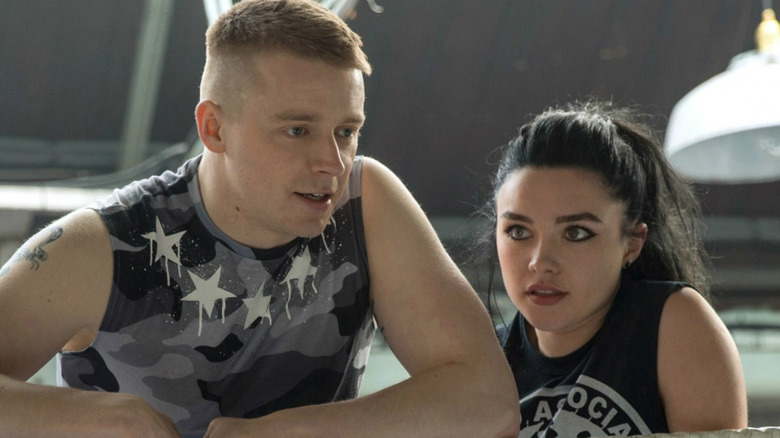 MGM
In an interview with Deadline, Florence Pugh acknowledged that her time in the ring in "Fighting with My Family" was what allowed her to get her place in the MCU as Yelena, the younger sister of Natasha (Scarlett Johansson) in "Black Widow," as well as other roles that demand she gets her hands dirty. "I think 'Fighting with My Family' is so crucial for every single action thing that I ever do for the rest of my life because it taught me that I really love it, and actually, I'm not that bad at it," Pugh admitted.
The only setback is when she's asked to step out of the scene and let someone else take over. "I love getting in there, and I hate it when I have to give a job to my stunt double because that's always the saddest part when the cooler version of you steps onto set and can do everything, and you're like, 'Oh no!'" she said. 
Even so, her time as Yelena has still come with a fair share of cinematic scraps, and she has her time in the squared circle to thank for it.