Nick Mohammed Really Played The Violin In Ted Lasso Season 3's Heartfelt Moment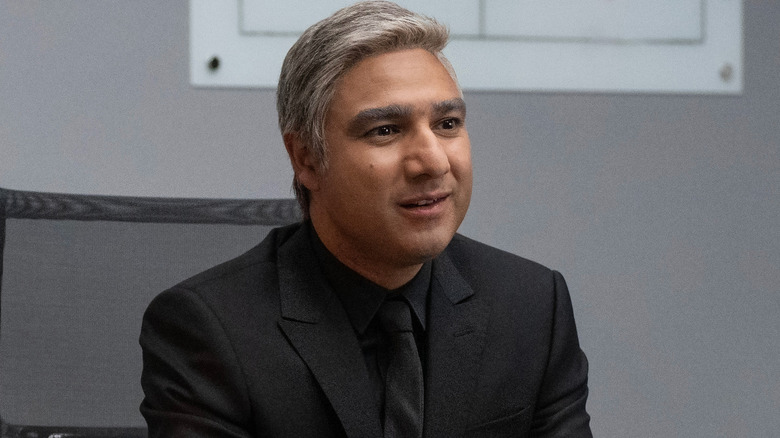 Apple TV+
Contains spoilers for "Ted Lasso" Season 3, Episode 10, "International Break"
This week, "Ted Lasso" finally gave what fans were hoping for and got Keeley (Juno Temple) and Roy (Brett Goldstein) back together as we'd always hoped they would. That wasn't the only spot for change, though. Besides Rebecca (Hannah Waddingham) releasing herself from the grip of Rupert (Anthony Head), the former Richmond owner also lost his Wonder Kid, Nate (Nick Mohammed), whose wonderful violin playing accompanied the entire sequence. What made it even more wonderful was that he wasn't alone in the music-making. Mohammed's real-life wife, Becka Mohammed, also joined in on the moment.
As uplifting as it was in between cuts of Rebecca's speech to some money-hungry old guys, it was made all the more heartwarming with the added element it really was Mohammed playing the violin so beautifully. He wasn't alone, either. Following the episode's release, Mohammed tweeted, "OK so this ep of 'Ted Lasso' is special for lots of reasons... but mostly because it's my incredible wife playing the piano to Arvo Pärt's 'Spiegel im Spiegel' with me on my old violin from home!" The music choice, as it turns out, though, wasn't Mohammed's, as he added, "The piece was Jason's [Sudeikis] idea: literally translates as 'mirror in mirror.'"
The music choice is a great reflection of Nate's journey in Ted Lasso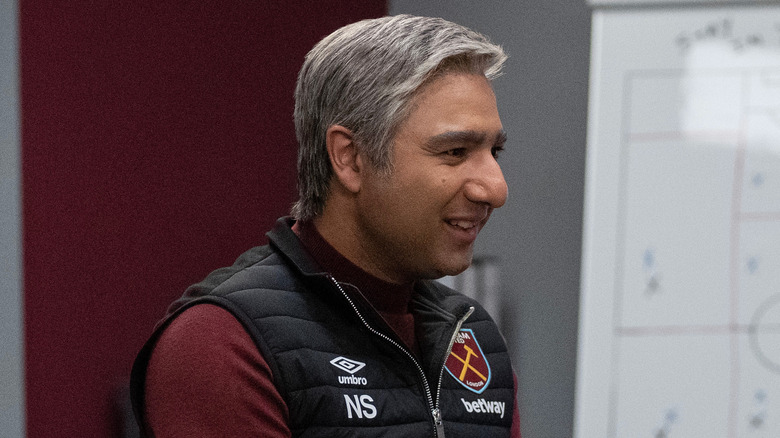 Apple TV+
For those that have kept up to date with Nate's trip off the rails and his slow trip back on to them following his falling out with Richmond, the title of the music 'Mirror in Mirror' means so much to Ted's former assistant coach. Nate has been battling with himself on his rise to the top, often looking at himself in the mirror and spitting at what was staring back.
In Season 2, we saw on more than one occasion, Nate spit into the mirror, which Mohammed told E! News was actually suggested by Jason Sudeikis and something his friend used to do. Thankfully, following his turnaround this year, those days are gone, and after being forced to look at himself and what's been done, Nate could finally be returning to the home ground he always belonged to. We'll just have to see if he doesn't have to come in through the sewer (which explains the show's strangest episode) when "Ted Lasso" returns next week.