What Happened To Wyatt On 9-1-1: Lone Star?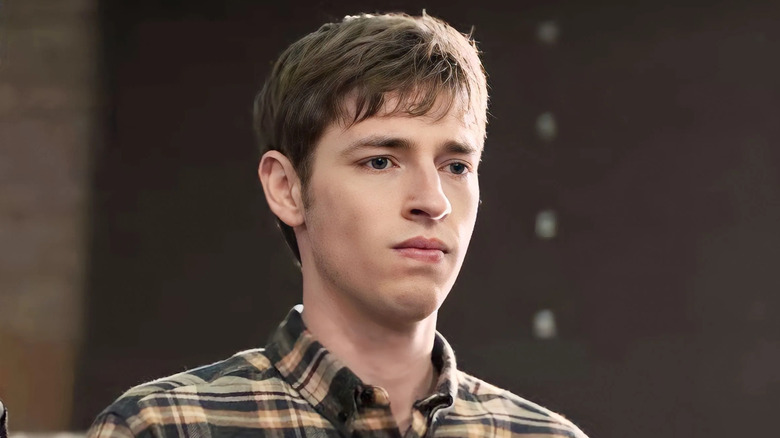 Fox
Contains spoilers for "9-1-1: Lone Star" Season 4, Episode 18 — "In Sickness and in Health"
Romance and angst are constant companions in the "9-1-1" universe, so it's not surprising that the sight of T.K. Strand (Ronen Rubinstein) and Carlos Reyes (Rafael Silva) finally getting hitched during "In Sickness and in Health" was accompanied by bittersweet news for the show's other characters. 
Fortunately, Wyatt Harris (Jackson Pace) does not pass away during "In Sickness and in Health," but he's got a serious fight ahead of him. The teen has been ailing since he was involved in a bicycling accident in Episode 16, "A House Divided." In that episode, the son of Judd Ryder (Jim Parrack) and Marlene Harris (Robyn Lively) and the stepson of Grace Ryder (Sierra McClain) suffers from brain swelling and a broken vertebra due to the crash, which requires him to undergo spinal surgery. 
Wyatt remains on the mend during "In Sickness and in Health," but he and his parents get some difficult news; he may be permanently injured. Wyatt is partially paralyzed and not showing any sign of recovering the function in his legs. The teen's doctors inform Marlene that Wyatt may never walk again. That's a devastating blow for Wyatt, who has abandoned college during Season 4 in the hope of following in his father's footsteps as a fireman.
The series' showrunner has a good explanation for why Wyatt was hurt
Fox
It appears that Wyatt's accident was created to serve as a tension-breaker between Judd and his friend and colleague, Tommy Vega (Gina Torres). Series co-creator and showrunner Tim Minear explained to Entertainment Weekly in May 2023 that he'd considered using one of Tommy's twins or Ryder and Grace's daughter to reconcile the two friends, but realized that Wyatt would be a better character for this narrative.
But there was another reason they used Wyatt to tell this tale. "The emotional reason was that it felt real, and it felt right, and it felt surprising. It's gut-wrenching. And in the subsequent scenes, how Judd deals with it and how Wyatt deals with it — and how they're going to deal with this thing going forward... The way it changes everything for this particular group of characters is super rich and incredibly moving."
The Harris and Ryder families have not had the easiest time forming a more cohesive unit; Judd and Wyatt took a while to come to an understanding, as Wyatt is a gentle sort of kid who doesn't enjoy the rugged kind of activities that makes the elder Ryder happy. Hopefully, Season 5 will give them room to breathe as a family as Wyatt moves through the rehabilitation process.