Why Kittredge From Mission: Impossible - Dead Reckoning Looks So Familiar
On May 17, 2023, Paramount Pictures premiered its second trailer for "Mission: Impossible – Dead Reckoning Part 1," the seventh feature film in the "Mission: Impossible" franchise. Opening the trailer is voiceover from a character revealed about 24 seconds in to be Eugene Kittredge.
Fans of "Mission: Impossible" familiar with director Brian De Palma's original film, which introduced audiences to Tom Cruise as super spy Ethan Hunt for the first time, will remember Kittredge as its director of the Impossible Missions Force (IMF). In his initial outing, Hunt is tasked with smoking out an IMF mole, and for a stretch suspects that Kittredge himself might be his culprit.
Kittredge's appearance in "Dead Reckoning" is his first since "Mission: Impossible" premiered in 1996. Whereas Ethan and Kittredge worked together last, it now appears that Kittredge and Ethan are at odds based on his tone in this latest trailer. Returning to play Kittredge in "Dead Reckoning" is original actor Henry Czerny, who might otherwise look familiar from his genre-spanning filmography.
Henry Czerny is the CIA director in Clear and Present Danger
Two years before Henry Czerny debuted in "Mission: Impossible" as the director of the fictional Impossible Missions Force, he established himself as an espionage authority in the 1994 Harrison Ford thriller "Clear and Present Danger." John Milius of "Apocalypse Now" and "Conan the Barbarian" fame co-wrote the film, based on a novel of the same name by spy author extraordinaire Tom Clancy. Harrison Ford stars as Jack Ryan, the very same spy most recently portrayed by John Krasinski in Amazon's original series also adapting Clancy's "Jack Ryan" novels.
Czerny, meanwhile, plays CIA Deputy Director of Operations Bob Ritter. Although he holds a position of authority in the CIA, for whom Ryan also works, Ritter is an antagonist, attempting to stop the comparatively idealistic Ryan from jeopardizing a deal with a Colombian drug lord's intelligence officer named Colonel Félix Cortez (Joaquim de Almeida). Given the numerous similarities between his two characters, Czerny likely secured his "Mission: Impossible" gig at least in part on the strength of his performance as Ritter, leading to his present day role in "Dead Reckoning Part 1."
Czerny is the villain of the 2006 Pink Panther movie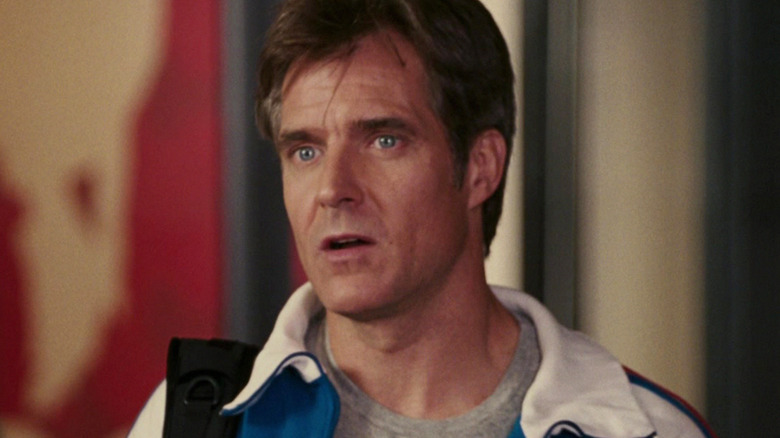 Sony Pictures
In 2006, Henry Czerny effectively returned to the crime thriller genre, but this time in detective comedy "The Pink Panther" as an eccentric Russian employee of the French national soccer team whom Inspector Jacques Clouseau (Steve Martin) refers to as "Yuri, the trainer who trains."
Throughout the film, Clouseau is attempting to solve the murder of Yves Gluant (Jason Statham), coach of Team France. Many of his suspects, therefore, are somehow involved with France's national soccer team. Clouseau meets Yuri during a visit to the team's training facility, and immediately suspects that he's somehow complicit. Ultimately, Clouseau's hunch turns out to be prescient, once he catches Yuri attempting to assassinate Gluant's partner Xania (Beyoncé). After stopping him, Clouseau coaxes Yuri into confessing to the murder of Gluant as well.
By this point, then, Czerny established something of a through line between his most prominent roles, portraying someone accused of a conspiratorial crime — both rightfully and wrongfully, depending on the film — in "Clear and Present Danger," "Mission: Impossible," and even "The Pink Panther."
He's Thomas Howard, 3rd Duke of Norfolk in Season 1 of The Tudors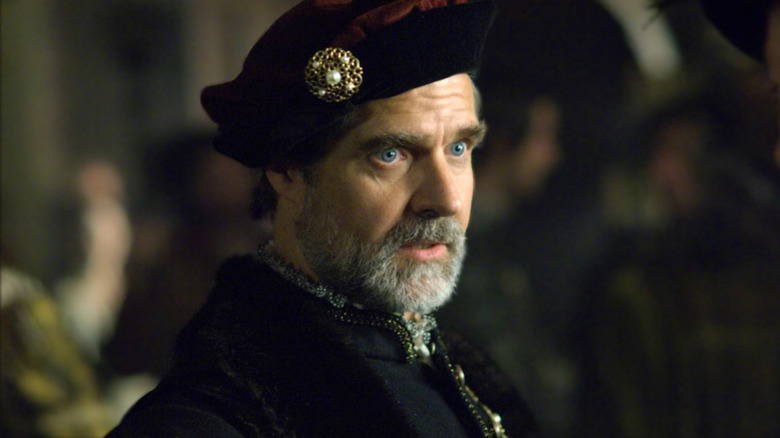 Showtime
Showtime's flagship historical drama "The Tudors" stars Jonathan Rhys Meyers as King Henry VIII of England, whose long reign and series of six marriages provide the series with its narrative backbone. Because of the show's scale, major characters change from season to season. That said, while his tenure is consequently limited to just Season 1, Henry Czerny is nevertheless one of the main characters in the debut season of "The Tudors" as Thomas Howard, 3rd Duke of Norfolk.
Once again, Czerny is playing an authority figure, as the man in charge of the Howard family. He has an important part in Henry VIII's story, meanwhile, as the uncle of his second and fifth wives, Anne Boleyn and Catherine Howard, portrayed in "The Tutors" by Natalie Dormer and Tamzin Merchant respectively. Throughout Season 1, Czerny's character attempts to politically maneuver into an important seat on Henry VIII's council. Though he succeeds at deposing his rival in Cardinal Wolsey (Sam Neill), Howard retires off-screen between the events of Seasons 1 and 2, ending his "Tudors" run.
He's the therapist in Scream 6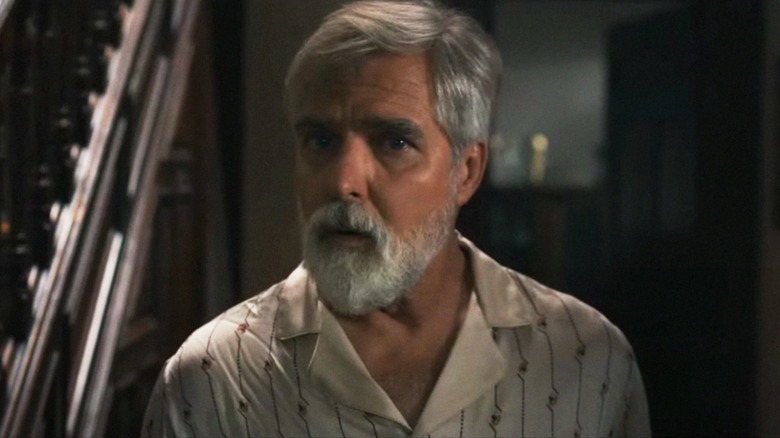 Paramount Pictures
"Mission: Impossible – Dead Reckoning Part One" won't be the only 2023 blockbuster to feature a Henry Czerny performance. Already, Czerny has appeared in "Scream 6," which hit theaters in March of 2023.
In a pivotal early scene, returning "Scream 5" protagonist Sam Carpenter (Melissa Barrera) consults with a therapist named Dr. Stone, portrayed by Czerny. By the time of this session, Sam appears to have visited Stone maybe a couple or a few times prior. However, it's here that Sam begins to share what seems to be a genetic or even supernatural proclivity for violence, inherited from her biological father and "Scream" killer Billy Loomis (Skeet Ulrich). Stone becomes uncomfortable and cuts their session short, while Sam compares him to other therapists who have implicitly done this same thing.
Shortly afterword, one of this entry's incarnations of Ghostface breaks into Stone's home and murders him, delivering what amounts to karmic punishment for his unwillingness to help Sam with her mental health struggles. Czerny's next role will be in "Dead Reckoning," which premieres on July 12, 2023.