Who Plays Ketevan In Extraction 2?
Netflix's action-packed sequel film "Extraction 2" offers fans more hard-hitting fight scenes, high-octane chase sequences, and a new exhilarating mission for Tyler Rake (Chris Hemsworth). Fans excited about the highly anticipated follow-up might be curious to know who is playing the role of Ketevan, the person the black ops mercenary is set to protect from insurmountable odds this time.
There is no denying the former SASR operator has an above-average talent for keeping the offspring of major criminals safe from harm and getting them to their designated extraction point no matter what gets in their way. Despite looking like he had expired at the end of the previous entry, in "Extraction 2," Tyler Rake has returned, and this time he will be utilizing his excellent set of combat skills to rescue Ketevan, the daughter of a Georgian gangster, from a prison where she is being held as a hostage. The character is played by Tinatin Dalakishvili, a Georgian model and actress who has been adding credits to her filmography since 2010. In terms of her TV work, Dalakishvili was in the Georgian series "My Wife's Girlfriend" and the cyber drama thriller "The Undeclared War" on Peacock. She also starred alongside John Malkovich in "For Adults Only" and played the titular character in the sci-fi steampunk feature "Abigail."
Dalakishvili's efforts on screen so far have been nothing short of exemplary, but her previous credits do not compare to what she experienced filming the Netflix sequel, including participating in a particular action sequence the franchise is known for, but considerably upping the stakes in this iteration.
Tinatin Dalakishvili's prison escape scene with Hemsworth is another epic Extraction oner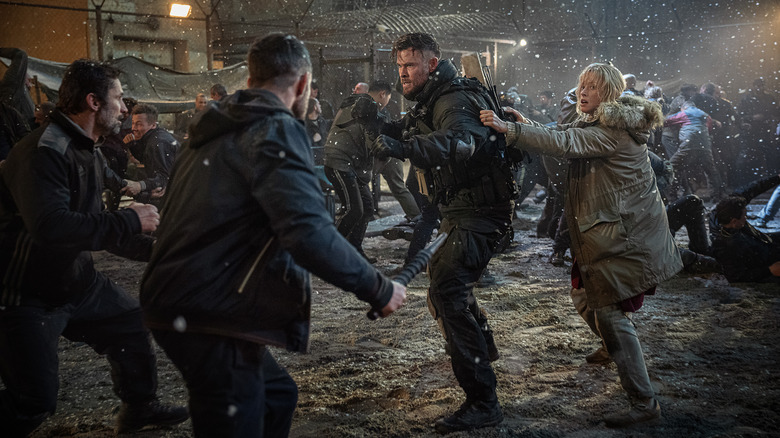 Jasin Boland/Netflix
Regardless of defense measures or security protocols, there aren't many places Tyler Rake can't get in or out of, which is what makes him the perfect candidate to extract Ketavan from the confines of the highly guarded prison. This pulse-pounding extraction featured a hefty amount of Hemsworth's character frantically fighting foes while on fire. The mayhem was executed for the screen in a one-shot sequence, similar to what the first film did with the intense 12-minute chase sequence, and arguably made a strong case for Hemsworth's previous claim that the stunts from "Extraction 2" are more extensive than Marvel.
According to director Sam Hargrave, the sequence was described as "the craziest oner in cinema history" in the script and when discussing the epic endeavor, he couldn't help but praise the man playing Tyler Rake for withstanding the heated pressures of the scene. "And hats off to Chris. It wasn't CG fire. And he had to do it over and over. I don't know a lot of people, let alone Hollywood A-listers, who are gonna let you light them on fire while on camera," the director said in an interview with Empire. "We lit Chris Hemsworth on fire, and he beat up a bunch of guys all night. It was pretty incredible to watch."
While there are many aspects of the feature to look forward to in the Netflix sequel, watching Dalakishvili's character get out of prison with a fired-up Hemsworth leading the way is sure to ignite the "Extraction 2" interest of fans to a scorching level.