Chris Hemsworth Says Extraction 2's Stunts Are More Extensive Than Marvel's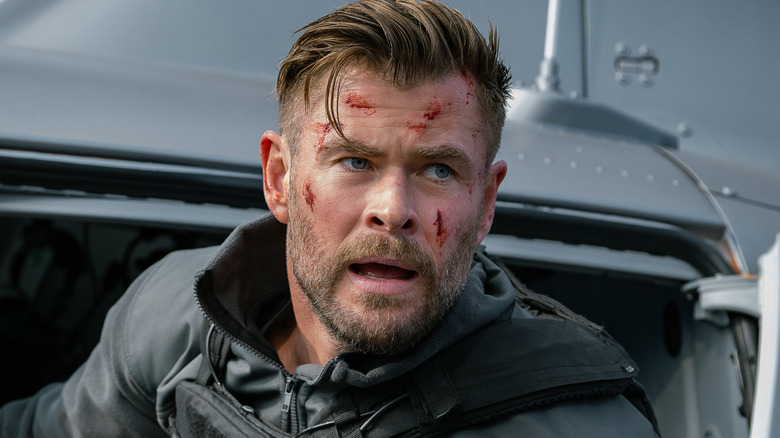 Jasin Boland/Netflix
Netflix's "Extraction" proved to be a big hit for the streamer in 2020. The action-packed film brought in over 99 million views in just four weeks, making a sequel inevitable. The film follows Tyler Rake (Chris Hemsworth) as he attempts a dangerous rescue. Though the ending of "Extraction" leaves Rake's fate a bit up in the air, the character is coming back in "Extraction 2," which is slated for release on June 16, 2023. Rake may be undertaking a different mission, but the breathtaking stunt work remains. For Hemsworth, it's a different experience than even his time as a certain superhero.
Numerous appearances as Thor have given the actor ample time with Marvel Studios. That impressive run also means he's keenly aware of the differences between Marvel's approach to filmmaking and that of his "Extraction 2" team — especially when it comes to stunts. Hemsworth went into detail about the upcoming film during a recent Entertainment Weekly interview. Apparently, one scene in particular stood out, as the crew dealt with a snowy prison and 300 extras. Describing the filming experience as "so satisfying," Hemsworth compared "Extraction 2" to his MCU productions. "Not to take anything away from the special-effects-filled sort of Marvel film," he said, "but you have a lot of help in post-production there." Hemsworth elaborated by stating that the action in "Extraction 2" is much more "grounded in reality," so "the preparation is a lot more extensive."
There's a big connection between Extraction and Marvel's stunts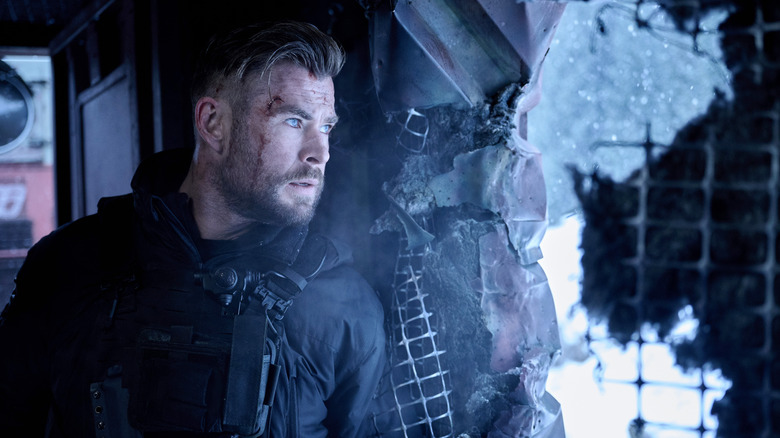 Jasin Boland/Netflix
Chris Hemsworth isn't the only MCU veteran involved in the "Extraction" films. Sam Hargrave made his directorial debut with the first "Extraction" and returned to helm its sequel. Before these projects, he could be found as a stunt coordinator on numerous Marvel films, including "Captain America: Civil War," "Avengers: Infinity War," and "Avengers: Endgame."
For Hargrave, "Extraction" was a chance to move on from the restrictions that come from working with Marvel's more family-friendly approach. "When you're given a movie that opens the door to a whole new way of looking at action, a new way of telling the story, it's very enticing," he told IndieWire in 2020. The storyline of "Extraction" meant he could also explore the violent world of its characters in an open and raw way. "We didn't want to pull punches," Hargrave said, "and I think that if we had done that, it might have been a disservice to that world and the story."
The realism and raw nature of the "Extraction" films and their stunts set them apart in another way, as they're not based on a famous franchise like Marvel. It's an element that Hargrave was excited about with the first film's debut. "So much content these days is either a sequel or a comic book movie based on previous IP," he told IndieWire, "so to have an original story like this is very unique and it was part of the draw for me."