The Time Hallmark Got Into A Legal Battle Over A Christmas Movie
Viewers can always rely on Hallmark Christmas movies to provide cozy festive viewing. Behind the scenes, however, one of these planned holiday capers resulted in a lawsuit and accusations of theft against the company. As documented by Deadline, a lawsuit was filed against Hallmark Hall of Fame Prods and McGee Street Prods in 2012 after Brad Wigor, a four-time Daytime Emmy nominee, claimed that they stole his idea for a television movie about an angel. Wigor's treatment was for a project called "The Night Flyer."
"Faced with declining viewership and languishing interest, Hallmark has become desperate for quality original content," the plaintiff's filing read. "Unfortunately, Hallmark has apparently decided it is more valuable to it to obtain ideas and copyrighted works by theft and deception rather than to develop and pay for truly original programming."
According to The Hollywood Reporter, Wigor communicated with Hallmark representatives for months and was set to write and direct the movie. However, circumstances allegedly changed after Hallmark gave him two alternative options: accept an executive producer credit or be removed from the project entirely. He refused both, and the lawsuit transpired from there.
The defendants said their idea was based on a book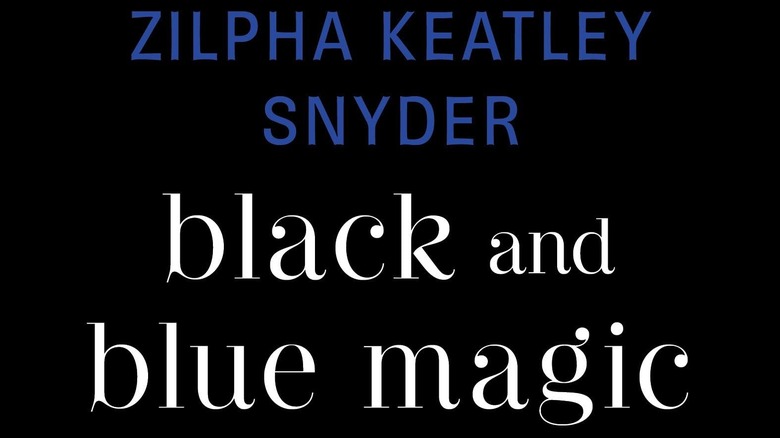 Open Road Media Teen & Tween
The lawsuit claimed that the defendants asked Brad Wigor to develop a treatment and partial script for the TV movie, only to stop interacting with the filmmaker weeks before the project was green-lit. Wigor and his legal team — which was led by Bonnie Eskanazi, a litigator who famously represented the Tolkien Estate in a lawsuit over the "Lord of the Rings" movies — argued that they took his copyrighted idea and didn't compensate him. 
Furthermore, the defendants claimed that their film was based on a book that boasted a few similarities to Wigor's idea. As noted by the aforementioned THR article, the book in question was Zilpha Keatley Snyder's "Black and Blue Magic." Additionally, McGee is also said to have sent a letter to Wigor in which they admitted to their film boasting many similarities to the filmmaker's original idea. However, as Deadline pointed out, the lawsuit accused the defendants of using the book so they "could pretend the Infringing Project was based on something other than Wigor's Work."
Per Variety, Hallmark and McGee subsequently denied the accusations, claiming that they had no merit. The statement reiterated that their film project was inspired by "Black and Blue Magic," and any similarities between Wigor's story and the novel were his concern and not theirs.