Mission: Impossible - Dead Reckoning Isn't Tom Cruise's First Time Fighting On Top Of A Train
If you had any doubts that Tom Cruise is Hollywood's last great action star, "Mission: Impossible — Dead Reckoning Part One" might change your mind. The second trailer for Christopher McQuarrie's upcoming sequel shows the daredevil actor getting into a scrap with Esai Morales' character on top of a speeding locomotive; however, long-time fans of the franchise will also recall Cruise fighting on the roof of a moving train back in 1996.
"Mission: Impossible" saw Cruise and Jon Voight struggling to survive on top of a train, but the sequence is quite modest by today's standards. Every subsequent "Mission: Impossible" film has upped the ante in terms of stunts and spectacles, after all, with Cruise regularly risking his own well-being in the name of practical stuntwork. That said, the train sequence in the first movie was still a tricky scene to shoot in the 1990s. 
As documented by Bold Entrance, the filmmakers — led by Industrial Light & Magic's visual effects supervisor John Knoll — used a combination of live-action, life-sized model trains, wind machines, and CGI to bring the action to life. The sequence took around six weeks to shoot, with most of the filming taking place at Pinewood Studios and the effects work being handled in ILM's California-based parking lot. However, "Dead Reckoning Part One" looks set to take the train-centric action to the next level.
Christopher McQuarrie on the difficulties of filming Dead Reckoning's train sequence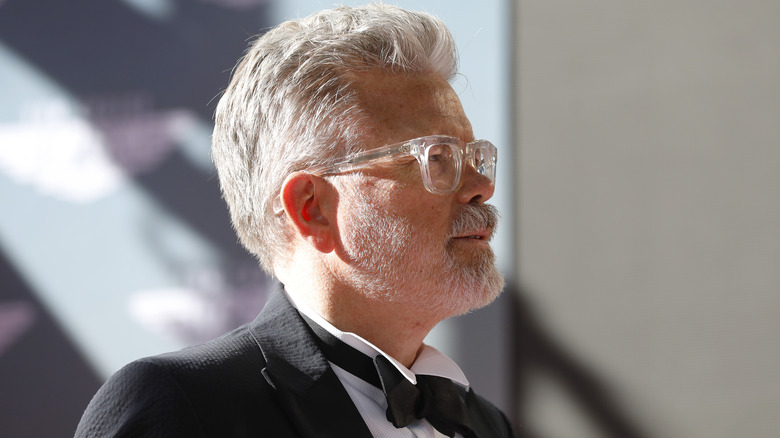 Tristan Fewings/Getty Images
The train sequence in "Mission: Impossible — Dead Reckoning Part One" promises exhilarating action and then some. That being said, Christopher McQuarrie and his team had no idea what they were getting themselves into when they ideated the ambitious set piece.
In an interview with Empire, the director discussed the challenges of shooting the locomotive sequence in question. "We're making a movie that involves sequence that they just don't shoot practically anymore, and haven't in a long, long time," he told the outlet in 2021. "The [train sequence] is no exception. And like most things on Mission: Impossible, if we had known what the challenges were when we started, we would never have done it."
Fortunately, the filmmakers stuck with the plan and found a way to overcome the hurdles of creating such a complex scene. It promises to be one of many electrifying action-packed spectacles in the movie, and fans will get to enjoy the thrills when the sequel hits theaters on July 12, 2023.