The Nun Poster Sheds Some Light On The Conjuring Spinoff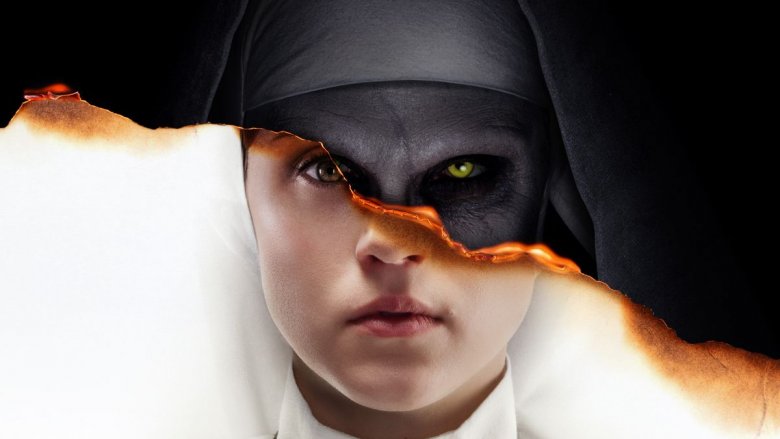 The creepy nun from The Conjuring series is serving some face on the new poster for her upcoming movie — two faces, to be specific.
Arriving about a month after the first trailer for the movie, The Nun's bisected one-sheet is shedding some literal light on the upcoming spinoff of James Wan's horror franchise. 
In particular, the light-and-dark poster conveys that the creepy nun at the center of the story wasn't always a Sith Lord-looking old crone. Apparently, she used to be a nice-looking gal who looks a lot like Charlotte Hope, an actress who worked on Game of Thrones. Who've thought?
Expanding on a story introduced in The Conjuring 2, The Nun follows a Catholic Church in Romania that is beset by a scourge of creepy demonic activity that leads to suicides, deaths, and hella jump scares. Called by Catholic leaders in Vatican City to investigate, a group begins an investigation to get some answers regarding that creepy nun's whole deal. It's like, why so spooky, lady? Why you always running around the monastery in these yellow contact lenses?
Directed by Corin Hardy, the movie is scripted by Annabelle and It writer Gary Dauberman, and joins the two Annabelle movies in The Conjuring's expanding cinematic universe. Also in development for that universe is a movie centered on "the Crooked Man", a ghastly spectral entity who was, like the nun, introduced in The Conjuring 2.
The Nun stars Demián Bichir and Taissa Farmiga, with character actress Bonnie Aarons reprising her role as the movie's demonic nun. After originally being scheduled to be out this summer, the movie will be out in theaters on September 7. Check the poster out below.