Ted Lasso S3 Episode 10 Teases The Return Of A Surprising S1 Antagonist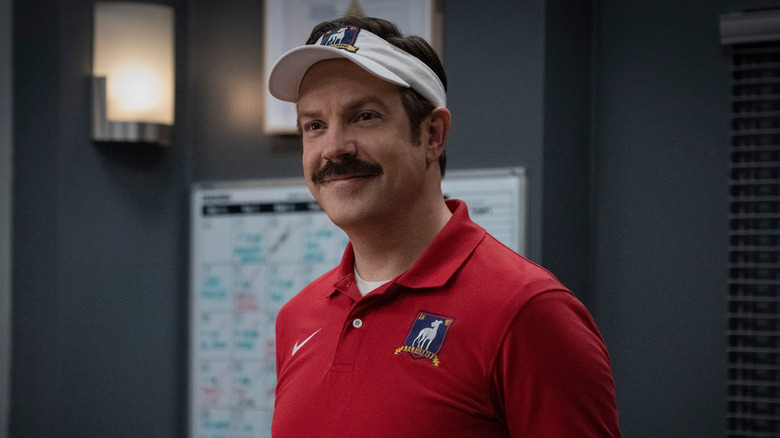 Apple TV+
Contains spoilers for "Ted Lasso" Season 3 Episode 10, "International Break"
It's a "Ted Lasso" episode full of healing, as the titular coach (Jason Sudeikis) takes the backseat to give others a chance to shine. Rebecca (Hannah Waddingham) finally lets go of her series-long vengeful feelings toward Rupert (Anthony Head) and establishes herself as team owner royalty by ruthlessly dismantling Edwin Akufo's (Sam Richardson) proposal for a Super League. Keeley (Juno Temple) and Roy (Brett Goldstein) reconcile after both go through rollercoasters of their own. Nate (Nick Mohammed) has finally left West Ham and is now in full redemption mode. 
It's surprising how positively things go for the protagonists, considering the sheer amount of villainy "International Break" features. Jack (Jodi Balfour) continues to be elusive, but her actions speak louder than her texts when she pulls Keeley's funding and "forgets" to inform her. Akufo, on the other hand, is now in full supervillain mode, actively sabotaging every aspect of Sam's (Toheeb Jimoh) life and proposing lucrative but morally dubious deals to major clubs. Rupert starts out smarmy as ever but gets a reality check when Rebecca manages to get through his shell, invoking genuinely touching memories. Even Dani Rojas (Cristo Fernandéz), of all people, spends the majority of the episode antagonizing Van Damme (Moe Jeudy-Lamour) when their national teams face off against each other. 
In this sea of villainy — well, by "Ted Lasso" standards, anyway — it's easy to miss George Cartrick (Bill Fellows), the bitter former coach of AFC Richmond. Cartrick's punditry on "Gillette Soccer Saturday" has given him ample opportunities to take swipes at his old club, but based on his comments here, the show might just be setting him up in a much larger role. 
George Cartrick might be the next West Ham coach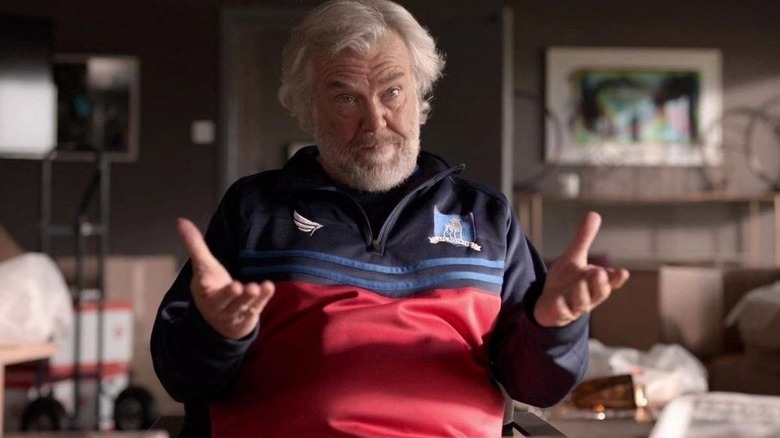 Apple TV+
George Cartrick was definitely an antagonistic force in the pilot episode, but since Rebecca booted him from AFC Richmond, he's existed in the show's periphery as one of the many talking heads criticizing the club's performances. However, it's clear that he still has plenty of animosity toward Richmond, and even when they play well he inevitably finds something nasty to say. It's also worth noting that apart from his gross personal habits and middling professional ability, Rebecca fired Cartrick because he was Rupert's stooge. 
After appearing in the pilot episode and a few Season 2 ones, Cartrick's prominence has increased in the latter half of "Ted Lasso" Season 3, to the point that "International Break" marks his third consecutive appearance in the show. Here, we see him discussing Nate's departure from West Ham, and dismissing the Wonder Kid as little more than his former kitman while playing up Rupert's behind-the-scenes importance. All of this seems to point toward one thing: Cartrick is attempting to score a cozy gig as the new West Ham coach, which would elevate him into a far more hands-on antagonist role than his current pundit status allows.
Pushing Cartrick toward the West Ham dugout makes all kinds of narrative sense. He's the only established head coach character the show has to spare, and Season 3 is so close to its end that introducing an entirely new character seems unlikely. Combine this with the fact that Rupert knows Cartrick and has clearly liked him enough to hire him in the past, and it would almost be more surprising if this development doesn't happen. 
Besides, Roy hasn't had a proper antagonist for a while now he and Jamie (Phil Dunster) are on good terms. Wouldn't it be great to see a coach face-off between Roy Kent and George Cartrick, two established enemies?