Schitt's Creek: Whatever Happened To Emily Hampshire After The Show?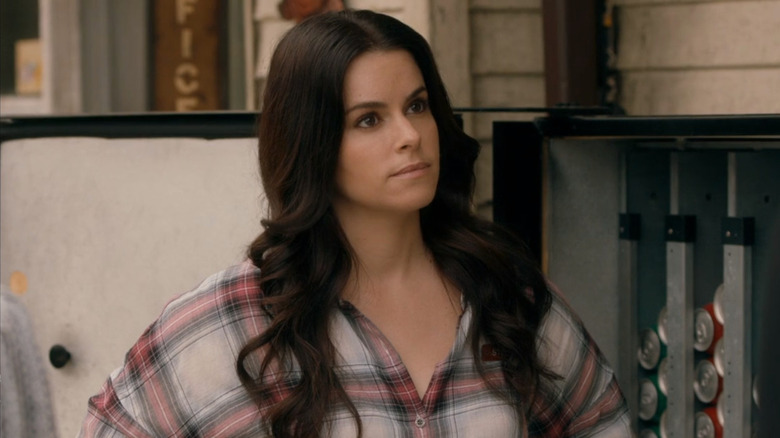 CBC Television
Created by father-son duo Eugene and Dan Levy, "Schitt's Creek" is a classic riches to rags story that aired between 2015 and 2020. The Canadian sitcom follows the disgraced and freshly bankrupt Rose family as they decamp to Schitt's Creek, a humble town they purchased years earlier. While much of the series focuses on Johnny (Eugene Levy), Moira (Catherine O'Hara), David (Dan Levy), and Alexis (Annie Murphy), plenty of townies emerge as key players.
As the dryly witty proprietor of the Rosebud Motel, Stevie Budd (Emily Hampshire) is the primary Schitt's Creek denizen to regularly interact with the fish-out-of-water Roses. She ultimately forges unique bonds with all of them, becoming David's best friend, Johnny's hospitality protégé, and the star of Moira's production of "Cabaret."
Since "Schitt's Creek" came to an end in 2020, Hampshire has stayed booked and busy across film and television, appearing in the films "The End of Sex" and "Appendage," in addition to some high-profile TV roles.
Hampshire currently stars in Chapelwaite and The Rig
While Emily Hampshire was starring as Stevie Budd in "Schitt's Creek," the actor was doing double duty by appearing in Syfy's "12 Monkeys" from 2015 to 2018. Once "Schitt's Creek" ended two years later, Hampshire kept the television momentum going. 
In 2021, she began starring as Rebecca Morgan in "Chapelwaite." Loosely based on Stephen King's story "Jerusalem's Lot," the horror series follows Captain Charles Boone (Adrien Brody) as he moves his family to 19th-century Maine following his wife's death.
Hampshire also stars in the similarly supernatural show "The Rig." The thriller series premiered in January 2023 and follows the crew at a Scottish oil rig in the North Sea. When an unnatural fog sets in, members of the crew experience psychological problems. Hampshire plays Rose Mason, an ambitious representative for the oil company. In February 2023, Amazon Prime renewed "The Rig" for a second season.
In addition to her television roles, she also has a few highly anticipated film projects in the works, including Jake Johnson's directorial debut "Self Reliance." The film premiered at SXSW in March, as did Hampshire's other film, "Bloody Hell." Hampshire and Maddie Ziegler star as a mother-daughter duo in the latter film, which is described in the SXSW program as a "coming-of-age traumedy." 
With those projects on her docket, Hampshire seems busy for the time being. While busy, fans hope she would clear her schedule for a potential "Schitt's Creek" movie if it were to happen.