Why Ebraheim From The Bear Looks So Familiar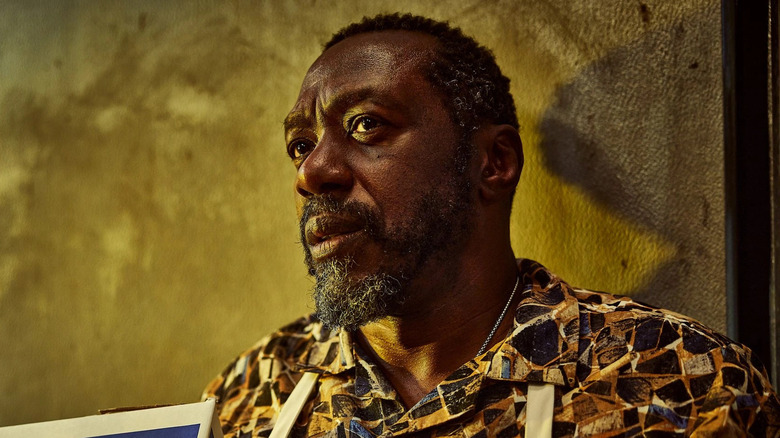 FX Networks
As Anthony Bourdain made clear over the course of his career, a professional kitchen can be a hectic place. FX's "The Bear" runs on this very fuel. The show highlights the almost unbearably stressful atmosphere that slowly grinds down the staff of The Original Beef of Chicagoland, and the moments of success and togetherness that keep them coming back for yet another day. The Beef's kitchen is full of eccentric figures, from burnt-out top chef Carmy Berzatto (Jeremy Allen White) to talented but pushy Sydney Adamu (Ayo Edebiri) and change-resistant veteran chef de entremétier Tina (Liza Colon Zayas). 
In the middle of this sea of emotion stands Ebraheim, a quiet, stoic chef who radiates calm ... though, as he occasionally hints, this may be because he's seen (and done) far worse than anything The Original Beef of Chicagoland can throw at him before he arrived in America. Calm as he may be, Ebraheim is no easy role to play, and Edwin Lee Gibson has the skills to portray the quietly charismatic character. Here's where you can check out some of Gibson's work before he joined the cast of "The Bear." 
Edwin Lee Gibson was Lionel Happy Halloway in Fargo Season 4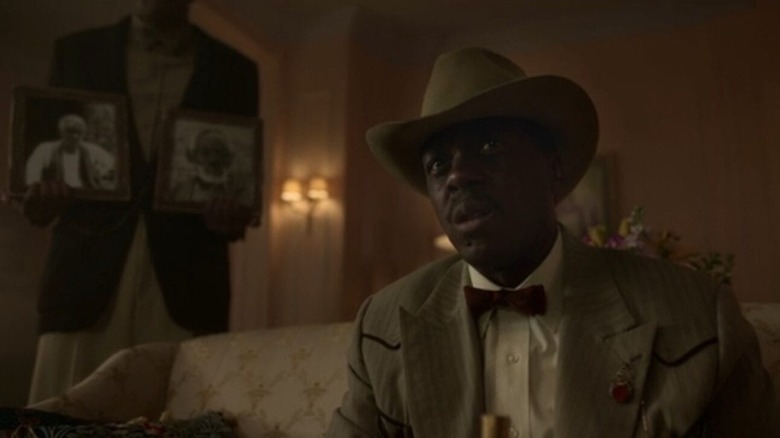 FX Networks
FX's "Fargo" crime anthology series has no shortage of crime bosses, and in Season 4, Edwin Lee Gibson brought his own version of the theme to Kansas City. Gibson's Lionel "Happy" Halloway is a powerful crime boss and a prospective ally to the season's central character, Loy Cannon (Chris Rock). However, as things tend to be in "Fargo," unsolved matters soon bubble to the surface. 
Gibson guest stars in two episodes of the popular show, and before "The Bear," this remained his best-known TV role. However, this doesn't mean that the actor is a novice by any means. On the contrary, Gibson is a long-serving theater veteran with over 100 productions to his name, as well as a prolific writer. "My writing is the extension of the worlds I create as an actor," he has described his approach to the craft. 
He plays Fox in UnPrisoned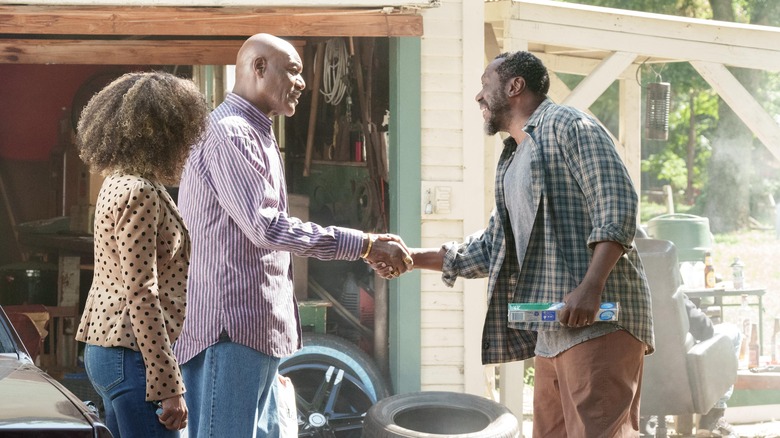 Kelsey McNeal/Hulu
Between seasons of "The Bear," Edwin Lee Gibson snuck in a recurring role in Hulu's "UnPrisoned," Tracy McMillan's Hulu comedy show about Paige Alexander (Kerry Washington), a successful therapist whose life is thrown in disarray when her father, Edwin (Delroy Lindo), is released from prison and moves in with his extremely estranged daughter. Gibson plays Fox, one of Edwin's old friends, and appears in five of the show's eight episodes. 
"UnPrisoned" Season 1 has received rave reviews from critics and audiences alike, and its audience score on Rotten Tomatoes actually surpasses "The Bear." The show's powerful themes combined with its genuine laughs and charming performances have made it the most recent show in Gibson's budding string of impactful, well-acted comedies that aren't afraid to tackle major issues. This is probably no coincidence, seeing as the actor has sought out similar projects on the stage, as well. In a 2018 interview with the Washington Post, Gibson discussed his role as Dick Gregory in Broadway play "Turn Me Loose," and revealed that the activist and comedian is something of a guiding light to him.
"There are far many more good people in the world than bad people, but there are far many more silent people than those that will speak," Gibson said. "Some people are afraid for their lives, some people are afraid for their economics, some people are afraid for their status. [Gregory] wasn't afraid of any of those things, and neither am I."
Gibson is a reliable guest star in several well-known shows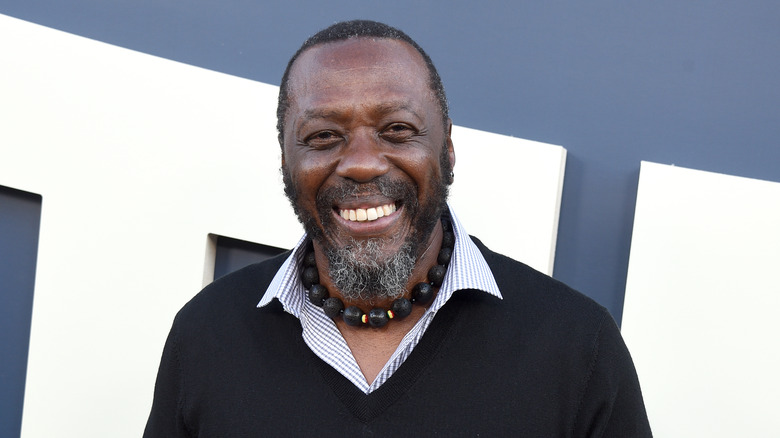 Gregg Deguire/Getty Images
Apart from his larger main and recurring roles, Edwin Lee Gibson has shared his time on stage with a number of guest star roles in several major TV shows. Since 2010, he's appeared in guest roles in popular series that include "Law & Order," "Shameless," and "Chicago P.D." 
One of the actor's biggest guest roles so far is his two-episode stint in "Law & Order: Special Victims Unit." In Season 15 of the show, Gibson plays defense attorney Orton Freeman, who appears in the episodes "Spring Awakening" and "Betrayal's Climax."
With his deep theater experience guaranteeing quality performances and projects like "Fargo" and "The Bear" putting his name on the map, Gibson's star is clearly on the rise, and it wouldn't be a surprise if he added a fair few roles in his screen acting résumé in the years to come.