Why Aldon From FUBAR Looks So Familiar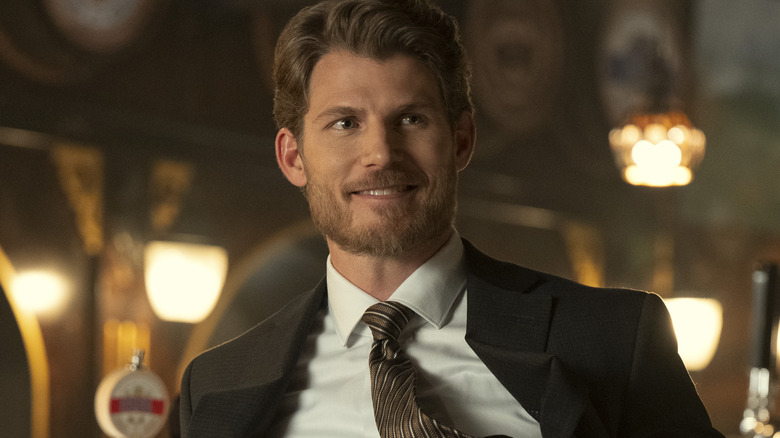 Christos Kalohoridis/Netflix
With streaming more prevalent than ever, it seems like every movie star is getting their own TV series. Sylvester Stallone famously made the jump to the small screen for his first scripted TV series role for "Tulsa King" on Paramount+. Now, Stallone's '80s contemporary, Arnold Schwarzenegger will make the leap to his first scripted TV role for Netflix's "FUBAR." It's a spy adventure show where Schwarzenegger plays Luke, a CIA operative who's been lying to his daughter for years about his true profession. The only problem is that she's also a CIA operative who's been lying to him as well, so he has to contend with the fact he doesn't know anything about her.
Schwarzenegger gets plenty of support from an outstanding supporting cast, including Travis Van Winkle, who plays Aldon. He's a good-looking actor who's appeared in dozens of projects since the early 2000s, so even if you never knew his name, you've likely seen him before in your favorite sitcom.
Travis Van Winkle had a number of one-off roles in TV shows early in his career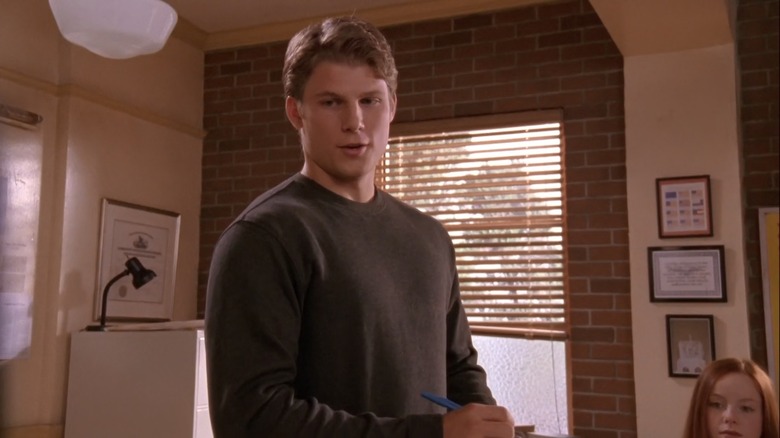 Fox
There's a good chance if you liked watching comedies in the 2000s, you saw Travis Van Winkle at some point. Like many actors, he got his start in relatively minor roles, often only appearing in a single episode of some pretty popular shows. His first credit ever is simply as "Shirtless Hunk" in an episode of "Mad TV." From there, he'd go on to show up in a number of sitcoms, including "Quintuplets," "That's So Raven," and "Malcolm in the Middle."
For that last credit, he shows up as Phillip in the Season 6 episode "Tiki Lounge." Phillip is in charge of Malcolm's school's charity club, where he orchestrates various ideas to help the community. However, Malcolm (Frankie Muniz) has some other ideas on how the club can actually help people rather than rub their own egos. 
His TV roles would continue with parts in "The O.C." and "7th Heaven," but most people probably recognize him most for appearing in the first "Transformers" movie.
He played Mikaela's ex-boyfriend in Transformers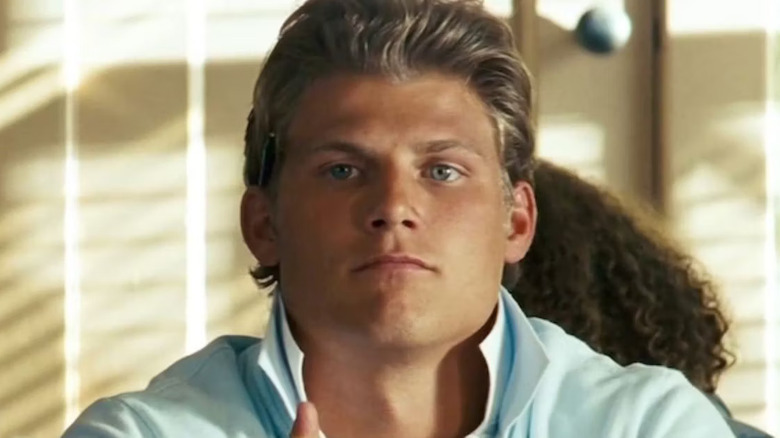 Paramount Pictures
Before Mikaela (Megan Fox) began dating Sam (Shia LaBeouf) at the end of "Transformers," she was romantically linked with Trent DeMarco (Travis Van Winkle). It's easy to overlook him, considering all of the Autobot vs. Decepticon carnage that ensues in the film, but he prominently features at the beginning of the movie. He's one of the jocks who gives Sam a hard time. He also earns the ire of Mikaela when he questions her driving abilities, causing her to storm off. After that, he doesn't really factor into the story, seeing how the plot shifts away from humans and more into Autobot territory. 
It's also his only entry in the "Transformers" franchise. Granted, it would've been a little difficult to get the character to work with Sam going off to college and then a career later in the series. However, it wouldn't be the last time audiences would see the character, and Trent could technically connect "Transformers" with the "Friday the 13th" franchise.
Trent DeMarco popped up in 2009's Friday the 13th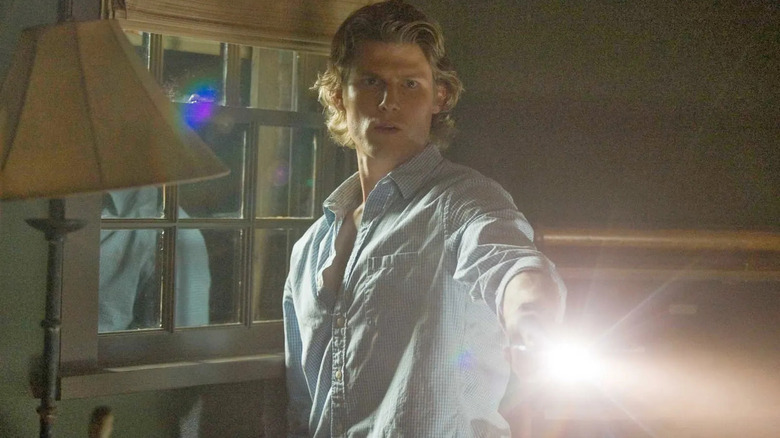 Paramount Pictures
The reason Trent doesn't appear in any more "Transformers" movies could canonically be that he was butchered by Jason Voorhees. That's because Travis Van Winkle plays a character also by the name of Trent in 2009's "Friday the 13th." While the two series seem pretty separate, they are connected via Michael Bay. He obviously directed the first "Transformers" film, and he served as a producer on "Friday the 13th."
The truth is that Trent's inclusion was probably just a bit of fun. It's basically a small Easter egg to connect the two Bay projects, but it does open up the possibility that Optimus Prime could fight Jason at some point. It also makes things even dicier for regular humans. Not only do they have to worry about regular destruction from Decepticons, but there's also an immortal killer out there sporting a hockey mask and some serious mommy issues.
Travis Van Winkle was a series regular on The Last Ship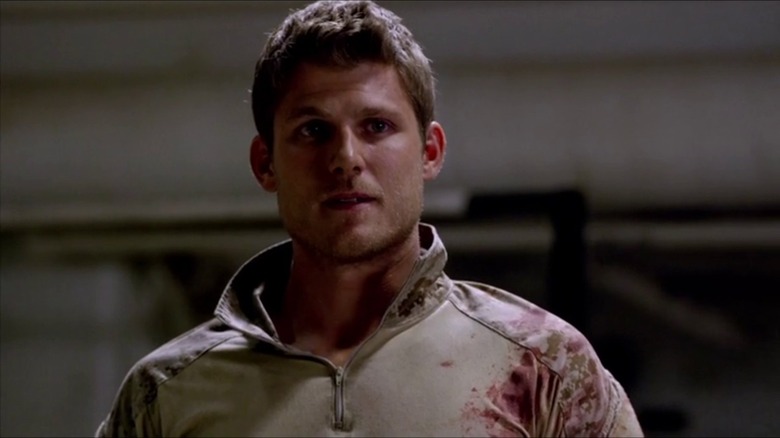 TNT
Travis Van Winkle clearly has a good relationship with Michael Bay, who served as an executive producer on the TNT series "The Last Ship." The actor appears there, but he's graduated from one-off roles to being a series regular. He played Lieutenant Danny Green, one of the main characters of the series, which follows a naval ship that's tasked with finding a cure for a viral pandemic that's wiped out 80% of the planet's population. 
The show, which premiered in 2014 and ran until 2018, has taken on greater meaning in a post-COVID world. But according to Van Winkle, the show was always topical and managed to tap into the zeitgeist despite its post-apocalyptic setting. As he said in an interview with Daily Actor, "I feel like our writers are right on the wavelength of what's currently happening. We've been fortunate enough that every season it seems to be current. The storyline that they choose to write seems somehow to be current in worldly affairs. There's so much connective tissue somehow between this reality that we've created and actual reality."
"The Last Ship" came to a close after five seasons, but it wouldn't be the last time viewers saw the actor take on a substantial role in a beloved series.
Travis Van Winkle most recently popped up on You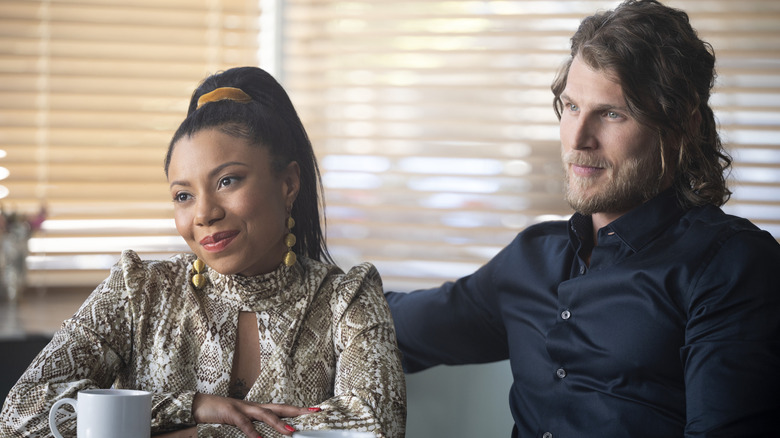 JOHN P. FLEENOR/NETFLIX
Travis Van Winkle is still putting his good looks to good use on the small screen. In 2021, he appeared on the third season of Netflix's "You" as Cary Conrad. He's the attractive, charismatic acquaintance of Joe (Penn Badgley) and Love (Victoria Pedretti), who's married to mommy influencer Sherry (Shalita Grant). He seems like a prime target for Joe's murderous ways, especially after he and his wife try to swing with Joe and Love. He even gets locked in Joe's cage for a period of time, but he actually makes it out of the season alive, with him and his wife capitalizing off of their torture.
For Van Winkle, it was an opportunity to play yet another intriguing character. As he told Da Man, "I hadn't seen the show prior to landing the role, but when I first was introduced to the character it was a direct hit for me. I felt drawn to play a guy like Cary Conrad, someone full of this insatiable hunger to optimize every cell in his body and yours." The actor has come a long way from playing bit parts, and the workload isn't slowing down any time soon.