Netflix's FUBAR - Everything You Need To Know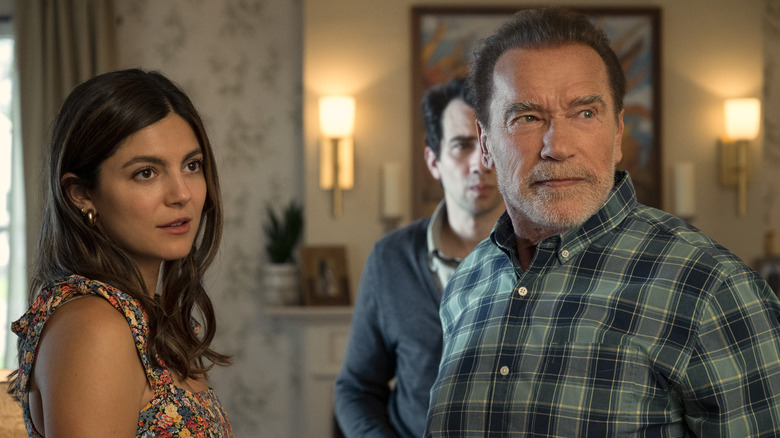 Amanda Matlovich/Netflix
Arnold Schwarzenegger was the king of the action comedy during the 1980s and 1990s. From "Kindergarten Cop" to "True Lies," he proved that looking tough and being funny were not mutually exclusive notions. He could play nerdy, he could play cool, and he could make a person laugh while also leaving them fearing for their lives. It's hard to deny the fact that Ahnuld definitely had the Midas touch. 
It looks like the master is back in his element with the Netflix series "FUBAR," which follows a man trying to settle into a happy retirement after years of work as a CIA agent. Unfortunately, Luke (Schwarzenegger) is called back into the field to finish off one last mission — rescuing a missing operative. He doesn't know that the agent he's been sent to save is his daughter, Emma (Monica Barbaro). The pair have been lying to each other for years about their occupations, which leads to chaos, family bonding, and a new sort of normal for them both.
The show is set for an eight-episode run for its first season. But here's what we know about when it'll debut, what it'll be about, and who will be co-starring with Schwarzenegger and Barbaro.
When will Netflix's FUBAR be released?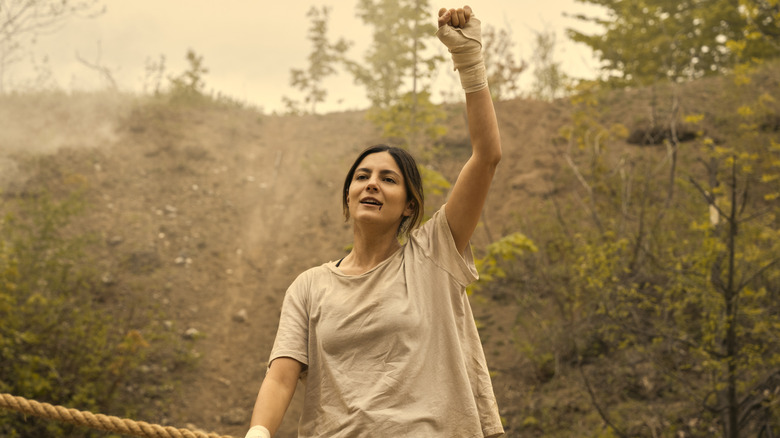 Christos Kalohoridis/Netflix
Per a recently-released trailer for the show, the first episode of "FUBAR" will hit Netflix on May 25. As with original shows such as "Virgin River" and "That '90s Show," it's likely that the entire first season of "FUBAR" will hit the streamer at the same time. As always, that time tends to be midnight EST on the drop day. That makes its lighthearted, action-heavy show perfect for Memorial Day weekend streaming fodder. So if it's too cool by the pool or too hot in the sun, retreating with your phone and the show might just make an ideal way to enjoy your time off. Each episode is slated to run for 60 minutes, providing audiences with eight full hours of entertainment.
There's naturally no word at press time as to whether or not a second season is in the cards for "FUBAR," but Netflix is definitely giving them an excellent opportunity to pull in a lot of viewers. Watchers will have to wait to see if it succeeds in pulling in an audience.
What will Netflix's FUBAR be about?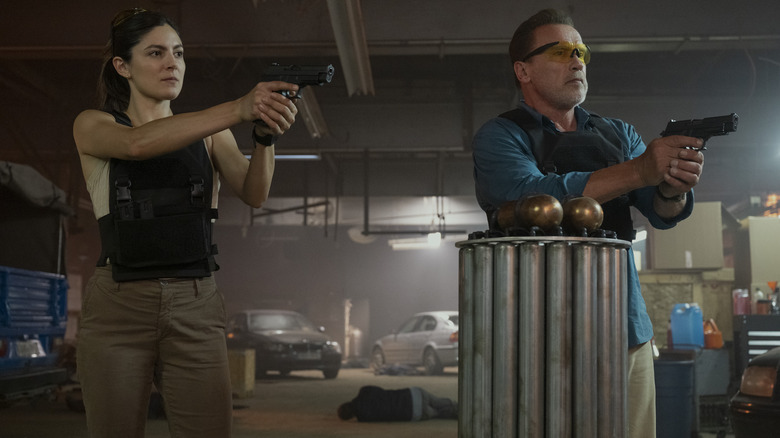 Christos Kalohoridis/Netflix
Arnold Schwarzenegger plays Luke Brunner, a much-decorated, very deadly CIA agent who is just about to retire. His sardonic colleagues are happy to see him off, and he's planning on finally spending time with his family — but his boss has one more mission for him. An operative code-named "Panda" has been lost in the field. Reluctantly, Luke goes out to extract Panda from the jungle and reclaim a WMD on his way out. It turns out that the woman he has to rescue is his daughter, Emma Brunner (Monica Barbaro).
Luke and Emma are forced to confront some uncomfortable truths about themselves and each other, as neither of them knew that the other was a CIA operative. Luke, in particular, is forced to confront that his daughter is a tough, cigarette-smoking woman with a sharp mind of her own. Learning from each other in the field — and with the help of friends like Roo Russell (Fortune Feimster) and Aldon Reece (Travis Van Winkle) — Luke and Emma gain fresh respect for one another, and they just might be the only thing standing between America and total disaster.
Who stars in Netflix's FUBAR?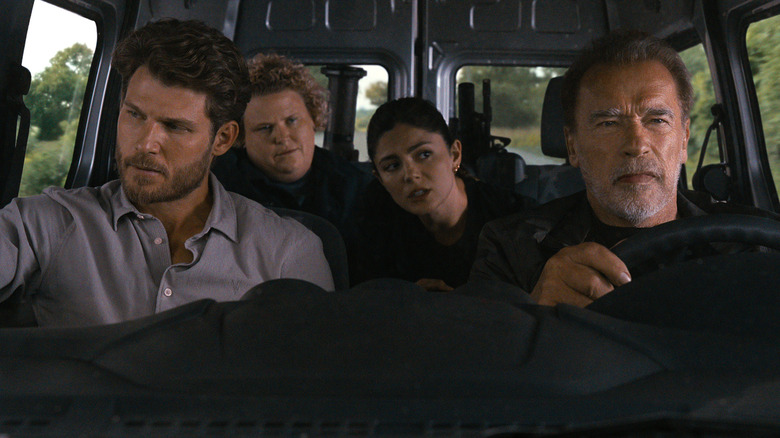 Netflix
Aside from Monica Barbaro as Emma Brunner and Arnold Schwarzenegger as Luke Brunner, Milan Carter plays Barry Putt, Luke's nerdy longtime friend at the CIA. Fortune Feimster plays Ruth "Roo" Russell, a colleague of both Emma and Luke, who admires the latter. Aparna Brielle plays Tina, a serious-minded transplant from the NSSA. Andy Buckley plays a boyfriend to Luke's ex-wife, the kind Donnie. Donnie comes into conflict with Luke when he realizes Luke wants his ex back. Travis Van Winkle plays the handsome, well-muscled Aldon Reece, a sweet-natured CIA officer. Barbara Eve Harris portrays tough-minded Dot, Luke and Emma's superior and a regional director at the CIA.  Adam Pally plays a man known only as The Great Dane, who works in black market goods as a middleman and bears surprising skills that belie his silliness.  Devon Bostick plays Emma's brother, Oscar, and Fabiana Udenio is Tally Brunner, Luke's ex-wife and Emma's mother. Stephanie Sy is Sandy Brunner, Oscar's wife, and Rachel Lynch is Romi, Sandy and Oscar's little girl. 
On the opposite side of the moral fence, Gabriel Luna plays Boro Polonia, a man Luna described to Da Man Magazine in April 2023 as being "an incredibly charismatic Oxford and Wharton-educated businessman who applies those skills to a career in the illegal arms trade." Desmond Sivan plays a younger Boro in flashbacks during two episodes. Christian Bako plays Dr. Karl Novac in three episodes. Jay Baruchel plays Carter, Emma's boyfriend, who is completely in the dark about his beloved's true nature.
Among the show's notable guest stars are Scott Thompson as the puppet-sporting family therapist Dr. Louis Pfeffer, Dustin Milligan and Tom Arnold is slated to appear in a currently unnamed role.
Who's directing, writing, showrunning and producing Netflix's FUBAR?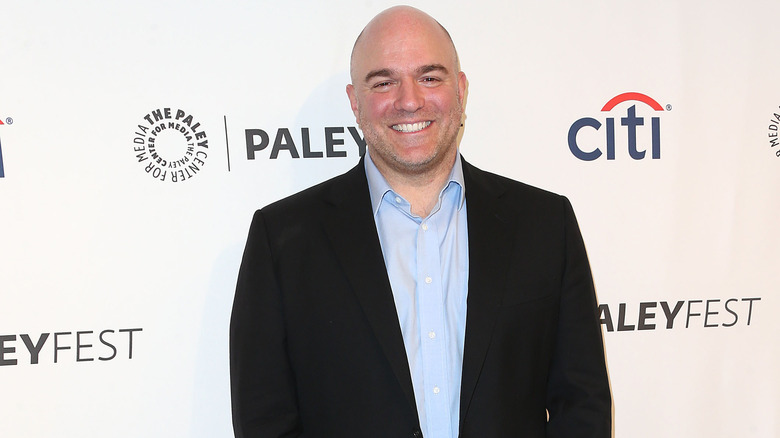 Frederick M. Brown/Getty Images
Arnold Schwarzenegger will serve as an executive producer for "FUBAR," but he's not alone. Adam Higgs, Scott Sullivan and Holly Dale will all also be co-executive producers of the series, with Skydance Televison's David Ellison, Dana Goldberg, and Bill Bost. Skydance Television participated in the creation of the series through Ellison's, Goldberg's and Bost's work.
Nick Santora — who created the series — serves as showrunner and another of its EPs. "I wanted 'Fubar' to be a hysterical, CIA-spy comedy mixed with heart-stopping action! And it is all that — and more," he declared in a February 2023 press release.Phil Abraham — who directed the first episode of the series — also served as an executive producer on the project.
And it looks like the show's central star is just as excited to get into the thick of things. "Everywhere I go, people ask me when I'm going to do another big action comedy like True Lies. Well, here it is. Fubar will kick your a** and make you laugh — and not just for two hours. You get a whole season," Schwarzenegger vowed in a February 2023 press release from Netflix.
Is there a trailer for Netflix's FUBAR?
After releasing a brief teaser trailer in February 2023, Netflix released a full trailer for "FUBAR" on April 19. It does a careful job of showing the series' propensity for humor and snark, as well as action. For every scene we get of Luke kicking butt or Emma boxing, there's a quip or an awkward moment between father and daughter. Much humor is derived from Luke's shock as he's confronted by this new image of his daughter, which he seems to be completely unable to grasp. It's clear they're going to have trouble getting along, but it's also clear that they've definitely got a good chance of reaching a fresh understanding. 
Their friends put in their own two cents; Roo, in particular, manages to get some wisecracks off about Emma's issues with Luke and Emma's need for a swear jar when she goes through an expletive-laden rant. 
It appears that the show is set to mix explosive action with a whole lot of family love and humor. It remains to be seen whether the show will strike a solid balance, but "FUBAR" seems determined to try. And in a month, viewers will find out if it all works out.