The Crown: First Look At Helena Bonham Carter, Ben Daniels For Season 3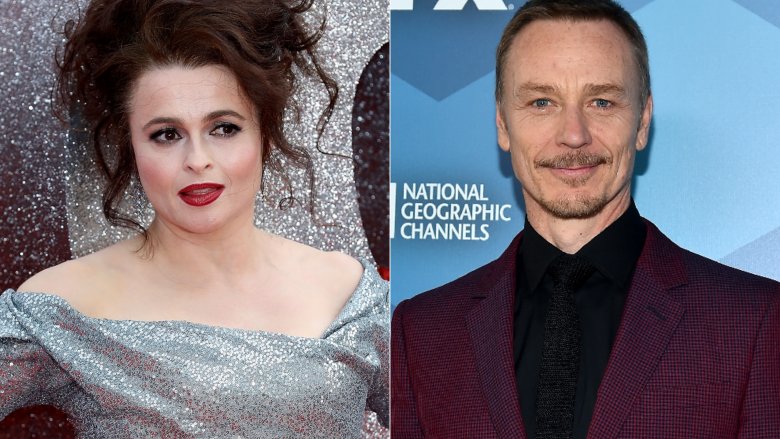 Getty Images
Two new faces are coming to The Crown for season 3, and now we know what they look like. 
Well, we've always known what actress Helena Bonham Carter and actor Ben Daniels look like, just not how they appear in their new respective roles as Princess Margaret and Antony Armstrong-Jones on The Crown. But that changed on Wednesday morning. 
The series' official Twitter account uploaded a photo of Bonham Carter, who replaces Vanessa Kirby as the sister of Queen Elizabeth II, and one of Daniels, who takes the torch from Matthew Goode, who played Margaret's filmmaker-slash-photographer husband in the first two seasons of the series. 
Bonham Carter's Margaret wears a royal blue floral headpiece and thick black winged eyeliner as she looks down at her lit cigarette sitting inside a sleek holder. Daniels' Antony (also known as Lord Snowdon) looks brooding into the camera — while adjusting the lens of his own camera. 
This double reveal follows after Netflix released the first image of Olivia Colman as Queen Elizabeth, assuming the role from Claire Foy. Reactions to Colman as Her Majesty were split, with some crying out that they "couldn't believe" the series would recast Foy — despite knowing that, as seasons pass and decades go by in the show's narrative, characters will get significantly older and new actors will be brought on to reflect that. 
Bonham Carter is well aware of that pressure, and even admitted earlier this year that she had fears about joining The Crown to portray a member of the royal family and about taking over a role from an actress that fans have already connected with so greatly. 
"I'm not sure which I'm more terrified about: doing justice to the real Princess Margaret or following in [Vanessa's] shoes," the actress told BBC News. "The only thing I can guarantee is that I'll be shorter."
Daniels, on the other hand, at least appears to have pushed expectations to the back of his mind and focused on how excited he is to be a part of The Crown. "Snowdon was such a dynamic and complex man. I'm really looking forward to playing him," the actor said when he was first confirmed for the series.
For what it's worth, we think both Bonham Carter and Daniels look pretty darn fantastic in their new roles. Fans can come to a fully informed decision when they see more of the pair's Princess Margaret and Antony Armstrong-Jones when The Crown season 3 hits Netflix sometime in 2019.
Hope. pic.twitter.com/BFeE54Ro6C

— The Crown (@TheCrownNetflix) July 18, 2018
Hurt. pic.twitter.com/MfN675kFwE

— The Crown (@TheCrownNetflix) July 18, 2018