Disney's Haunted Mansion Trailer Is Star-Studded And Scarier Than Expected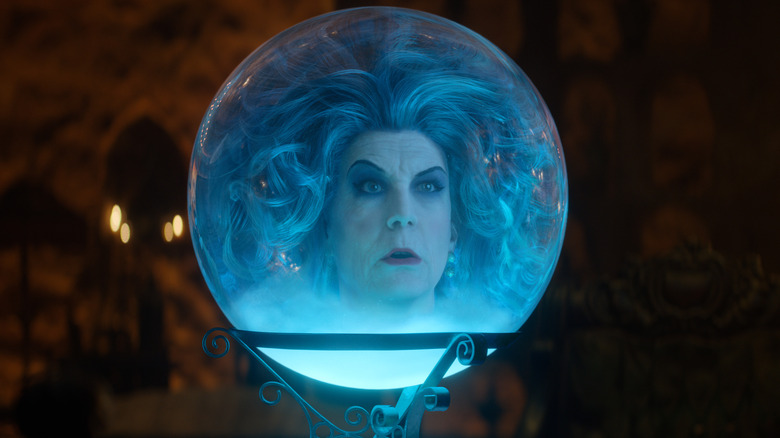 Walt Disney Studios
Doors are creaking, and ghosts are a-shrieking in the brand-new trailer for Disney's latest take on "Haunted Mansion." Featuring what looks to be a fair amount of scares and stars, the new film sees LaKeith Stanfield as questionable paranormal expert Ben Matthias who enters Gracey Manor at the request of single mother Gabbie (Rosario Dawson) and her son, Travis (Chase Dillon), whose new home still holds some terrifying tenants.
Thankfully, he isn't alone in attempting to clear the house of unhinged apparitions, with a great ensemble of ghost hunters joining the fold. Owen Wilson plays a priest named Kent, Danny DeVito plays a college history professor named Bruce (who is presumably well-informed on the mansion's legacy), and Tiffany Haddish plays a psychic named Harriet. Together, they'll all unite to face off against the infamous Hatbox Ghost as featured in the ride at Disneyland, played here by Jared Leto, who is certainly making his presence felt.
Disney's Haunted Mansion looks to be open to a good few scares
"Haunted Mansion" marks the second effort from Disney to bring the popular theme park ride to the big screen after the Eddie Murphy-led "The Haunted Mansion" in 2003. Personally, the fact that 20 years have passed is scarier than anything this film can throw at us, and that includes Jared Leto in a top hat and a decapitated Jamie Lee Curtis as Madame Leota. Besides the stunning set of visuals on show, though, the film looks to be making a good effort to pay homage to the original ride thanks to some of the signature locations and ghosts we're given glimpses of.
The snappy crocodile sequence has the same wallpaper as the entrance to the ride, and of course, the signature spooks from the attraction look to be out in full force. Despite "Haunted Mansion" fans fearing that Leto's casting would curse the movie, he looks like an (ahem) dead ringer for the legendary specter. There's also the appearance of Constance Hatchaway, the ghost bride who looks to be floating into Matthias' path when he dares to venture up to the attic, which is where everyone knows you should never ever go. We can see what other scares are headed our way when the Haunted Mansion opens its doors on July 28.