Queen Charlotte's Cast Had Sticky Fingers Behind The Scenes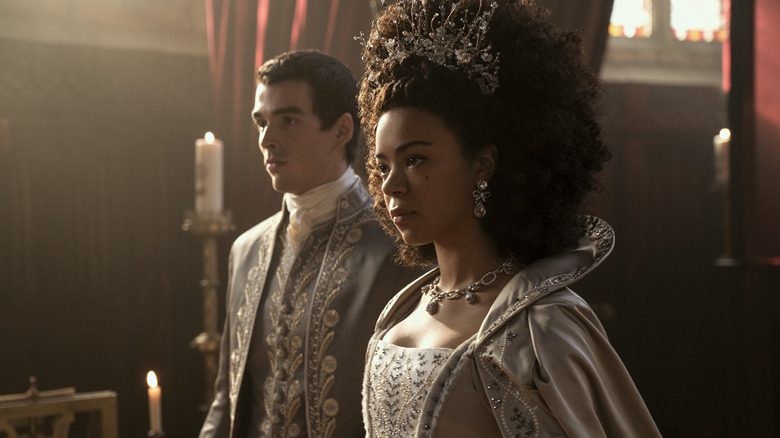 Liam Daniel/Netflix
The Shonda Rhimes-created royal drama "Queen Charlotte: A Bridgerton Story" serves as a prequel to 2020's "Bridgerton." The 2023 series showcases the titular character's rise through the regal ranks, with the young monarch portrayed by India Amarteifio and a young King George played by Corey Mylchreest.
Both Netflix shows star Golda Rosheuvel as the mature and older Charlotte. The veteran performer was one of several "Queen Charlotte" actors who recently confessed to Popsugar to being tempted to take home some souvenirs from the show's elaborate set. And who can blame them? It's not every day one goes to work surrounded by immense 18th-century London lavishness. "I'd love to take home one of those tea sets," Rosheuvel said, although she admitted, "I don't know where the hell I would put it."
Adjoa Andoh, who plays Lady Agatha Danbury, described the tank tops that the show's female characters were given to wear underneath their costumes. "I never can find a good tank top," Andoh said. "There's a whole stack that I have saved up in my apartment." Mylchreest said he took home King George's signet ring with the letter "G" on it, and Amarteifio absconded with a sign that said "Young Queen Charlotte" that was made for a box that she sat on between takes.
Sam Clemmett, who played Brimsley, took home a pair of gloves and said he hadn't worn them, they were in "prim, proper condition, and maybe one day I'll frame them."
Golda Rosheuvel had suggestions for more Bridgerton spinoffs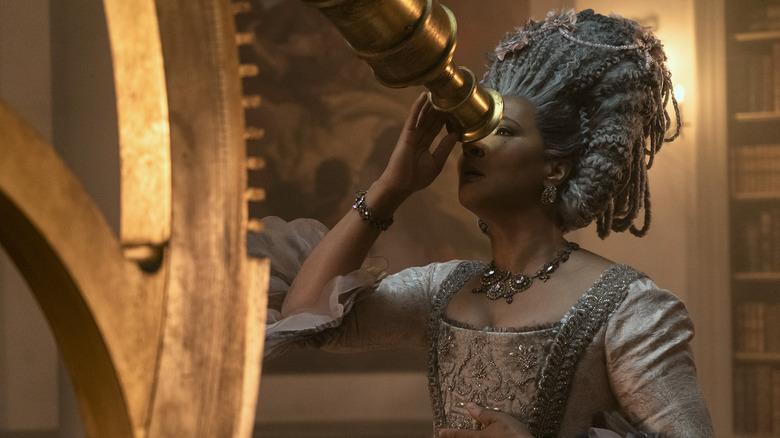 Liam Daniel/Netflix
When asked what the next "Bridgerton" spinoff would be, Golda Rosheuvel suggested that additional shows could focus on different characters from the Netflix franchise. "'Bridgerton' has so many other characters," she said. "Brimsley — there could be a spin-off about Brimsley. I think that's an amazing story."
Sam Clemmett would be on board for such a project. "Sign me up," Clemmett said enthusiastically. Freddie Dennis, who plays Reynolds, chuckled softly and said, "I mean, it depends on what's happened to Reynolds." He added, "Yeah, I mean, I'd love to do that. It would be amazing."
Rosheuvel also suggested a series based on "Lady Featherington [Polly Walker] or Violet Bridgerton [Ruth Gemmell], although we have delved into that a little bit, but there's so many other characters that I would invite that could kill it, yeah."
After mentioning so many other characters on which to base a potential new series, Rosheuvel was careful to also leave room for herself and her character going forward. "Obviously, the Queen can be there as well," Rosheuvel said." You know, I'm not doing myself out of a job."