New Girl: What Happened To Zooey Deschanel After The Show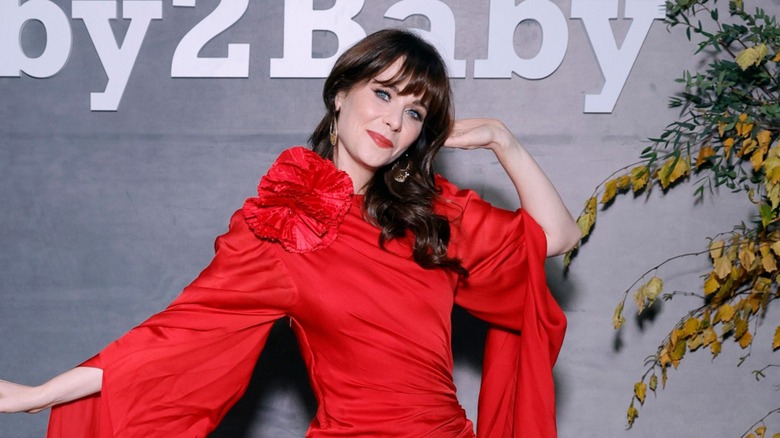 Stefanie Keenan/Getty Images
The concept of a sitcom structured around the screen persona of one particular actor is quite literally as old as the television medium itself, and has been the starting point for so many different shows of varying degrees of success and cultural impact over the decades that to even list them all might be too daunting of a task. But even so, Fox's "New Girl" managed to give it a completely fresh spin in the 2010s.
Although the show's titular central part of Jessica "Jess" Day, the newest resident of a Los Angeles loft, was not specifically written for Zooey Deschanel, a lot of viewers tended to assume it was, so great was the symbiosis between star and character. In a lot of ways, Jess, while initially a largely autobiographical creation on the part of series mastermind Elizabeth Meriwether, turned out to function as an apotheosis of the kind of bubbly, artsy, quirky, free-spirited young woman Deschanel had become known for playing. This also allowed her to explore more complex shades within that register than her supporting film roles usually permitted. It helped, of course, that she was backed by one of the decade's finest sitcom ensembles, with Jake Johnson, Max Greenfield, Lamorne Morris, and Hannah Simone all turning in stellar work alongside her.
Since "New Girl" ended in 2018, however, Deschanel has been seen in relatively few film and TV projects compared to the bustle of her 2000s run. What, then, has she been up to since then?
Zooey Deschanel has stayed busy with film roles and TV appearances
After "New Girl" concluded in 2018, Zooey Deschanel remained booked and busy — albeit not with quite the same frequency as in the 2000s, which saw her appear in as many as seven films in a single calendar year. Instead, her next acting role following the "New Girl" finale came two years later, when she briefly reprised her voice role as Bridget in "Trolls World Tour."
Then, in 2022, Deschanel starred in the music biopic "Dreamin' Wild," written and directed by Bill Pohlad (of "Love & Mercy" fame), and telling the story of Donnie and Joe Emerson, respectively played by Casey Affleck and Walton Goggins. Deschanel plays Nancy, Donnie Emerson's loving wife and fellow musician. The film premiered at the 2022 Venice Film Festival and is set for an August 2023 commercial release (via Deadline).
Deschanel is also set to appear in another film this year, "Harold and the Purple Crayon," about which little is known as of yet. An adaptation of the eponymous Crockett Johnson children's book, it will be the first live-action film directed by Brazilian animation veteran Carlos Saldanha.
On TV, meanwhile, Deschanel was the co-host of ABC's brief, unsuccessful 2021 revival of "The Dating Game," titled "The Celebrity Dating Game," alongside Michael Bolton, and also had a voice role on an episode of the Netflix animated kids' show "Storybots: Answer Time." Additionally, she will be appearing in the upcoming third season of Apple TV+'s "Physical."
She also continues to have a fruitful music career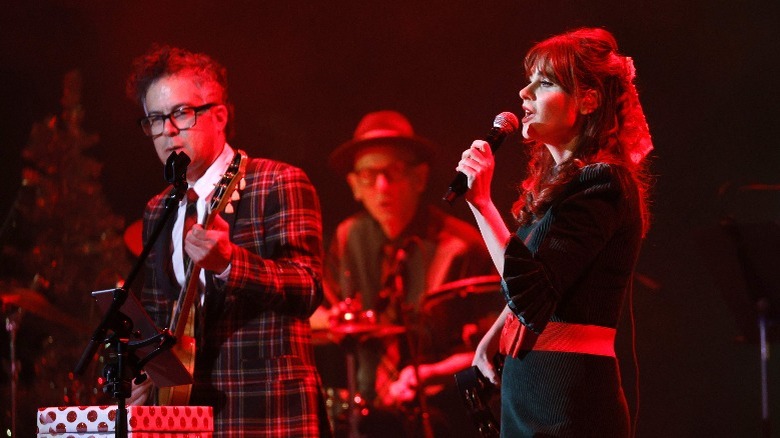 Jason Kempin/Getty Images
Zooey Deschanel also has a very successful career in music. Since 2006, she has been one half of the indie folk pop duo She & Him, along with musician Matthew Stephen Ward, better known by his stage name M. Ward. In addition to being the duo's primary songwriter, Deschanel provides lead vocals and plays piano, tambourine, and ukulele in their recordings and concerts.
The discography of She & Him consists of an evenly balanced mix of original acoustic pop with a sunny '60s tinge, and holiday and cover records paying tribute to legendary songs and artists of yesteryear. While the period of 2008 to 2016 saw Deschanel put out music at a remarkably consistent clip given her actorly obligations, She & Him spent a few years without releasing new albums after that. Then, in 2022, Deschanel and M. Ward got together to record the seventh She & Him studio album, "Melt Away: A Tribute to Brian Wilson." 
As its title indicates, "Melt Away" is made up entirely of covers of Beach Boys songs written by the legendary Brian Wilson, with Wilson himself making an appearance on the duo's rendition of "Do It Again." And it turned out that the art rock savant's unique brand of pop music — infectiously catchy, satisfying, and upbeat, yet marked by an undercurrent of sadness and ambivalence — was a perfect match for She & Him's melancholy-flavored throwback sound ... as well as, again, for the persona of Zooey Deschanel herself.